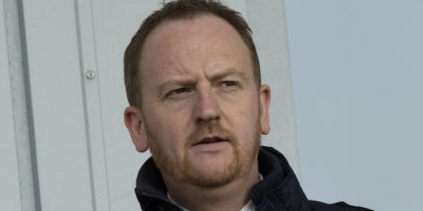 What a week it's been for Scottish football.
I want to say congratulations to Dundee United on winning the Championship. I'm a Dundee man but United are worthy of their title.
Well done to Robbie Neilson and his backroom team, and I also want to mention Lawrence Shankland who has been outstanding.
At Arbroath, we could have still been relegated and we could have made the play-offs. It's slightly disappointing that the campaign's over.
Fans across the country might feel short-changed and I feel sorry for them.
But what's happening right now is bigger than football. I've been in the game 25 years now and it's the first time I've ever known anything like this.
United were really consistent right up until the final quarter of the season.
I know the challenge that faces you at that stage – last season we led the league for the whole campaign and it got tougher and tougher near the end.
We were 16 points clear at one stage and the gap finished up at seven. It's not easy being in the lead.
Yesterday's events were unusual to say the least, with Dundee at the centre of it.
As fans, we've got to sit tight and let John Nelms have his say on the last week or so and I'm certain that he will have pushed for what is best for the club.
He could have been given some guarantees about reconstruction and if it's decided that a couple of other sides are going into the top flight, Dundee will be in good position. It's over to the SPFL now as far as that's concerned.
Nelms and Tim Keyes have put money into the club and taken a hit over the years. I'm certain they have Dundee's best interests at heart.
There's been a lot said and written about their approach to this situation and, one thing's for sure, nobody really knows them.
You hardly ever see them in the paper, they just get on with it. They take their losses and continue to back their club.
A couple of things haven't sat right with me since last Friday's vote. I just didn't understand the wee WhatsApp group chats that were going on.
Chairmen and chief executives should look after the interests of their own clubs first and foremost and you should be able to expect that your vote will remain private until they've all been cast.
That didn't happen and it's been a bit strange.
On Saturday, the Inverness Caley Thistle chief executive Scot Gardiner was in the middle of it all on BBC show Sportsound. That didn't surprise me. I didn't like how it all played out.
I had dealings with Scot Gardiner at Dundee, where he held the same position.
I think one of my emails to him years ago must have hit the famous firewall as well. I remember being at a function and telling one of the directors that I'd been trying to get hold of him all week.
The director tipped him off and suddenly, when he showed up at the function, the email came through.
I wasn't allowed to train at that point after a fallout with John Brown. My dealings with Scot Gardiner weren't pleasant.
When I fell out with Brown, he certainly wasn't concerned about the welfare of Rab Douglas.
I'm not surprised he appeared to be spearheading the 'no' campaign.
---
It was great to read that Sir Kenny Dalglish is on the mend at home after testing positive for Covid-19 in hospital.
I'm a big Liverpool fan and Sir Kenny was my all-time hero growing up. He was a great player and remains an inspirational figure in football.
I was star-struck when I met him years ago. I was at Leicester at the time and I was amazed he knew my name.
Dundee United owner Mark Ogren and sporting director Tony Asghar dedicate title win to fans as Tannadice legend Hamish McAlpine salutes stars