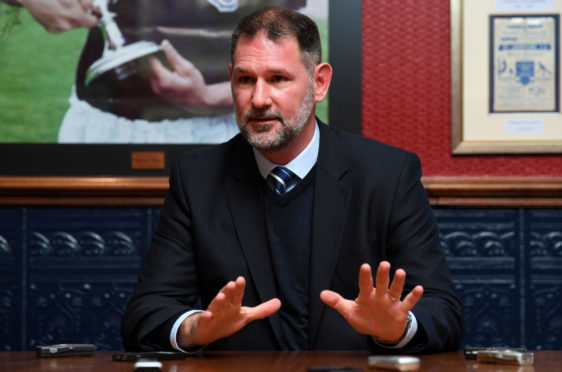 There will be an icy atmosphere in the virtual room when John Nelms and Ann Budge "meet" today to talk reconstruction.
The Dundee managing director is one of the 15-member SPFL taskforce set up to look at changing the league in time for next season, while the Hearts owner is joint-chair.
If Nelms is feeling slightly nervous about switching on his laptop, then you could understand why.
Budge has claimed she got an apology from the American after it emerged Dundee had withheld their original no vote but that he didn't issue it directly.
Nelms has come under a barrage of criticism for first indicating the Dark Blues would be rejecting the SPFL proposal to end the season below the Premiership 10 days ago, dramatically deciding to put their ballot paper on hold, then eventually saying yes to the resolution last Wednesday.
Now Budge has had a go, labelling his behaviour as "extraordinary".
The U-turn, of course, didn't make Nelms popular with many of his own club's fans as it facilitated the crowning of city rivals Dundee United as Championship champions.
Now he will be in the "company" of Budge for the first time since the drama of the now infamous Friday vote/non-vote.
It comes after the Tynecastle owner lifted the lid on arguably the craziest episode in Scottish football history.
At 4pm on Friday, April 10, Budge said spoke with Nelms to gather his thoughts on the league's plan.
After that call, she was left totally convinced Dundee were about to vote no, thus scuppering the proposal.
An hour later, Budge insists she was even more confident when she received an email from Nelms detailing a different resolution he was thinking of putting to the league's board.
However, Budge was subsequently shocked to hear whispers that the Dens side's expected no vote had not yet reached Hampden. It was then confirmed that Dundee had asked for their vote not be considered as cast.
That was when Budge claims she was sent a message from someone else passing on Nelms' apology.
She then tried to contact the Dens official personally three times to ask for a U-turn explanation but without success.
As a result of the silence, Budge wasn't surprised when Dundee voted yes last Wednesday.
The Hearts supremo told the BBC: "We had a conversation in the middle of last Friday afternoon, around 4pm.
"The reason for the call was about the next steps.
"John Nelms and myself were firmly convinced the SPFL resolution was going to be voted down.
"He wanted to talk to me about submitting a different resolution and he was asking me for input on his resolution, which he subsequently sent to me.
"I received it at 5:03pm on the Friday. I have absolutely no idea what happened after that.
"It does trouble me.
"After we spoke last Friday I had a message relayed to me from Nelms, via a third party.
"He apologised. It was simply a message to say: 'Tell Ann, I'm sorry.'
"He was speaking to this other individual and it came up.
"I just found his behaviour over the next few days extraordinary.
"I got the message saying sorry on Friday evening. Then, on the Saturday, I phoned him and left a voicemail.
"Then I did the same on the Sunday and I certainly did it again on the Monday.
"I tried to speak to Nelms to find out what was going on, but at this point he was involved in whatever he was involved in.
"I have no insight into what was in his mind other than what we have all seen in the media.
"I haven't spoken to him but we exchanged a text earlier in the week where he indicated to me because of everything that happened over last weekend he didn't feel he could discuss things.
"That was before he finally cast his vote. I haven't spoken to him since."
Budge has been accused of hypocrisy in her drive to reconstruct the leagues after comments made by her previously, that Scottish football had too many clubs, came back to light.
That is because the likeliest change will be to a 14-10-10-10 structure that will need two new entrants to make it work.
Budge said: "I do recognise the irony of the situation.
"What I am proposing comes back to fairness. It's a one-off situation.
"I have been assured by so many people that they believe relegation in this situation is unfair.
"I have heard it from board members and I have heard it from many other clubs.
"Partick Thistle: it is astonishing they should find themselves relegated. There is a genuine recognition that this isn't right.
"Les Gray (Hamilton chairman and joint-chair of the taskforce) and I have discussed ways forward.
"I want to speak to all the 42 clubs to ensure they have a voice, including Dundee.
"The reconstruction issue is going to a vote and we need all clubs on side."
Indeed they do, with the Premiership's requirement of an 11-1 vote for change the highest hurdle to be overcome in the coming weeks.
Dundee Supporters' Society say 'many questions remain relating to the events over the past week'