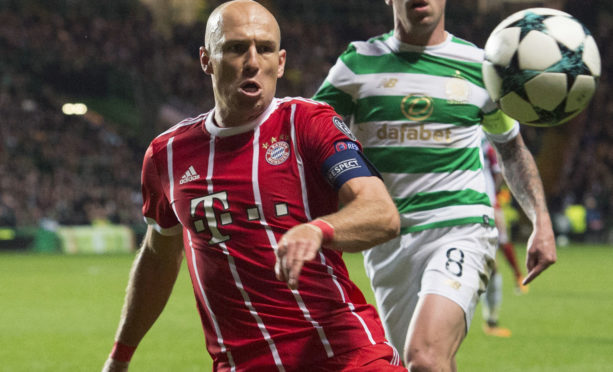 Dundee manager James McPake has recalled the day he got a dressing-down from a Dutch master for hacking him.
The Dark Blues boss was playing for Northern Ireland against the Netherlands in a friendly on June 2, 2012.
It was a painful one for the boys from the province, with Holland hammering them 6-0 in the Amsterdam ArenA to set themselves up for the following week's European Championships in Poland and Ukraine.
McPake's pride was certainly hurt as he found himself on the end of a verbal volley from Arjen Robben, at that time one of the world's greatest players.
🎥⚽️| "What you doing man!? I've got a tournament next week!" 🤣🤣

James McPake on @ArjenRobben raging at him when he had to smash the winger on the half-way line during a 6-0 defeat on his @NorthernIreland debut… 🤷🏻‍♂️

Full Interview MONDAY @ 5PM! w/ @WilliamHill pic.twitter.com/7pxUTcWthr

— Open Goal (@opengoalsport) April 17, 2020
The Dens gaffer's crime was to scythe the Bayern Munich ace down in full flight.
McPake told Open Goal's Si Ferry: "I remember the Holland game, a week before the Euros.
"I thought: 'That's going to be bouncing.'
"They were at the Euros and it was their last game before it. The place was packed.
"Stupidly, I am thinking: 'This is going to be brilliant.' What makes you think that's going to be a good thing?
"Well, I was saying that it's going to be magic and what an atmosphere it's going to be but it was 6-0!
"Robben was at his peak at Bayern Munich at the time.
"I was quite quick. People say I was slow and I was at the end (of his career) because of the injuries but I was still all right at that time.
"He knocked the ball by me and I was on the halfway line. He would have been about 10 yards behind the D.
"Honestly, he catches up with me and I just need to nudge him and foul him. I went: 'F****** h***, where have you come fae?'
"I had never experienced that before.
"I tackled him and it was a bad tackle.
"They can all talk English and I remember him saying: 'What are you doing man?' I am not putting on the accent, by the way.
"He added: 'I have a tournament next week.'
"I kid you not.
"It was a bad one but I had to stop him because he was going to make me look stupid.
"I just kind of looked at him.
"I think we were 5-0 down at the time!"
Dundee Supporters' Society say 'many questions remain relating to the events over the past week'