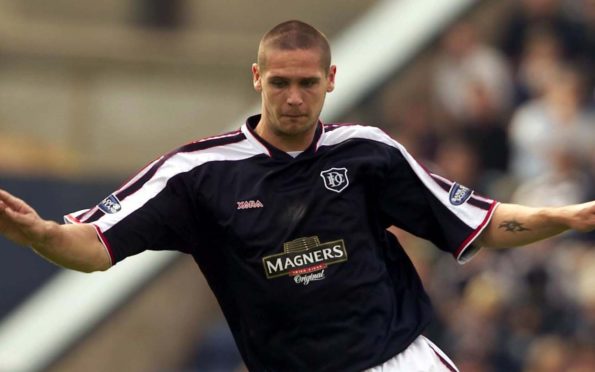 Former Dundee defender Lee Wilkie has revealed he had the opportunity to play Champions League football.
The 40-year-old, who also played for Dundee United and picked up 11 Scotland caps in an injury-ravaged career, could have signed for Ukrainian giants Shakhtar Donetsk in 2003.
But he turned down the £1 million move to Shakhtar – whose squad featured several international stars including Anatoliy Tymoshchuk and Andriy Vorobey – to remain at Dens Park.
The centre-back admits he regrets the decision but insists he loved spending the vast majority of his career at home in the City of Discovery.
"There were quite a few options and Perugia was one," he said.
"I tell some people the stories and I don't think they 100 per cent believe me.
"My agent phoned me and told me, 'You've got a Ukrainian team willing to give you €10,000 per week, they'll buy you for £1m'.
"And I was thinking to myself, 'Ukraine? No way am I going to Ukraine,' and it ended up it was Shakhtar Donetsk.
"That was a really good decision for me – a year later they were playing in the same group as Celtic and AC Milan in the Champions League!
"I do look back on that as a bit of a mistake."
The Ukrainians weren't the only team interested in securing Wilkie's services at the time, with Leeds United and Leicester City also suitors.
He added: "I went down to Leeds when they were doing really well, playing in Europe and the Premier League.
"They had a lot of top players. I think at that point I was doing well and Dundee were wanting quite a lot of money for me.
"I went down for a week and really enjoyed the experience but it was a bit of a non-starter because I couldn't play any trial games for them without being released by Dundee.
"Their team was unreal at that time – they had the likes of Mark Viduka, Alan Smith, Eirik Bakke, Paul Robinson, Ian Harte and Harry Kewell.
"Rio Ferdinand had moved at that point but, obviously, I wasn't the next Rio in David O'Leary's eyes!
"O'Leary was really good, though. It was a different world down there.
"I was always a home boy and enjoyed being at Dundee, pure and simple.
"If I didn't enjoy it I would've moved and I always thought to myself, and this is probably a regret, 'it'll happen further down the line'.
"I had my injury and that scuppered everything. I had a chance to sign for Leicester when I was at Dundee for Craig Levein.
"I met him with my agent and he offered me a three-year deal but I just thought my move would come round in a year or two.
"A few months later I done my cruciate."
A difficult spell for him and the rest of the Dark Blues staff as the club plunged into administration for the first time.
The stopper, who joined United in 2006, admits it was a "horrible" period.
"There were a lot of people who lost their jobs, I was fortunate enough to be kept on," he told the Evening Telegraph's Twa Teams, One Street podcast.
"It was something you don't ever want to see, it's the worst thing possible.
"When I played for Scotland when we were destroyed in Holland, on the bus after the game we were told Dundee were going into administration.
"It was a real double dunter."
Dundee legend Rab Douglas hails 'loveable rogue' Leigh Griffiths and reveals real reason he lost it in dressing room with former Dark Blues star