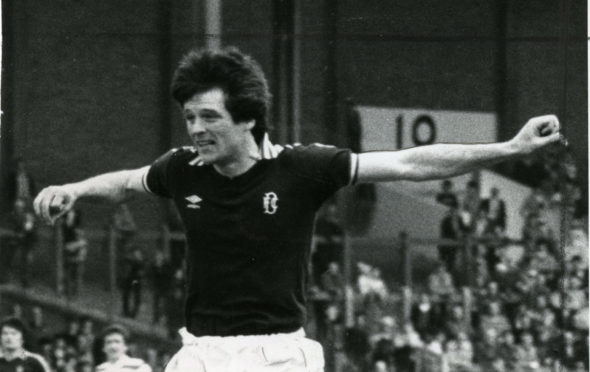 Dundee hero Les Barr says it's a worrying time for the Dens Park club as the financial impact of the coronavirus hits home.
It's been a difficult period for the Dee with players taking pay cuts, others leaving and staff being let go.
Managing director John Nelms said the club needed to have those 'difficult conversations' to help the club navigate the crisis.
Former Dark Blues right-back Barr was particularly disappointed to see former assistant manager Jimmy Nicholl and captain Josh Meekings depart.
However, the 67-year-old, who made 129 appearances for Dundee from 1978-82, hopes the club can find a steady footing again.
"I was surprised Jimmy Nicholl was one they let go and it was disappointing to see Josh Meekings leave, too," Barr said.
"You do worry what's going to happen, with the club possibly struggling for money. Will the Americans keep putting the cash in? It's hard to say.
"When you're in that Championship, the prize money from the SPFL is less and it makes it hard for those in charge at Dens.
"One thing you can say for Dundee fans, though, and United fans, is they've always supported their teams through thick and thin.
"They may have to be called on again but the pay-offs and what's going on behind the scenes is very sad.
"It's hard for the club having to pay players without any games on the horizon but the players will be worried, too.
"They'll be saying to themselves: 'What kind of contract will I be offered?' or: 'Will I just be going?'
"No one knows what's going to happen and, for them, there'll be a lot of ifs and buts."
On the football side of things, Barr reckons the Dee are going to be in for a battle when the new Championship season kicks off in October.
For him, fitness will be have a huge impact on how the Dark Blues fare and a good pre-season could make all the difference.
He continued: "You really need to be fit in that Championship because the games seem to go quicker.
"You're up and down more whereas in the Premiership you've more time on the ball.
"There's a lot of good teams in there this year. Dunfermline have been signing players and Hearts will make it hard for Dundee to get up.
"They need a good start to have a platform to build from.
"You need a good pre-season in your legs. I remember Bobby Glennie, who was a well-built guy, he'd come back and he'd have to work his socks off to be ready.
"When you're doing it from September/October onwards it's a different situation and mindset to get yourself in to be fit for the start of a league.
"You've got to be fit in that division. If you're not, you'll be found out because it's 100mph all the time."
Barr also had encouraging words for old pal and fellow-Dundee favourite Jim Duffy, currently recovering from a recent heart attack.
He added: "Last time I spoke to Duff was when I was up at Montrose and he was there with Dumbarton.
"I never played with him at Dundee. He arrived just after I'd left but I played against him a few times and he was a great organiser from the back.
"I've never met anyone so passionate about the game. Even as a manager, he'd speak to you as if he was playing.
"It's like he's still out there living it and I love that enthusiasm. Here's hoping he's on the mend soon."