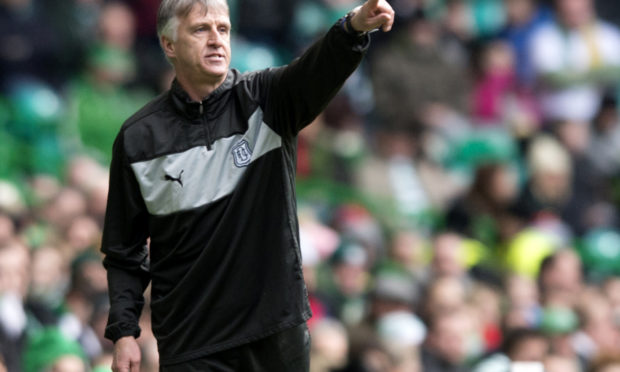 Former Dundee head of youth Ray Farningham says he was delighted to read reports that the club's academy setup will survive beyond the coronavirus shutdown.
The Dark Blues finances have been hit hard by the 2019/20 season ending early and, with no games likely in the second tier until October, owners Tim Keyes and John Nelms have moved to reduce spending across the club.
News of possible cuts to the academy heralded concern for the future of the youth set-up.
However, word that each age group will be kept on and that head of academy Stephen Wright and technical director Gordon Strachan will take a more hands-on approach is a relief for former Dundee midfielder Farningham.
He told Courier Sport: "When I saw the news about possible cuts, I thought it was really sad so it's great news it looks like the club will be able to keep the academy going past the shutdown.
"They have two very experienced guys at the helm in Stephen Wright and Gordon Strachan to see them through.
"It's brilliant to have someone like Strachan around and if he's doing more coaching because of the cuts, that can only be a good thing for the kids at Dundee.
"By all accounts he's been pretty hands-on with all the age groups anyway and speaks to all the laddies, giving them advice on things to do and what not to do.
"You can't ask for better than that."
After finishing his playing days at Dens in 1998, Farningham, affectionately known as "Jinky", took on the role as head of the academy before becoming assistant manager to Jocky Scott, Jim Duffy and later to John Brown and Paul Hartley.
The academy role was one he thoroughly enjoyed and says there is nothing better than seeing youngsters he helped through the academy make it into the first-team squad at Dens Park.
He added: "When I was at Dundee, even before the Bonettis' time, the youth setup at the club was first class.
"We had so many players come through and play for the first team, making their debut for Dundee.
"There was a great youth team at that point and I think we had seven or eight boys alone one season go up to the first team.
"There's such a long list came through during my time. Let's see, there's Jamie Langfield, Dave Mackay, Lee Wilkie, Graham Bayne and guys like Scott Robertson, Steven Robb, Gavin Beith, John Elliott, Steven Milne – there are loads of them and I've forgotten to mention a few there.
"That's the most enjoyable thing about working in the youth setup – seeing kids come in at a young age and develop into first team players. It's your job to deliver that, that's what the club wants and you get satisfaction from it.
"And you ask any kid that has been in a good system, whether they made it or not, and they'll say they loved it.
"There are even more on the list too that maybe didn't make the first team at Dens Park but went on to play first-team football in the Championship or lower down. That's great, too, to see young guys you'd coached go on and make a living from the game and having good careers.
"I spoke with Stevie Campbell a while ago and we counted maybe 60 kids who came through when we were there and made their debuts for the Dundee first team."
He added: "It's so important for football clubs to have a good youth academy. Back when I was there it was Kenny Cameron who had set it all up and then we had good backing from Jocky Scott when he was manager.
"Stevie was brought in and we had a really good team of coaches at the club and that's what you need.
"I don't know exactly what the setup is now because I've been away for a while but it sounds like they've been building that at Dundee."
Former players like Barry Smith, Scott Robertson and Robbie Raeside are among those back working at the club.
Raeside this week revealed to Courier Sport he has offered to give up his time for free to continue coaching the Under-15s.
To Farningham, that sort of attitude isn't a shock.
"It's no surprise there are coaches willing to give up their time for free for the kids at Dundee – it is a surprise to hear it come from a Fifer like Robbie, though! That's a first!" he joked.
"It is great to see guys like Robbie in there working for the club again.
"When I was in charge, I wanted to bring in ex-Dundee players because they know exactly what the club is about and it's great for the young kids to learn from them, too. It sounds like they've been doing that."
He added: "I think I gave the youngsters a good grounding during my time at Dundee, I'm maybe blowing my own trumpet a bit but I was decent at the job and would've liked to do it for longer.
"It didn't work out, that happens. You never know, I might end up back there."
Farningham is now working for Dundee City Council as a resource worker for youngsters but still keeps a foot in the game as assistant manager to George Shields at Lochee United.
Just like everything else, the junior game has ground to a halt during lockdown but there is light at the end of the tunnel for all involved there.
He added: "I enjoy it at Lochee, there's no pressure there and they have a great setup. We've got a good bunch of lads and the committee couldn't do any more for us, it's really well run.
"We're hoping to be back training at the end of July and, hopefully, playing again in October. It'll be good to be back out on that training pitch."