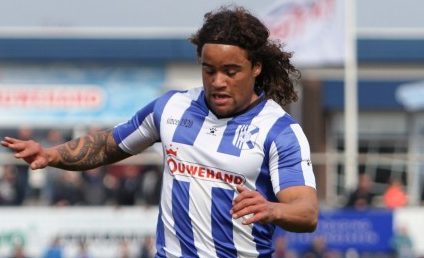 Yordi Teijsse has revealed that he used to train with former Rangers striker Michael Mols – as a kickboxer.
Now, the 23-year-old is hoping to be a knockout as he begins his professional football career with Dundee.
Teijsse's prolific goal-scoring exploits in Holland last season with amateur side Quick Boys put him on the radar of Dark Blues boss Paul Hartley who made a move for the player last month.
His dad's pal Mols convinced him that a move to Scotland would suit him right down to the ground and he cannot wait to get started at Dens.
Teijsse said: "My friend Michael Mols played in Scotland for Rangers so he was a big influence on me coming here.
"He told me about the league and about where to go.
"Michael is a good friend of my dad Peter.
"My father was a kickboxer so they used to train together and I used to train with them too.
"I have known him for a few years now, he stays in our neighbourhood and we still train sometimes and go for meals together.
"Michael loved his time in Scotland and he told me Scottish football will fit me.
"His advice was to work hard and just enjoy it because the league is very good and I will do well here."
Having made the step up from amateur football back home, Teijsse is fully aware that he will have to work hard to make his mark with Dundee.
However, his fitness levels are naturally high as he combined playing football with being a personal trainer back home.
He added: "I will maybe have to train a bit more than the other players at the beginning to get up to their fitness levels.
"But that is something I am willing to do and I don't think it will be a problem.
"I am naturally fit anyway and I love doing fitness work.
"I was a fitness instructor in Holland but that was training other people – now it's me who needs one here!
"I took people for kickboxing lessons and boxing, but most of the time it was strength and conditioning work.
"In Holland they do less running than there has been in Scotland but it has been enjoyable.
"My stamina was very good back home but in this country I will need to work harder."
Teijsse revealed that after scoring 31 goals for Quick Boys last season, there were clubs in Holland interested in signing him but his heart was set on a move to Scotland with Dundee.
He added: "I am happy to be here now after signing a few weeks ago, I'm glad that things have started and I've been able to meet my team-mates.
"It was a bit of a surprise to end up in Scotland because I know I did well last year but it was mainly clubs in Holland who were interested.
"But when the chance came up to come to Dundee, I liked the idea of the opportunity.
"And I wanted to come here more than anywhere else.
"I know it will be a step up to playing in the top league in Scotland and also to full-time training.
"But I played in the youths for Utrecht so it won't all be new to me, I played there when I was younger until I got injured.
"I think I just took two steps back to take three forward in the end.
"It feels good to be back at professional level."
Meanwhile, Dundee boss Paul Hartley has revealed that club captain James McPake is set to see a specialist in a bid to ascertain when the defender will be able to make a comeback from the serious knee injury he sustained in the New Year derby with United.
The manager said: "McPake will go and see the specialist on Tuesday.
"It will give us an idea of his time-frame for getting back.
"We'll see how he is after that."