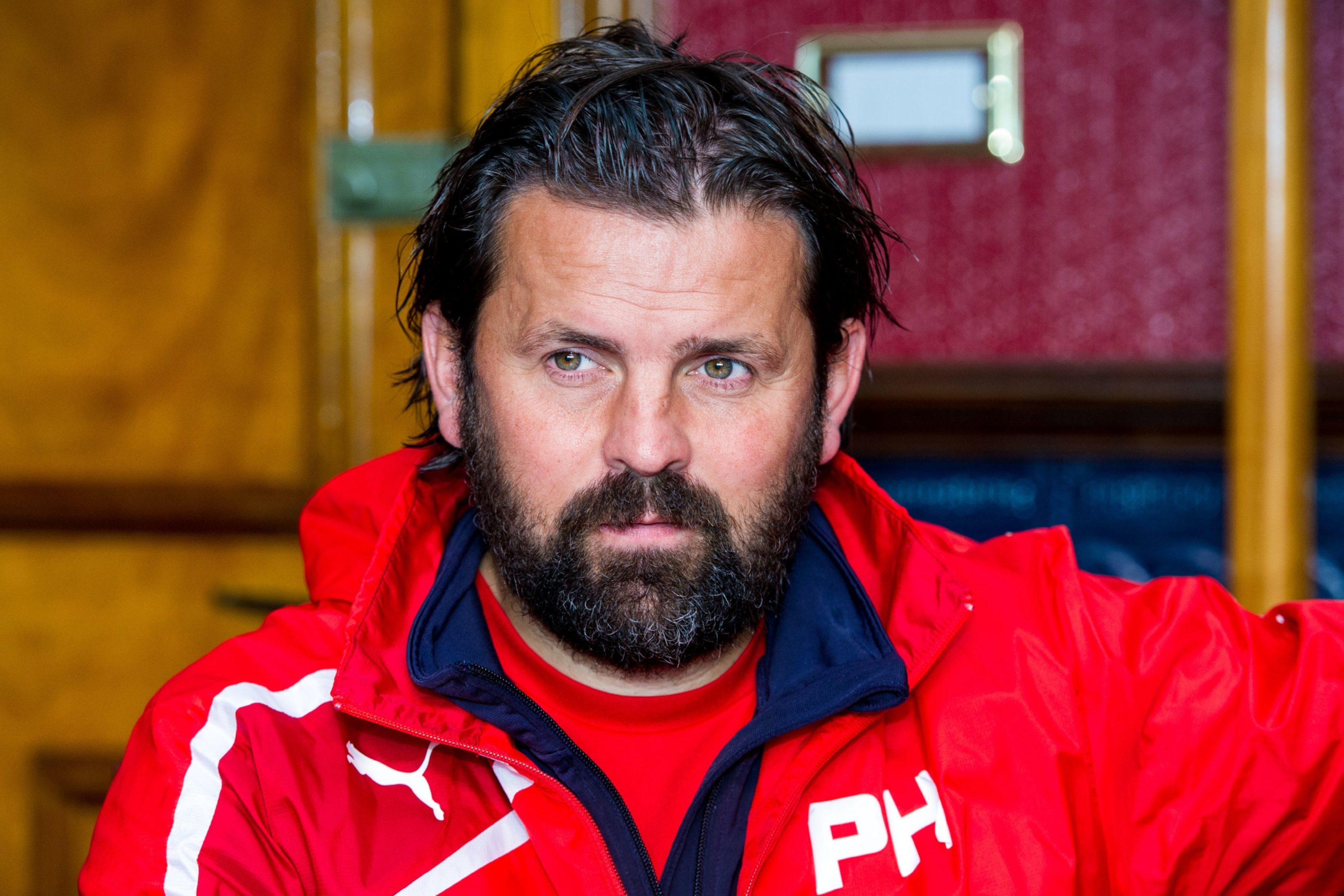 Dundee manager Paul Hartley is staying defiant in the face of what he admits has been a "slow start" to the season.
The Dark Blues have failed to win in the league since day one of the Premiership season up at Ross County on August 6, leaving them in ninth spot and just one point better off than bottom club Partick Thistle.
They also exited the Betfred Cup at the group stage.
With a home game against Celtic on Saturday to be followed by trips to Tynecastle and McDiarmid Park, it is easy to see why some supporters are nervous about what may lie ahead.
However, Hartley couldn't have looked more relaxed than he did as he chatted in the Dens boardroom yesterday about how he expects things to improve, declaring: "There is definitely no panic."
Asked if there has been an over-reaction to how the league campaign has gone thus far, he said: "We have had a slow start to the season, that's for sure.
"I am not getting away from that.
"It is still early in the season though.
"We have probably not found our strongest team yet because we have had injuries and suspensions.
"I do think it is a time to stick together as a group.
"There is definitely no panic and I think quite a few clubs have made a slow start like us.
"We haven't picked enough points up but it's still early.
"I am positive that we will get things right and we will keep working hard.
"We know things will turn."
Hartley last week raised some eyebrows by bringing up what he saw as criticism of his tactics made by (unnamed) former players.
Without elaborating as to what in particular it was that irked him, he defended himself and the club for the overall performance during his time in charge.
He said: "You are always getting tested as a manager and you have to handle criticism when things don't go right.
"That's part and parcel of football.
"When you don't win games you come under some criticism.
"Former players have had an opinion on how we should be playing.
"However, it's early in the season and we will be judged over the next couple of months.
"We can take criticism as a manager and players.
"Things will not always go right for us but what I would say is that I have a great group of players – they are brilliant to work with and have a terrific attitude.
"You are not going to win every week and there are times when you will go on a bad run.
"We have to accept that.
"But look at Aberdeen just over a week ago. They were getting criticised but everything has changed for them in a short time.
"One result can change it for us."
The former Scotland international then reiterated his personal determination to turn things around.
He said: "There can be no doubt about my commitment to the club, how I work and my work ethic.
"There are times when it doesn't go right but what you need to think about is how you are going to make it right.
"It is always a different manager (under pressure) at a different time but I think over the last couple of years, in terms of getting the club settled and in the top flight, we have done a good job here.
"I am talking about everybody there, from the owners through to the players.
"I think we have established ourselves as a club."
Hartley fired a verbal volley at his players as he summed up their performance after the 3-1 defeat to Inverness on Saturday.
He is, understandably, looking for a vast improvement when they face Celtic at Dens this weekend.
"It was very poor and the players knew that – I didn't actually have to tell them that," he said.
"It wasn't a performance to be proud of.
"On Saturday we were just way off it – the whole team.
"You can maybe cope with one player being off form but not a whole team."
"However, the players have been good in terms of general attitude."
Meanwhile, Dundee's game against Hearts at Dens, originally scheduled for Christmas Eve, has been rearranged for Friday, December 23 (7.45pm).