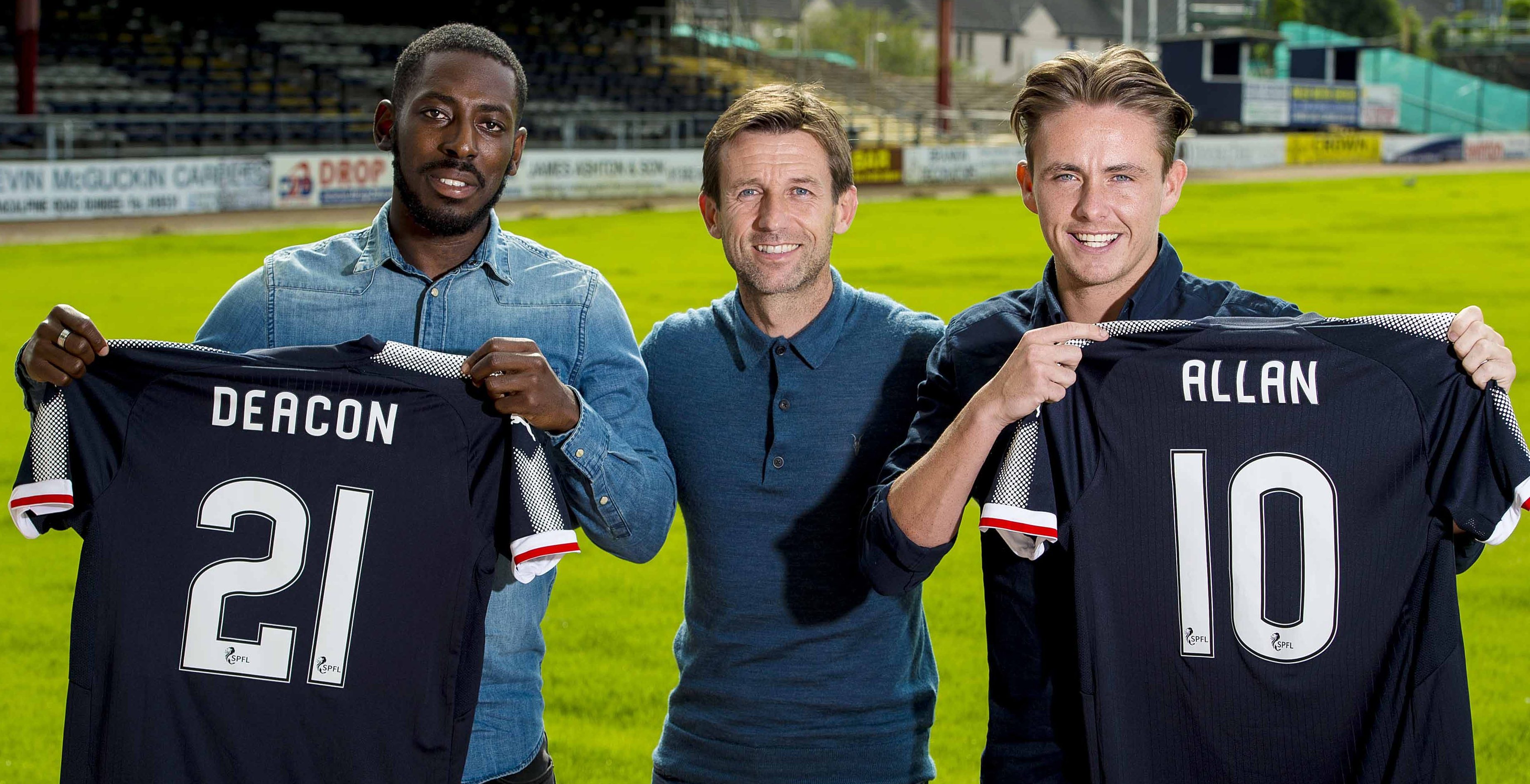 Dundee boss Neil McCann has expressed his delight that his determination to secure his first two signings for the club was matched by the players' own desire to come to Dens.
The Dark Blues manager could not hide his delight last night after Scott Allan and Roarie Deacon joined the club.
The former has joined Dundee on a one-year loan deal from Celtic while the latter, who was with Sutton United last season and was part of the team who went on a memorable FA Cup run before losing to his former club Arsenal, has penned a two-year contract.
McCann admitted there had been a lot of interest in both players from elsewhere and having beaten off that competition, he cannot wait to start working with both.
McCann said; "I'm absolutely delighted to get Scott and Roarie on board.
"Scott was a player who was always in my mind and once we got things underway and started to look at signing targets, he was one who we chased.
"I think he'll excite the fans and will be a tremendous asset in the final third.
"Roarie came to prominence during that quite famous cup run with Sutton United.
"But I knew him before that and he's at that perfect age, being just 26.
"He feels he's got a lot to offer, a lot to prove and is remarkably two-footed.
"I've watched him and I'm really excited about what he can do as he can play right across the whole front line.
"He brings intelligence, pace and directness to the team which is maybe something we lacked last season.
"So I am over the moon with the two captures."
McCann added: "There was big interest in both players.
"To get Scott from Celtic . . . . first of all I am grateful to them for allowing the deal to go through.
"I spoke to him about my plans and my ideas on how I wanted the team to play next year and he just bought into it.
"What you want is a player who wants to play for you and I got that from both guys.
"Whether Scott wants to use this platform to get back into a very, very good Celtic side . . . if he did, that would prove to me he has done a very good job here.
"I have brought him to Dundee to do that. I think he will excite the fans and he can really provide a cutting edge in the final third."