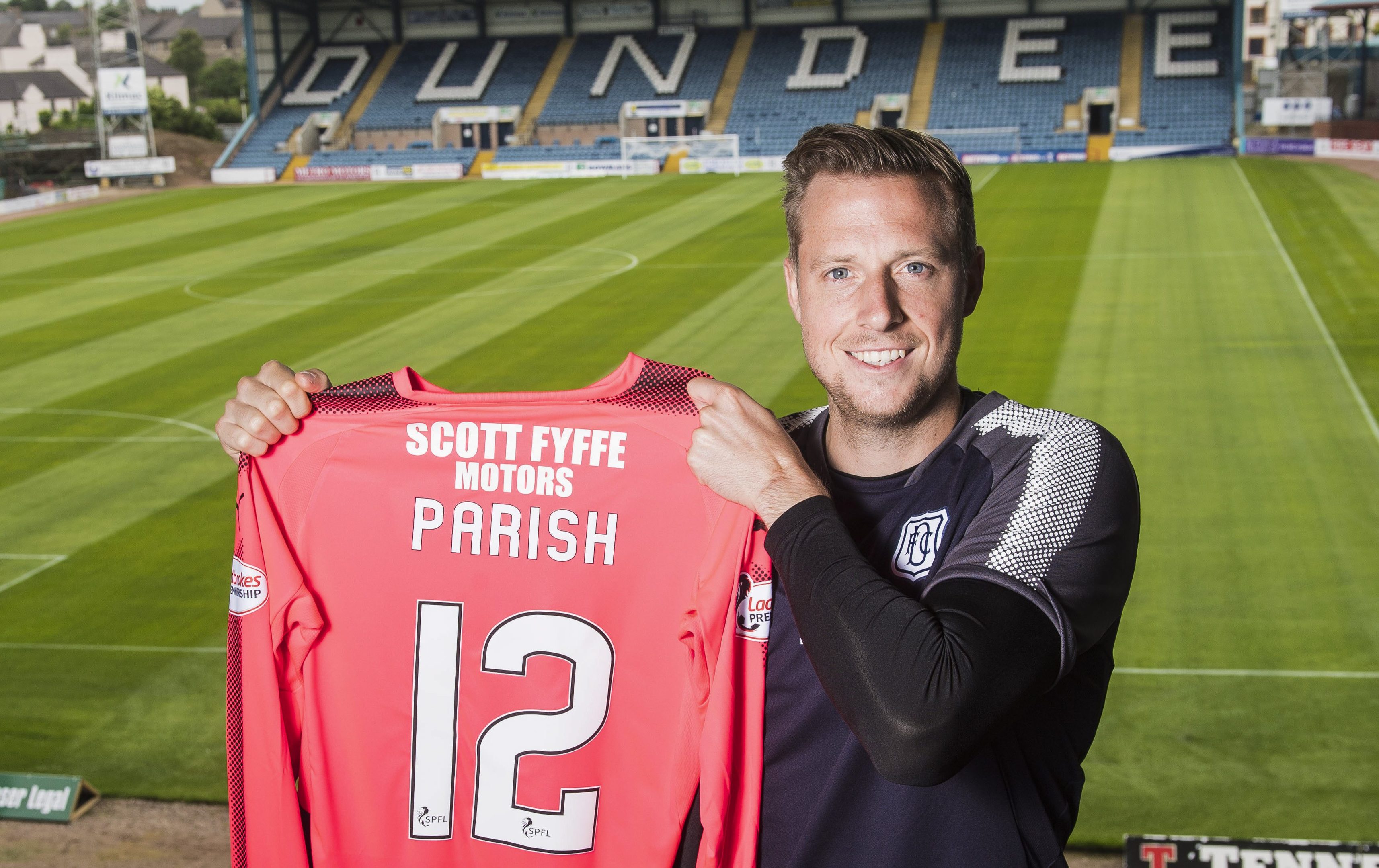 New Dundee goalie Elliott Parish has revealed that one of the first things he did after arriving at Dens was to start looking for a new pair of boots.
The big English stopper was quickly advised that wearing orange footwear was not the best idea –especially with a derby against United looming large this weekend.
Boots aside, Parish admits he is relishing his foray into Scottish football and he is hoping he can be as big a success as his good pal, Aberdeen's Joe Lewis.
The 27-year-old said: "I had a phone call from Bobby (Geddes) saying he would like to get me up.
"There were a couple of things bubbling down south but nothing concrete and I've always wanted to come up north, and been advised to come up.
"So, I just jumped at the opportunity. Luckily, the guys were impressed, I guess, and we've got a deal done.
"My agent has advised me to come up here for years. Ever since I was 21 or 22, he's advised me to give Scottish football a go.
"And a number of players who I played with down south have said the same thing.
"In particular, Joe Lewis, who is obviously doing very well at Aberdeen.
"I played with him at Blackpool and Cardiff, and spent some good times with him. Seeing him doing so well has been great.
"I've watched Joe and his career up here. I've been interested to see how he got on, because he's a very good goalkeeper.
"Having played with David Marshall at Cardiff, he always said the league was strong and that he loved it up here.
"Numerous people have said 'get yourself up here, it's good exposure, you'll play in big games' and we've got one on Sunday, haven't we?
"I can't wait for that.
"I guess the fans are going to have to excuse my boots, I've been told that already.
"They're white and orange, so I will be getting some new ones – pretty quickly!
"I'll take the blisters, that'll be better than the grief I might get."
Parish, who began his career at Aston Villa, admits he has been signed as a back-up option to first-choice Dundee goalie Scott Bain.
However, he insists he is not just here to make up the numbers.
Parish added: "I've been in the game a few years and I'm definitely signing at the moment, I guess, as back-up.
"But in my mind, and I've got to make this go into the manager's head, I'm not here just to be back-up.
"I've got to push Bainy, who I've been very impressed with since I've come up. He's a very good goalkeeper and a great lad.
"I'm looking forward to working with him, pushing him, and hopefully I'll get a few chances to impose myself on the shirt.
"I've played well over 100 games now and a lot of those have come from signing at a club, like Bristol City, Cardiff and Blackpool, as back-up and then pushing myself in.
"So, I'm not a stranger to this situation. It's healthy there's competition for places throughout squads, and that includes goalkeeper.
"I'm definitely determined to make this as competitive as possible, in the nicest possible way of course!
"I'm 27 now, and I've got a fair bit of experience behind me now, so it's nothing new to me."