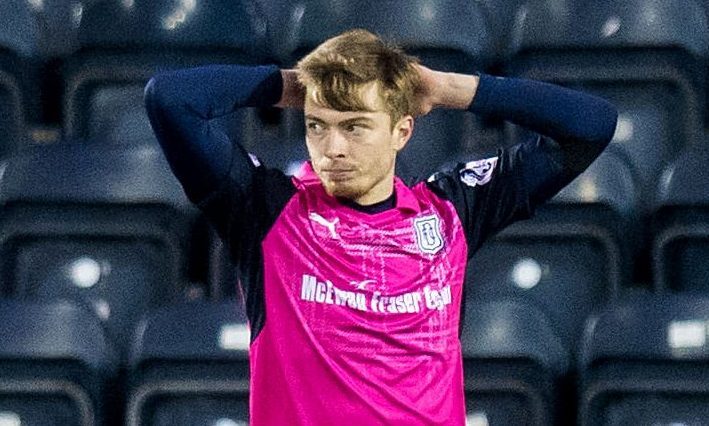 Dundee have suffered a hammer blow with the news that front man Craig Wighton has suffered a cruciate ligament injury and will now undergo an operation on his knee.
Dark Blues boss Neil McCann was unwilling to put a timescale on how long the Scotland Under-21 star will be out for but he did admit that the player will be a huge loss.
The manager had been really impressed with the highly-rated youngster in the games so far this season and he was expecting big things from Wighton this year.
Now, though, those hopes have been dashed.
McCann said: "Craig has done his cruciate and needs an operation so he will see his specialist next week.
"He had looked great in pre-season and we had talked about how he could be a big player for the club this season.
"It was an innocuous one, as they often are, in a bounce game against Bristol City.
"He went by someone and just after that he went down.
"He will get the operation now and receive the best care he can.
"I wouldn't like to talk about timescales and I don't think he should be focused on that either."
Wighton missed Saturday's Betfred Cup victory over Buckie Thistle but the rest of the Dundee players had their Sunday off cancelled by the manager who was less than impressed with the performance against the Highland League side.
McCann let assistant Graham Gartland take training but he had a meeting with the players on Monday and he is now keen to move on starting tonight against Cowdenbeath at Central Park.
He said: "We were in on Sunday but I didn't see them.
"I was in but Garts took the training and they did a bit of running to get the garbage out of their legs.
"The players know what's expected. It could have been five or 6-0 and that still might not have excused them being in on a Sunday.
"I don't think you can be deliberate with things like that and have a preconceived idea about things, it was natural.
"I made the decision on the back of what I'd seen. I don't think you can ever think, 'I'm going to have them in this week' because it quickly becomes false.
"It felt necessary, it was a reaction and if they perform under-par again like that then they'll be expecting to be in.
"It's not nice and it doesn't just impact on the players, it impacts on the people who work here as well.
"But nobody cried about it, we have a good group here.
"We had a right good meeting on Monday about the direction the club wants to go in and the direction I want to go in.
"It was great and we've had a good training session since and we are looking forward to the game on Wednesday.
"I went to see Cowdenbeath play Dundee United at the weekend. I had them watched a couple of times already so I have formed a real opinion of them under Billy Brown."
McCann admitted that former Inverness defender Josh Meekings has been in at Dens.
However, the manager insisted that he was only extending training facilities to the free agent.
He added: "Josh has been here training with us. We have given him facilities because he's friends with Vinny (James Vincent) and a few of the other lads.
"But we haven't spoken to him about anything other than training here.
"Obviously I would love to add a player of Josh's quality but that's not even on the table yet."
Faissal El Bakhtaoui suffered a knock against Buckie and will miss the Cowdenbeath game but Marcus Haber returns to the squad.