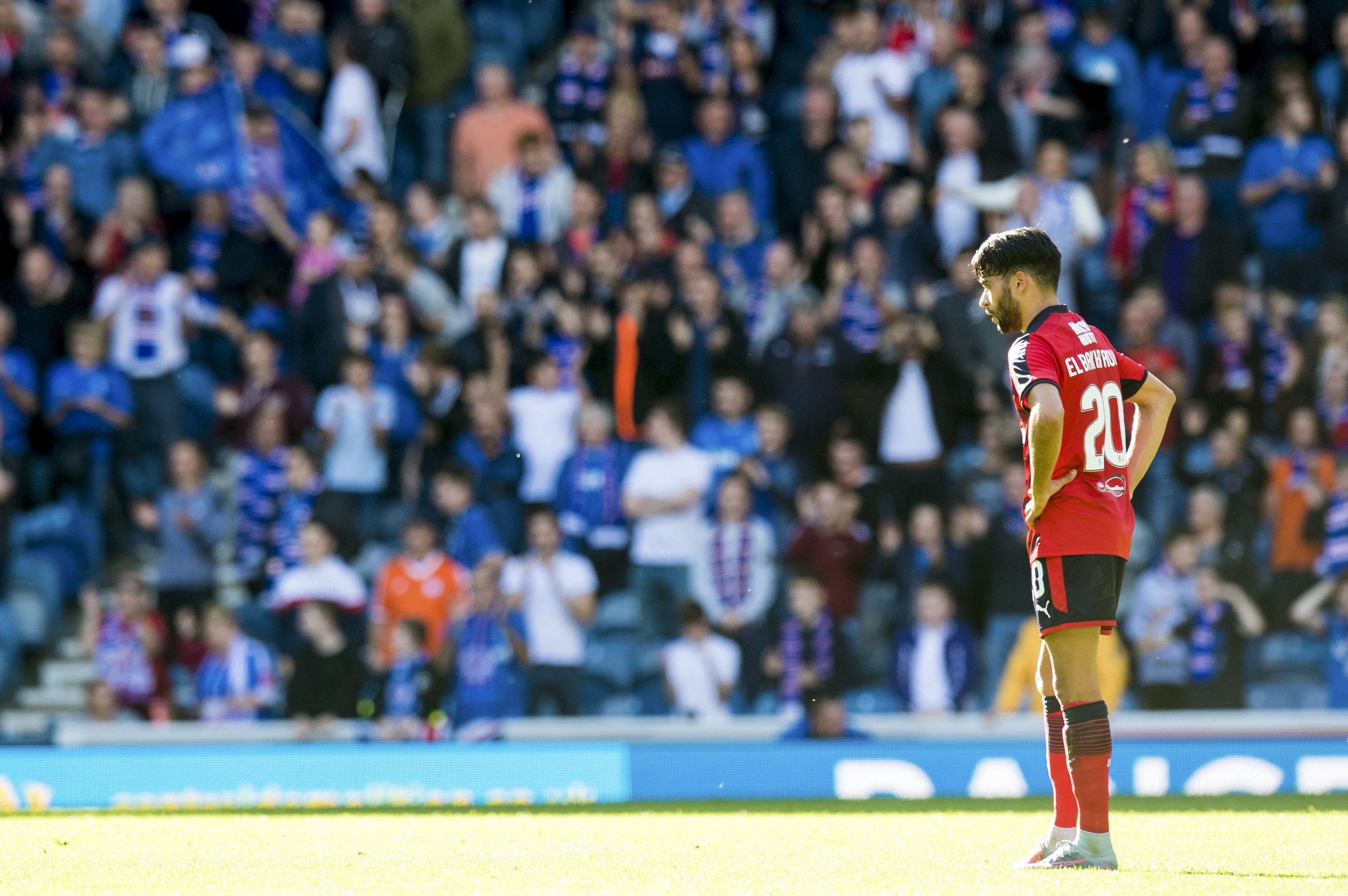 In this week's Talking Football, Ian Roache and Eric Nicolson look forward to the first Premiership Tayside derby of the season and a couple of big games in the Championship.
Dundee losing at Ibrox wasn't the biggest shock in the world. Did we learn anything new?
IR: Indeed, it wasn't a shock and if asked to predict a likely scoreline beforehand then the 4-1 would have been close to my guess. It was even predictable in the way the Dark Blues created golden chances but didn't take them. Mind you, Rangers could have scored more than they did.
EN: We certainly learned that social media types love to see a player slide-tackle a team-mate! We learned that the time is right for Darren O'Dea to come back into the side for either Kerr Waddell or Jack Hendry, as promising as both young centre-backs look. And we learned that Paul McGowan should be playing in the big away games. What we are yet to learn – and it will be crucial for Dundee moving forward – is can Neil McCann turn Scott Allan into the man who dictates a game for Dundee? That could define their season.
St Johnstone have made a fine start to the season, of course, but this has to be the sort of game Dundee are targeting as a three-pointer if they're going to move up the table, surely?
IR: As each game passes, the pressure increases on the Dens men. The record books will be getting dusted off over the next wee while if this league run continues. If my usually dodgy arithmetic is right I now make it two wins, two draws and 13 defeats out of 17 league matches since March 1 (not all under McCann's charge, of course). One win will change the mood but you imagine it will be tough to get even a point off Saints.
EN: Paul Hartley became known as one of those managers who always seemed to get a result when he really needed one (before that final run of defeats that got him the sack, obviously). The Hogmanay win against St Johnstone at Dens was one such occasion. We're not at the must-win stage for McCann yet but words like crisis will start to get thrown about if neither Saints on Saturday nor Killie the week after yield three points.
Tommy Wright wasn't best pleased with Murray Davidson for playing when he was feeling unwell. Do you have sympathy for the player?
IR: It is not unknown for players to hide their health problems or even an injury from a manager because they are so keen to play. That may be seen by some as showing an admirable atttitude but, at the risk of sounding like a granny, just as someone feeling under the weather should not operate machinery or drive a car then an individual should not take to the field if not right.
EN: I do have a bit of sympathy for Davidson. Of course, he should have been more open with his manager, but there is a culture at football clubs whereby you play through the pain barrier if you can (and managers love those type of players). So you can see why they might think the same applies to not feeling 100%.
Falkirk v Dundee United……who needs a win more?
IR: To be frank, I'm not bothered about the Bairns so my answer is the Tangerines. Putting a positive spin on this fixture, this is a golden opportunity for the United players to show they are the real deal and they might even be back on top of the table if they can win.
EN: It's 50/50. Falkirk obviously need the points more. A quick glance at the table tells you that. But the frustration and anger among the United support is at a higher level than at Falkirk. And it shouldn't be underestimated. There isn't a United player who doesn't have to prove himself at the moment.
Scott McDonald was probably United's big summer signing. What is going to bring the best out of him?
IR: He looks better when playing with a partner in a two-man attack. With James Keatings scoring on his return from injury and Patrick N'Koyi improving the team when he came on as a half-time sub against Dumbarton then United have greater scope to give him company up front.
EN: Ian's seen a lot more of United than I have but I would totally agree that McDonald needs somebody to play off. You could make a case for Keatings being the most important player Ray McKinnon has and it would be good to see that partnership getting a run of games. I'd feel better about United's long-term chances if they had a targetman-type who is proven at this level, though.
Full-back was a problem for United last season. Are they any better off this year?
IR: Not on Saturday they weren't. On the right, Stewart Murdoch had a tough afternoon, while Jamie Robson also struggled on the left. The Dumbarton goal summed things up, with Murdoch's mistake losing possession and Robson not doing enough when the cross came over.
EN: Murdoch had looked like a decent converted full-back for a while so his drop in form has presented McKinnon with a problem he didn't envisage. Tam Scobbie's return will help the team but I'd rather see him at centre-back in the long-run.
Is putting in a good 90-minute performance as important as three points at the moment?
IR: Not as important but it would be welcome nonetheless. For me, United need a result sooner rather than later that restores everyone's confidence that this season can be a successful one. They have not been "at it" for too long.
EN: I actually think this is one of the rare occasions when you could argue performance is more important. If United played really well and looked like they were doing what their manager had been telling them all week, yet lost to a freak own goal, the fans would probably leave Falkirk more confident about their title chances than if they struggled again but scraped a lucky win.
There's an argument that this isn't even game of the day in the Championship. How do you see Dunfermline v St Mirren panning out?
IR: This will be a serious test for the Pars after chucking away a two-goal lead to lose 3-2 to Morton. Hopefully, they can show the same bouncebackability they did last month after losing heavily at Ibrox then coming home to hammer Inverness.
EN: I'm covering this match and really looking forward to it. You have to park results like the Morton one. They happen. I'm sure the Pars will do just that. This could be another five-goal thriller. The rest of the promotion hopefuls will probably be hoping for a draw or a home win. St Mirren are on a great run of form (five victories in a row in all competitions) and their three matches after Saturday are ones you would expect them to win.
Lewis Vaughan is on fire for Raith just now. Barry Smith will do well to hold on to him after January, you would expect?
IR: I'm glad we got a Raith question because I thought their home win over Ayr United was one of the results of the weekend. As for Vaughan, he has scored in 10 consecutive games – 14 in total – so the whole country should be interested in what he is achieving. You can bet he has been noticed.
EN I don't think he'll be loaned out to Dumbarton again anytime soon, let's put it that way! He's a very promising wee player and when he moves it will be to the Premiership, not the Championship, I suspect. He could be a good fit for the St Johnstone squad.