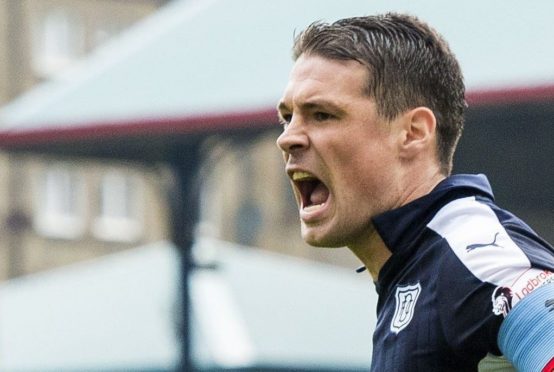 Dundee captain Darren O'Dea insists the Dark Blues are in a "good place" as they go looking for their first away league win of the season.
The Dens men left Celtic Park with a bagful of compliments last weekend following a fighting performance that saw them take the game to the Hoops despite losing by the single goal.
Praise didn't equal points, however, so O'Dea and his teammates are still on the hunt for their first victory on the road.
On paper, a trip to Firhill to face bottom club Partick Thistle today provides an excellent opportunity to secure three points that would build on the momentum they carried home from Parkhead.
Whatever the result against the Jags, though, O'Dea is confident that the players are fully "on board" with what manager Neil McCann is demanding from his players.
He said: "The performance at Celtic Park was good but the manager has told us that's the bare minimum he expects.
"What we'll be trying to do it impose ourselves on teams no matter where it is and that is something we have been working a lot on since the gaffer came in.
"I think we are getting better at it.
"There is a long way to go but you can see it starting to develop.
"Everyone is on board with what the manager wants to do.
"You can't come in and just tell people to act of behave in a certain way, you have to force it on them a bit and that's what he's done.
"He has made it clear what he wants from us and the standards he's got for this club.
"You only need a small group of players to drag the rest of the squad with them and that's where we're at.
"Even boys who are not playing but are on the bench are buying into what we're doing. Their standards are really high in training as well so that pushes everyone on.
"We are in a really good place at the moment."
Having tested Celtic to such an extent that Hoops manager Brendan Rodgers spent a chunk of his post-match media conference praising his opponents, it is essential that the standards stay high when they return to Glasgow this afternoon.
O'Dea added: "There is a level there we know we can get to so we have to hit it every week or get as close to it as we can.
"The result was disappointing but we have come away thinking that if we can impose ourselves on Celtic like that then we can do it to anyone.
"There was plenty of encouragement and I really feel the team has gelled together in the last few weeks.
"We have brought in a new manager and a lot of new players so of course it takes time but we are making a lot of progress.
"It has taken a while to get here but we have had a few good results after what was a slow start, so it's now a case of continuing this improvement.
"There was never any panic when we were not winning early on because we could see the improvements we were making.
"Of course, we really want to win an away game but, if you look at it, we've been to Celtic, Aberdeen and Rangers in that time.
"We have also drawn with Kilmarnock away from home but we do need to win on the road now."
The wily, experienced player that he is, though, O'Dea is reluctant to read too much into Partick's poor start to the season, with a league win of any kind having eluded Alan Archibald's men thus far.
"I wouldn't judge Partick just yet because they have been there before and came back strongly," said O'Dea.
"Last season they were bottom of the league at one point but they dragged themselves away from that into the top six.
"They have a good squad and a very good manager, so nobody here is thinking like we're going to the bottom of the league team.
"Partick are a good side with good players so they won't be panicking," added O'Dea.
"They know they are more than capable of coming back from the start they've had – they have done it before – so they will be confident their season will turn.
"Whether it turns out to be a false position for them only time will tell but I believe they are a good side and I expect them to win matches.
"If we're going to get anything from them we will have to be at our best.
"We are confident going there because of our performances lately but now the results have to match that."