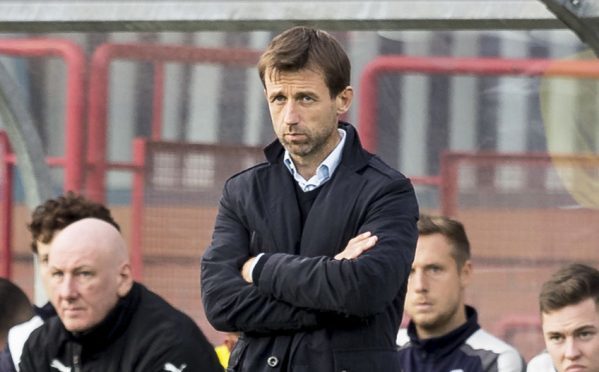 With it being Halloween time, do you think Dundee's home defeat to Hamilton on Saturday was a wee bit scary?
IR: That result could only have been more frightening had the Hamilton goals been scored by Michael Myers, Jigsaw and Stephen King's It. The problem with losing to the likes of Accies (no offence to them) is that it leaves you wondering where the next win will come from. I'm hiding behind the couch as I write this but Dundee's next six matches are: Hibs (a), Kilmarnock (h), Rangers (h), Ross County (a), Aberdeen (h) and Hearts (a). That's a challenging schedule to say the least.
EN: I keep changing my mind about which was the softest of the goals and I think I've settled on the second. It's a while since I've seen as naive defending as that from a set-piece. Jamie Carragher was discussing Everton's plight on Monday Night Football and, without wanting to misquote him, said that they're poor at the back and don't look like scoring. That was Dundee on Saturday.
It is only a couple of weeks or so since we were praising the Dark Blues for taking the game to Celtic. What's gone wrong?
IR: Football is full of what-might-have-beens but it's hard to ignore this one. Dundee should have walked out of Firhill with a deserved victory that built on that positive display at Parkhead but instead they threw away the game against Partick because of woeful finishing. That put pressure on the next match against a buoyant Motherwell team that had just reached a cup final. They lost that one, too, and yet more pressure was on them at home to a stubborn Hamilton side. It should have been so different.
EN: Dundee were starting to look pretty steady at the back. with the three centre-halves formation working well against Hearts and Celtic. But three games later you're left wondering how long that will be peristed with. Ian's right to pinpoint the Thistle game. This all started with failures up top and I suspect that problems at that end will drag on longer than defensive ones. To put it another way, Dundee have better defenders than they do attackers.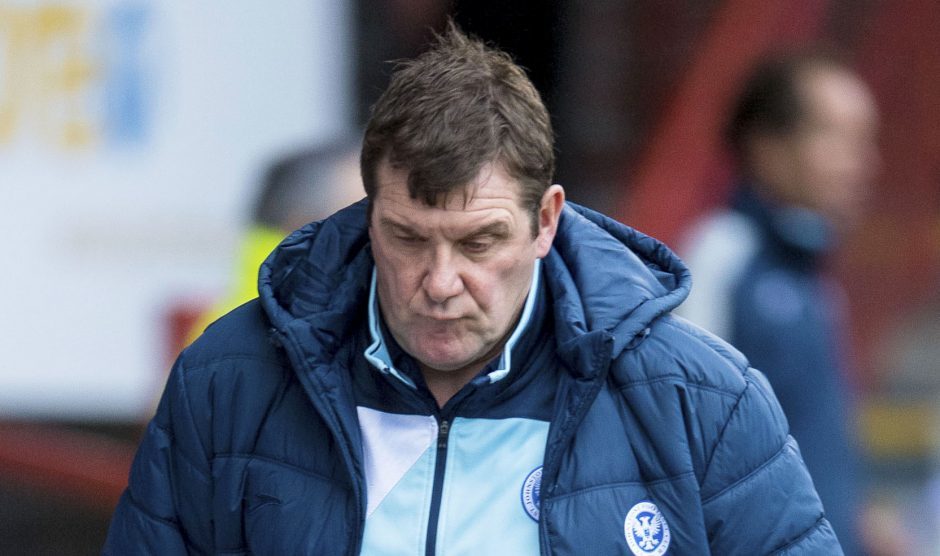 Things aren't much better along the A90 at Perth. St Johnstone's lack of goals – discuss.
IR: 'Twas in days of yore – September 23, to be precise – that Murray Davidson scored a header six minutes from time to secure a 2-1 win over Hamilton at McDiarmid. It was Saints' last goal and pushed them up into second place in the Premiership. A lot of blue water has obviously passed under the bridge since then but the key thing will be to stay calm and have belief that their luck will change.
EN: I know that Saints beat Hamilton without Michael O'Halloran but the injury he picked up at Dundee and the lack of impact he has had since has been the biggest single reason for the goals drying up. They will surely strengthen in that area in January.
As Saints have a history of recovery after difficult spells in the league so should we expect the same again or would that be complacent?
IR: On balance, I probably think Tommy Wright will get it right but that is probably because of what has happened in the past. They are still in the top six – thanks to a one-goal difference over Hearts – but if the famine continues then it will be an unfamiliar bottom half that will be welcoming Saints.
EN: The fact that Saints have gone this long without a goal and still they are in the top six tells you that there isn't an obvious contender to dislodge them. Yes, this is their biggest battle to stay there when the split comes, and the issues up front are real ones, but after the Celtic game is out of the way they'll start picking up points again.
Dundee United are on the cusp of appointing yet another new manager. Is this the most important decision chairman Stephen Thompson and his directors will make during their time at Tannadice?
IR: Yes – without a doubt. Some of his critics would say that the decision to let Stuart Armstrong and Gary Mackay-Steven go to Celtic in early 2015 was the biggest one Thompson has made – and not in a good way. This has to be the right person because the Tangerines need to go back up the Premiership come May. It's as simple as that.
EN: The fact that he has taken his time tells you how important it is. Some good young candidates have been (rightly) passed over because United's situation is so serious. This really is United's crossroads season.
On top of the managerial hullabaloo, there is the small matter of a massive home clash against St Mirren that, if won, would take them level with the Championship leaders. How do you see that going?
IR: If, as expected, they have their new manager in the dugout at Tannadice on Saturday then I think that will help make it a good day for United and their long-suffering supporters. After witnessing the improved performance at Dumbarton, I fancy them to win this and put themselves right back in the title mix.
EN: The new manager bounce theory is an obvious one. What could also be an issue by Saturday is Jack Ross's future. If Rangers go for, and get, Derek McInnes, the St Mirren boss will be on the Dons' shortlist. Then we'll see how Saints cope with a bit of managerial uncertainty. The only St Mirren game I've seen this season was at Dunfermline. The Pars got at a pretty average defence and reaped the rewards. This will be no time for caution from United.
Should we all be positive and enthusiastic about Scotland's friendly against the Netherlands in Aberdeen next week or have we, to coin a Chewin' the Fat phrase, taken that too far?
IR: I welcomed the decision to end Gordon Strachan's time in charge because he missed the only target that really matters – qualification for major finals. Like all Scotland fans – even one with a laptop – I wanted Strachan to succeeed but it was time for a change. This friendly will only be interesting if we get to see some of the new faces in action but, as I sit in the Pittodrie Press box next Thursday night, I will also be pondering what might have been as regards the World Cup play-offs.
EN: It's an awkward period but it would have been even more awkward had Strachan still been in the job. I like the look of Malky Mackay's squad and let's see if a few of the new guys can take their chance.