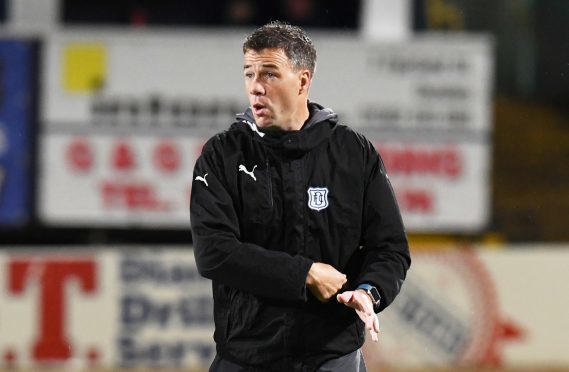 Accentuating the positive and eliminating the negative has helped take Dundee off the foot of the Premiership table.
The Dark Blues couldn't buy a win before beating Rangers 2-1 at Dens Park on Friday night but that was all forgotten as the players watched a video of their highlights – leaving out the lowlights – to get them in the right frame of mind for the Light Blues.
Assistant boss Graham Gartland, taking on the media duties yesterday instead of boss Neil McCann ahead of today's away clash with Ross County, explained: "Things have been really good this week after that Rangers result but, to be fair, they were also good going into last Friday.
"Our performances had been really, really good and the players have always been just bubbling under and been really confident.
"Confidence will be a little bit higher now but it's more of case of getting reassurance that we're doing the right things.
"I think it (confidence) is something you have to work at – I don't think it's something you can just leave to sort itself out.
"Indeed, Neil and I have gone out of our way to make sure that the spirit stays high.
"I said after the game that we could have been, not harder on them, but more negative.
"However, we chose not to be.
"Indeed, we did a video up of all of our positive clips and our positive play.
"It was stuff like, say, if one of our lads lost the ball it was how the other lads reacted to that situation.
"It showed we were working for each other.
"Sometimes it's easier to be negative and it's harder to do positive stuff like that.
"I guess players are different now than in previous years and I think it is really important that you have to help keep them up as much as you can.
"Probably the psychological stuff wasn't talked about 20 years ago, 10 years ago and I wouldn't say I have a degree in it or the manager has, I think it's just a case of we went down the route of being positive because we want positive results."
Gartland, who reported no fresh injury problems, is understandably wary of a trip north to face Ross County but he is looking for the Dundee players to express themselves in Dingwall.
He said: "County have had some really good performances and they were unlucky not to win the game at Tynecastle last week.
"They had a goal that was given offside that all the replays showed was onside. They hit the post as well.
"Also, Leigh Griffiths scores a wonderful free-kick against them for Celtic and when someone steps up like that what can you do?
"So going up there is always tough.
"However, we go at teams and it is up to us to go and try and get a positive result which I believe we can do.
"Everybody came through the week all right so that's good news.
"They put in a massive effort last Friday and I loved the resilience and the adaptability we showed during the last 10 minutes of the game.
"We didn't give up a chance."
Meanwhile, Gartland expressed his delight at the news that long-term injury victim Craig Wighton has started doing some running, even though his return to action is still some way off.
The Irishman said: "Craig is back running and he has been great.
"His spirit has been brilliant and I couldn't speak highly enough of Craig as regards his attitude towards this injury."