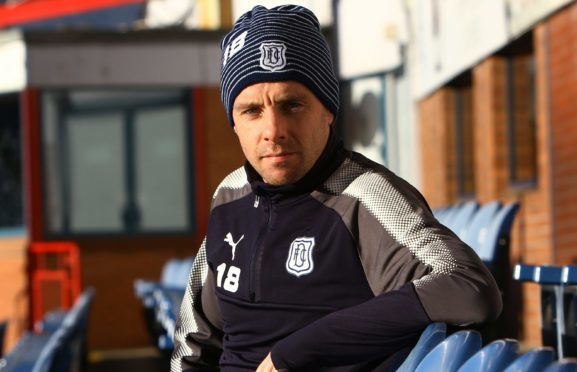 Dundee's Paul McGowan is determined he and his team-mates will prove that Tuesday night's defeat at Tynecastle against Hearts was just a blip when they play Partick this afternoon.
The midfielder admitted he was still hurting following the loss and the lacklustre performance against the Edinburgh side.
Like his team-mates, his ears are also probably still hurting after manager Neil McCann's full-time blast.
However, McGowan will now look to put things right against a Partick side who posted a morale-boosting 3-2 in over Motherwell in midweek.
The 30-year-old said: "Tuesday night was very disappointing.
"It was a hard one to take. There are no excuses whatsoever because every one of us was off it.
"We prepared the same way as we do for every other game and it just wasn't us.
"We'd been on a good run and had been consistent but on the night, we just never turned up.
"It's still hurting. I didn't see it coming and I don't think the manager saw it coming either.
"We went there and didn't play so we got turned over."
McGowan added: "I think the manager was more hurt than angry.
"He had every right to be upset and said his piece to us.
"After the game, you try and analyse but quite simply we were off the pace and the only person to get pass marks was Elliott Parish, our keeper.
"We have to get everybody right at it on the park. One or two might have off days which is natural but there were too many – including myself – who weren't at the races.
"So the manager had every right to come out and have a go at us.
"Now, with Patrick getting such a great result against Motherwell, it makes this game even bigger.
"They've got quality in their team but we need to show a major improvement.
"And I think the way we're going to go about it will show it was just a little blip.
"Hopefully we'll put it behind us and get the three points."
With the Jags just one point behind second-bottom Dundee, a victory for either team could prove vital.
McGowan added: "I'm looking forward to seeing how we react against Partick.
"I feel we owe ourselves more than anything. We let ourselves down badly.
"Did we get a bit complacent? Did we roll up at Tynecastle just thinking we'd get a result? I don't know.
"We need to now stand up and be counted because Partick don't deserve to be down where they are in the league table.
"They've got players who can hurt you which we must be wary of and have been consistently good over the past few seasons.
"We can't expect just to turn up and roll over Partick. It doesn't work like that in this league.
"We've got to outplay them and out-run them to get the result."