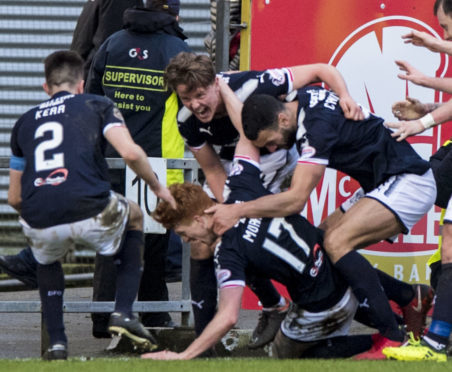 It was an encouraging weekend for Dundee, St Johnstone and Dundee United, even though one of them didn't actually play. In this week's Talking Football, Eric Nicolson and Ian Roache assess whether the good times will keep coming.
A late defeat at Firhill earlier in the season set Dundee back for a couple of weeks. Can a late win be the catalyst for better things this time around?
EN: It depends what your expectations are. Unfortunately, while Dundee have been inconsistent, Kilmarnock have been anything but. Now, despite Saturday's victory, seven points of a gap and having played two games more will be too much ground to make up. So it looks all but certain Dundee will be in the bottom six after the split. Hopefully the Dens Park money men haven't budgeted for the upper half again. Being top of the bottom lot is still realistic, though. It would also represent significant progress from last season.
IR: Let's be honest here – it was a brilliant result. At six minutes to go sitting in the Press box at Firhill, I was preparing to write a doom and gloom story about a fourth straight defeat and being only four points ahead of bottom club Ross County. Instead, it was all good news thanks to smiling assassin Simon Murray. I hope it can be a catalyst for better things but the pre-split fixture schedule could be kinder.
It was a good day for Dundee's two high profile signings, wasn't it?
EN: For all that top six would have been nice, keeping away from bottom and second bottom will always be the priority at Dens. Had Neil McCann not brought in Simon Murray and Steven Caulker I could have seen them filling one of those two places. It was Murray's day, in particular, and he could get close to 10 goals for Dundee by the time the season is over.
IR: Murray deserved enormous credit for his sheer resilience on Saturday, He doesn't let missed chances bother him one bit and that's a fabulous attribute for a frontman to have. Caulker was right in the thick of things for that Murray last-gasp winner and the Dark Blues are now well aware they have recruited a goal threat as well as a fine defender.
What did you make of St Johnstone's performance at Celtic Park and Brendan Rodgers' reaction to it?
EN: It was exactly what was required. The St Johnstone of old hadn't been seen for a while – certainly over 90 minutes. They seem to have grasped the reality of their situation just in time. There is no way they will be dragged into a relegation fight if that's their template moving forward – particularly with Murray Davidson and Jason Kerr performing like they are, David McMillan to come back and the loan signings getting match fit. As for Rodgers, he's been at Celtic and Liverpool long enough to know that playing the big boys can bring out the best in opponents. It's possibly a sign of growing frustration at the form his side has shown domestically of late.
IR: Rodgers' reaction was, well, a wee bit patronising. Big-club manager pointing out where the smaller team's players are going wrong. There are several reasons that Saints haven't performed in certain games this season and Tommy Wright will know them all off by heart. He doesn't need this contribution from his fellow Northern Irishman. Like Eric, I can see frustration at his own team coming out in Rodgers' words. He should have just praised St Johnstone, whose budget is a tiny fraction of that enjoyed by Celtic, for holding a side that had just beaten top Russian team Zenit St Petersburg.
Saints have a big week coming up, though, don't they?
EN: Just a bit. Three games at home should be looked upon as their opportunity to pull away from the danger zone, even with their woeful record at McDiarmid. Beat Ross County and Hamilton and they'll almost be safe.
IR: The game against the Staggies looms extremely large on the horizon. You get the feeling that County will fancy themselves to get something on Saturday so Saints don't need to give them any encouragement and should take the game to the visitors.
Was Livingston's victory against St Mirren a good result for Dundee United?
EN: Yes. I know that Livingston finishing above United is more likely than United finishing above St Mirren but it's too early to give up on the title just yet.
IR: It will certainly be a good one for the Tangerines if they beat Livi! Hopefully, a defeat like that will place doubt in St Mirren minds but the title is still theirs to throw away.
This is a physical, direct Livi team United will play on Friday night. Are they up to that challenge?
EN: This is exactly the sort of match United have lost on several occasions – away from home against a side that will look to bully them. In normal circumstances I'd say a draw is a decent result. They need a win, though. I actually think they'll get it.
IR: I think we will learn an awful lot about United's players by how they perform on Friday night. Go down to another miserable away defeat like the last time in Livi (and at Paisley twice and Falkirk) then we are looking at them struggling to finish even second. However, if they can get the three points then maybe this difficult-to-love season can have a happy ending after all.
Are you happy with Alex McLeish as Scotland manager?
EN: Happier than if it had been Walter Smith, that's for sure, but still underwhelmed. I do feel let down by the SFA's handling of this saga. To not even interview a foreign candidate is shocking. When the games get underway, I'll have more faith in McLeish than I would have had in Strachan, though.
IR: Like Eric, I'm happier with McLeish than Strachan but you can squeeze a cigarette paper between them. My dream of a wily, experienced Scandinavian/eastern European coach, who has been there and done it as far as qualifying for tournaments is concerned, was lost in the fog of SFA blazerdome.