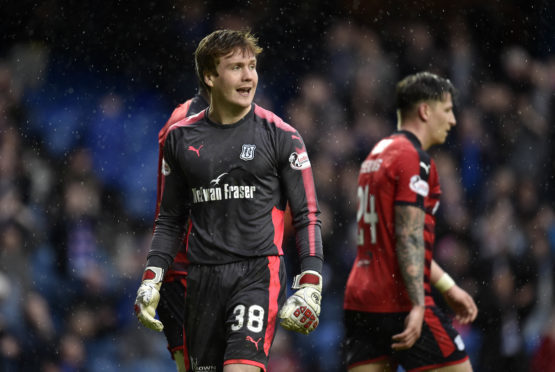 Dundee boss Neil McCann has hailed youngster Calum Ferrie after the keeper was handed a baptism of fire against Rangers at the weekend.
The 19-year-old was called off the bench to make his debut at Ibrox on Saturday after Elliott Parish sustained an injury five minutes from time.
McCann has admitted that January signing Jeremy Malherbe may feel hard done by at being denied the chance to make his bow.
However, the Dens Park boss insists Ferrie fully deserved his opportunity and reckons the experience will serve the teenager well in the future.
McCann said: "The circumstances, I think, could have been kinder. We don't enjoy losing our goalkeeper.
"But that's just a mark of Calum's progression this year.
"I brought in Jeremy and he's probably a bit frustrated and thinks he should have been there.
"But I felt Calum's performances in the 20s have been good and his levels in training have been really high.
"He would have got a lot from that.
"He wouldn't have enjoyed conceding, because he's been such a hard keeper to beat in training.
"But it's nice for him to get a taste of it."
Dundee handed new 12-month contracts to youngsters Cedwyn Scott and Dan Jefferies on Friday and Scott was rewarded with a substitute's role against Rangers.
McCann added: "We had young Cedwyn Scott on the bench as well and I'm delighted he's extended [his deal] with us.
"So, the future's bright for Dundee."