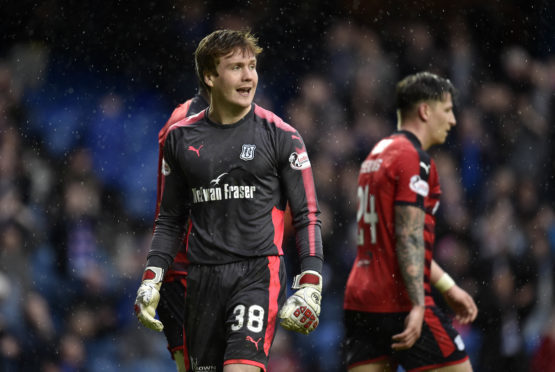 An under-20s title win would be nice for Dundee's promising youngsters, but establishing themselves in the first team squad is the priority, according to goalkeeper Calum Ferrie.
The teenager, who is part of the Dark Blues' development side pushing Hibs at the top of their league, became the latest member of Jimmy Boyle's boys to get game-time for Neil McCann at Ibrox recently.
The keeper, who came off the bench to replace the injured Elliott Parish, said: "Because it is development football, the most important thing is to see how many of the 20s squad have pushed on and made an impact with the first team.
"Even it is just half-an-hour here or 40 minutes there, getting your debut is important.
"It shows the gaffer has faith in the youngsters to bring them in.
"A lot might not get a chance at other clubs. It's important to see there's a direct route if you play well and get your head down. The boys have been brilliant."
The Englishman admitted he felt "numb" when it became apparent he was about to come on against Rangers a couple of weeks ago when Parish sustained a facial injury.
"It was a weird experience because when Elliott went down I actually thought we'd made our three subs," he recalled.
"Then, hang on, no we haven't!
"I stood up and almost went numb in a way, just sort of in-the-zone, I would call it.
"For me, personally, it was something I'd dreamed of since the age of six and getting on was fantastic. It's nice to feel the sacrifices have been worth it and now I just want to push on.
"I was very annoyed to lose a goal, though. I'm annoyed to lose goals in training, never mind Ibrox!
"Hopefully this can be the catalyst to get more games.
"Since Christmas I've found an extra gear which I didn't know I had, and in training I've pushed myself to the limit.
"One of the biggest things for a goalkeeper is trust from your manager.
"To have someone who has faith in me and is willing to put me on in front of 49,000 at Ibrox is great. It gives you confidence and pushes you on."