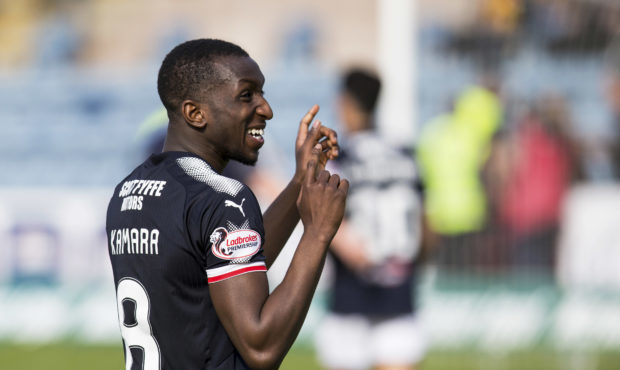 The club football may be over but player recruitment is only just beginning. Courier sports writers Ian Roache, Eric Nicolson and Neil Robertson assess signings made at Dens Park and Tannadice, and their implications.
Neil McCann has been a busy man in the transfer market, with Jack Hamilton one of three signings already. If you think he'll be first choice, is that harsh on Elliott Parish?
IR: If I were Parish, I'd be looking at the length of that three-year contract handed to Hamilton and expecting to have a fight on my hands to keep the gloves.
EN: I can foresee a situation like the Kyle Letheren/Scott Bain one when Dundee got promoted under Paul Hartley. Letheren was a hero in helping Dundee up but that didn't count for much when Hartley brought in a keeper he knew well from Alloa. Parish didn't do much wrong – of the games I saw, the goal he conceded at Pittodrie stands out as his only big mistake – and McCann has a lot to thank him for because the Bain saga had the potential to derail them. Hamilton has more to prove than Parish but I suspect he'll get first chance when the season gets underway.
NR: Parish revels in being the regular No.1 at Dens and will not give up the jersey without a fight while young Calum Ferrie impressed when he was handed his starting debut at the end of the season against Partick. However, Hamilton is an impressive goalie and considering the length of contract McCann has awarded him, he obviously believes he can be the club's keeper for the foreseeable future.
McCann has also brought in two midfielders. We'll have to wait and see Elton Ngwatala and Kharl Madianga in action before we know exactly what Dundee have got but are you starting to get more worried that their arrival means Glen Kamara has played his last game for the Dark Blues?
IR: I think we all expect Kamara to leave at some stage and that's simply a compliment to the player. It does have the look of buying in cover before the expected exit but even if that is the case it is solid, sensible business by McCann.
EN: Kamara has been offered a new contract and if he doesn't sign the extension I think he'll go. The business model for Dundee isn't to let star assets run down their contract and leave for nothing.
NR: McCann said himself last week that he has to try to cover every contingency and while he is talking to Kamara about extending his contract, I would be amazed if the Finnish international is still at the club when pre-season begins. Considering the way he played last season, I feel it is a matter of when, not if, he leaves. However, Dundee showed when they negotiated a club record transfer fee for Jack Hendry from Celtic in January that players will not depart Dens on the cheap.
There are still plenty of people who doubt whether there will be a new Dundee stadium. After Neil's interview with John Nelms last week, are you more confident that it is going to happen?
IR: I do believe Nelms thinks it is going to happen and is doing all he can to make it a reality. The access roads problem looks tricky and the whole scheme could stand or fall on whether he and Keyes can convince Transport Scotland to give them the green light.
EN: I was a cynic at the start but I'm coming round to the idea that it will happen. The changing face of Dundee as a city has needed joined-up thinking from developers and the local authority. The new Dens Park is benefiting from that. The fact that Nelms has started talking about 2020 is a sign of his confidence that he's getting his ducks in a row.
NR: Considering Dundee's chequered history, it is understandable when people are cynical about the stadium plans. There are still huge obstacles to overcome before it is a reality and I could probably fill both of these two pages discussing the pros and cons of the whole project. However, one thing I am certain of after my hour-long sit-down with Nelms last week – he is utterly convinced that every hurdle will be jumped and that Dundee will be in a shiny, new stadium sooner rather than later.
Dundee United have a whole new team to build. Is Nicky Clark a good start?
IR: Yes, that looks like a good buy. To be honest, I liked the look of nearly all of Dunfermline's attacking players last season so it will be interesting to see if United can get Fraser Aird too.
EN: Apart from Stephen Dobbie, Clark is the best example of a course-and-distance Championship performer (with the Pars and Queen of the South). He has Scott McDonald's eye for a goal and will get about the park better. One down, just the 10 to go.
NR: Absolutely. Any striker who can score 21 goals in a season as Clark did in the last campaign is worth his weight in gold.
Are you surprised that Jamie Robson is staying at Tannadice?
IR: On balance, I probably am a bit surprised. Like most of his teammates, Robson had a poor season and the Tangerines will be looking for him to step up a bit when the action gets going again in July. Still, it would be great to see this one-time Southampton target realise his potential at Tannadice.
EN: This summer had the feeling of the right time for a parting of the ways. Not because there isn't a potentially player in there but because there will be another left-back signed and Csaba Laszlo appears to have been unconvinced by Robson. He must still feel there is unfinished business at Tannadice, though.
NR: Like Ian, I think the key word here is "potential". There does seem to be a player there but having been given a vote of confidence, so to speak, he now needs to prove it.
St Johnstone chairman Steve Brown has been quoted as saying Saints may opt out of the new reserve league. What sort of a risk would that be?
IR: I would be wondering what the plan B is if you are not competing in the reserve league but Mr Brown usually knows what he's doing so maybe Saints fans should trust his judgment.
EN: Not every player on the fringes of the first team can be loaned out – nor should they be. I'm struggling to see how lads not getting a start in the first team can be kept ticking over without playing in the reserve league.
NR: I am not convinced this will become a certainty, so I "reserve" judgement until it does.
His Liverpool team didn't get the result they wanted in the Champions League final but has Andy Robertson ended the debate about who is Scotland's best left-back with his performance against Real Madrid?
IR: I take it Celtic's Kieran Tierney is the competition hinted at in the question? There hasn't really been a debate for me because to be playing for Liverpool in the English Premier League, let alone a Champions League final, puts Robertson ahead of Tierney and has done since he moved to Anfield. What is a priority for Scotland is finding out how to make best use of these two players – the country's top talents, in my opinion – in the same side.
EN: Robertson has been talked about as the best left-back in England this season, and deservedly so. I can't think of a Scottish football success story to rival it since Paul Lambert at Borussia Dortmund. Celtic fan or not, until Tierney leaves Parkhead nobody can possibly back up an argument that he is on the same level as Robertson. He simply isn't being tested to the same extent.
NR: There are more than a few Celtic fans who would disagree with the view that Robertson is better than Tierney but it is a moot point while the latter is still playing in this country rather than the English Premier League. I just wish there were options of similar quality for every position in the Scotland team.