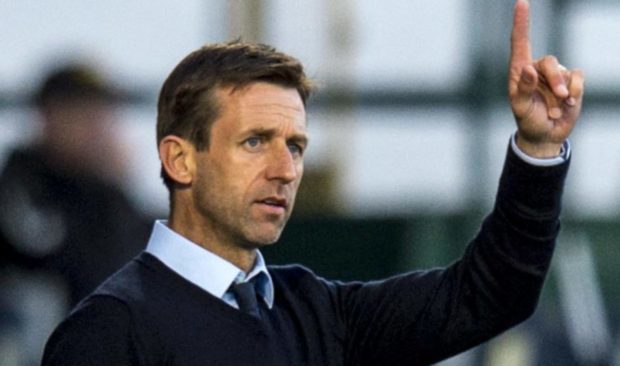 Dundee boss Neil McCann is grateful that he has been given the opportunity to take his players abroad to prepare for the new season.
The Dark Blues stayed at home last summer, choosing to pencil in some team-bonding days and friendlies close to home instead.
With the Betfred Cup already looming large – the Dens men kick off the competitive stuff a week on Saturday away to Stirling Albion – McCann admits the training camp in Portugal over the next seven days will be absolutely crucial as regards preparing for the serious stuff ahead.
With a posse of new players – many with French as their first language – in the squad the manager will be encouraging his men to mix as much as possible when they are away.
Therefore, the down time when they are neither training nor playing will be invaluable.
That bonding should be easier to achieve when they are all based in the one place – the Vale do Lobo resort – rather than had they remained in Scotland.
McCann, who flies out with his players today, said: "The team spirit is really good but we want it to be even better if possible.
"I know you are looking at a number of French-speaking players there but they all integrate so well.
"Already, I can see the boys mixing well.
"When you go away abroad it gives you a lot of time when you are just together.
"That enables you to get used to each other's habits and that's important.
"We didn't do it last year, although we had a couple of team-bonding days, so this is a good opportunity for the guys to really mix.
"You want to build up a winning mentality at the club and that's never in the background but rather always at the forefront of our mind."
McCann's men put a pre-season friendly win over Cowdenbeath in the bank ahead of the Algarve trip, with Matty Henvey's strike giving them a 1-0 success at Central Park on Monday night.
Next up is Saturday's training match in Portugal against English club Mansfield Town then they face locals SC Farense in Albufeira on Tuesday.
These may not be competitive clashes but they will, nevertheless, be extremely important.
"When you go into pre-season games it is about getting the players toughened up and ready for the season to come," said McCann.
"Last year, I didn't count the Betfred Cup as a warm-up to the league season because it's a cup we want to do well in. That is the case again.
"So these friendlies, both at home when we are away, are vitally important to get the condition right and minutes under the players' belts.
"The boys who didn't get as many minutes in the first two friendlies (against Brechin and Cowden) will get more over in Portugal as they all gradually build up to playing 90 minutes.
"The most pleasing thing for me on Monday at Central Park was the condition of the players.
"A lot of the boys got 60 minutes or so, which was good.
"Secondly, we have come out of it unscathed which is positive when you look at the surface. It was also a reasonably physical match.
"It was nice for the boys who have just come into the club to be experience Scottish football for the first time and get an understanding of what is expected.
"I thought they all did well on what was a really difficult surface.
"If we can just add that cutting edge that would be great.
"Overall, I was really pleased which how they performed in a difficult environment."
One of the toughest decisions McCann will have to make before the season starts is who to play in goal.
Jack Hamilton has been given the squad number one, with Elliott Parish keeping his 12 from last season.
McCann added: "You always want competition throughout the team and I think we are getting that now.
"In that goalkeeping position, you clearly want them to have that edge and I think it's good that they are kept on their toes.
"Against Cowdenbeath, Elliott came on and did well in the second half after Jack had a comfortable first part of the evening."
Meanwhile, the Dundee gaffer revealed he will have plenty with which to keep himself busy on the flight.
After revealing he will be learning French as result of having so many players who speak that language in his squad, the Dens boss was asked if he would be taking some text books with him to read on the flight.
He replied: "Oui!"