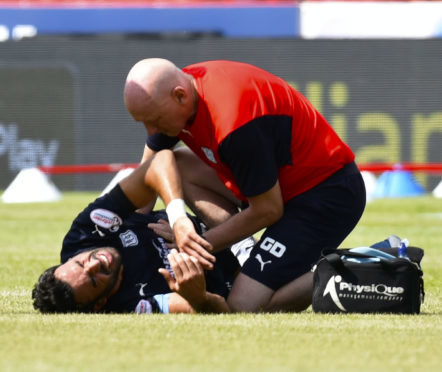 An X-ray hasn't revealed a broken rib for Sofien Moussa but the striker will still be sidelined as Dundee seek to keep their Betfred Cup hopes alive in Peterhead tonight.
Moussa was one of a trio of Dens Park men who were forced off with injuries in the weekend defeat to Dunfermline.
He, Nathan Ralph and Genseric Kusunga are all likely to miss out this evening, along with Glen Kamara.
Manager Neil McCann said: "It was a strange one. I actually initially thought that he (Moussa) had taken a heavy knock and one of the centre-backs had followed him in. It was very painful.
"We have to give him time. It's his rib. I've broken a couple and it's very painful. He's been X-rayed, which didn't show anything. That's good news but sometimes fractures don't show up for a couple of weeks.
"The treatment won't be any different, even if it's muscular.
"Nathan's got a calf strain. He felt it early in the match.
"Gensy is the one I'm probably most worried about. He took a heavy knock.
"It's positions where we're not particularly strong in terms of numbers. But we'll just need to deal with it.
"Clearly in the full-back area we've got two on the right. Cammy can cover on the left but it's an area we'll look to strengthen.
"Up top, I've been saying for long enough that we need to strengthen there."
Kamara is "getting better every day" and could return for the final group game against Brechin on Saturday.
McCann believes Sunday's defeat to the Pars may prove to be a benefit to his new recruits in the long run.
"I honestly do believe that the players we've signed will be good players for this club," he said.
"It's going to take a bit of time.
"That was Kharl Madianga's first game in a year. I don't know if that's common knowledge. A year. His work stats are incredible. They're off the charts.
"The quality has to come, as does his understanding of the speed of the game up here. Boys like that need time to settle.
"I know it was a Championship side we were playing against but it was a good Championship side that got a big lift early in the game.
"That game will help them. What it will also help them understand is our crowd. There can be 2,000 on the gate, 5,000 or 50,000 – Scottish fans make demands of their team and if they're not getting it they aren't slow to let you know.
"I don't want it to happen too many times but that was a good experience for them."
McCann added: "The first half in general was really poor. Second half was a lot better and we created more opportunities and probably should have had at least two goals.
"It still wasn't anywhere near what we're looking for. We need to put the foot down and win the remaining games.
"The players knew how unhappy I was because we treat this competition very seriously."
McCann won't let the recent spate of injuries alter his transfer plans.
"We knew we were a bit light but the budget dictates how beefy our squad can be," he said. "We're not in a position to go out and spend, spend, spend.
"I have been very prudent and it has been difficult. I've had certain targets and you don't want to give up on them just to get bodies in the door. If you've been thinking about someone for a while and they're still available you'd like to hold fire.
"One or two players we're looking at are down south and their window closes earlier. It's a weird situation. It does have an impact."
McCann has watched Peterhead in action and most of their players are known to him.
"Rory McAllister is clearly a threat," he said. "He's picked up awards at these PFA nights for years. I don't know how many clubs have had a nibble at him – a lot I would imagine – but he's been happy at Peterhead.
"I know a lot of these boys in the lower leagues from my time working at Dunfermline."
Willie Gibson is suspended, while Mick Dunlop and Paddy Boyle are injured.