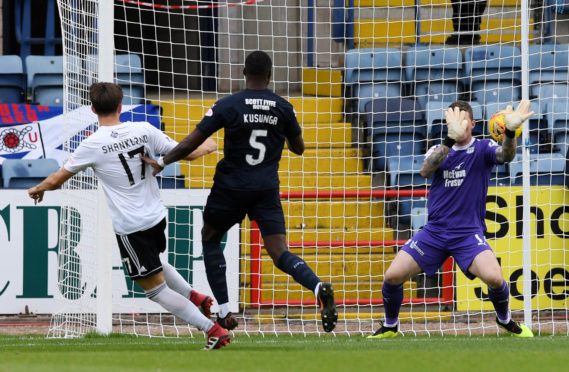 A favourite tune at Dens over the years has been Three Little Birds by the legendary Bob Marley and the Wailers.
The lyrics tell you not to worry about a thing because every little thing is gonna be all right.
Perhaps a more fitting choice of song on Saturday – certainly at the final whistle – would have been the reggae king's classic Exodus.
For this disastrous display in the last 16 of the Betfred Cup had people racing for the exits and you couldn't blame them.
Just over 2,700 Dundee supporters took their seats at 3pm and the vast majority had seen enough by the time Ayr's third goal went in.
The players would probably have preferred to have joined the disappearing punters rather than face manager Neil McCann at full-time.
At least in the two league losses that preceded this Betfred Cup one, they had created chances. It seemed they were only a finisher away from being a decent team.
Against Ayr, though, they looked second best from the start and were hammered in the end.
As reckless as both players were, let's not kid ourselves on that the sendings-off for Sofien Moussa and Genseric Kusunga had greater impact than they did.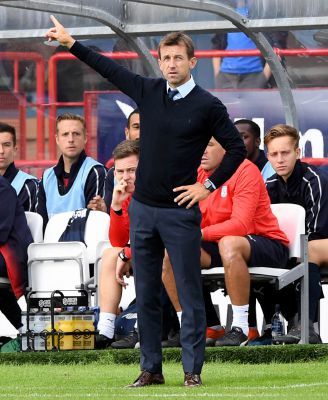 Ayr always looked like winning and the worrying thing for the Dark Blues is that it is the second comfortable win against them on their own pitch by a Championship side since the start of the season (Dunfermline in the Betfred group stage being the other).
The fans will be left Waiting in Vain for their next win if Dundee don't sort themselves out.
The day had started badly for McCann courtesy of an interview given by former player Julen Etxabeguren in a Glasgow-based tabloid that criticised his man-management skills and tactics.
His day then went south rapidly as Ayr, who were playing in Scotland's third tier just a few months ago, made his team look like the lower league side.
It was maybe written in the stars that the one who got away would send Dundee crashing out of the cup.
Lawrence Shankland caught McCann's eye over the summer as the Dark Blues' boss searched for someone to score goals.
The deal was never done, though, and the Ayr forward duly showed McCann what he has missed out on when he smashed a shot home on 51 minutes to put the Honest Men 1-0 up.
As if to rub McCann's nose in it, another striker who has been the biggest culprit for squandering chances, substitute Moussa, was only on the pitch for 15 minutes before he was sent off for two quickfire bookings.
Man-of-the-match Shankland made it 2-0 with just four minutes to go then, a couple of minutes later, Michael Moffat slid the ball home from just a yard out to make it 3-0 to Ian McCall's team.
It was a comfortable and richly deserved victory for the visitors, who had had the better of the first half and probably felt unlucky to be goalless at the break.
Dundee brought new Finnish frontman Benjamin Kallman off the bench for the second period but it was Shankland who brought the match to life with a fine finish.
Moussa then had his two moments of madness after replacing Jean Mendy on 63 minutes.
Firstly, he was booked for a challenge on Andy Geggan. Almost immediately he got away with another poor challenge, on Daniel Harvie, but then fouled Mark Kerr in an aerial joust and it was game over for him.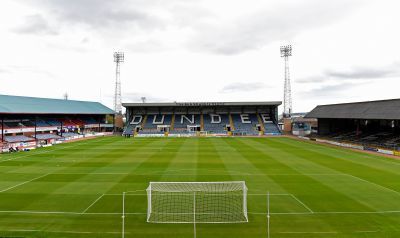 Ayr were in control by then anyway and it was no surprise when Shankland side-footed home from close range and then Moffat bagged the third.
The dismal result piles some early-season pressure on the Dark Blues and ensures that, once again, they miss out on a decent cup run.
McCann didn't hide from the fact that his men had been well beaten.
Indeed, he admitted it could have been even worse.
He said: "If I'm honest, 3-0 probably flattered us.
"It's difficult to put my finger on it because it's not often that so many fundamental things go wrong from start to finish.
"I have no complaints about the result. It is a sore one and I've told them that."
As for Ayr's in-demand star man Shankland, he seems happy to just let his future sort itself out.
He did admit, though, that it was nice to play so well against a club that had shown an interest in him.
He said: "Coming to face Premiership opposition, you do want to show yourself.
"The rest of the boys also wanted to show we're a good side and aren't just in the Championship by a fluke or are in the cup by a fluke.
"Dundee had a lot of possession but we sat in a bit and played on the counter-attack than normal. You need to do that when you are playing against a team who're a league above you.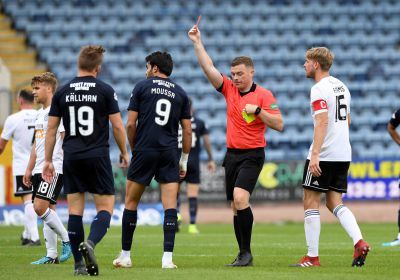 "We knew they would have possession of the ball so I need to give the boys in defence a lot of credit.
"I think it's a great result for all of us.
"I'm here to do a professional job and I'm playing for Ayr.
"They signed me and I'm committed to that.
"I'm enjoying my football thankfully and scoring goals for a winning team. I don't see why I would want to rush out the door."
As for that  last sentence, if only the Dundee fans could have said the same.