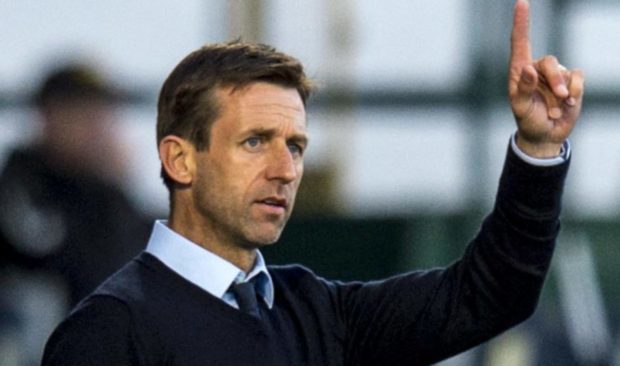 Dundee boss Neil McCann admits new signing Kenny Miller will bring a whole host of qualities to his team – but the one he is hoping he displays most is his ability to hit the back of the net.
The Dark Blues have scored only one goal in their last four games which have all ended in defeat.
McCann is now hoping that the 38-year-old former Rangers and Scotland striker can provide a solution to that problem, starting tomorrow against Motherwell at Dens.
The veteran has signed a two-year deal with the Dark Blues, which some have seen as a big leap of faith in someone who is 38.
However, McCann insists that Miller's age is only a number and the front man is as fit and committed as ever.
The manager said: "I did try to get Kenny before. I had conversations with him at the start of the summer but I just couldn't persuade him at that moment in time.
"Clearly he chose a different pathway but when he became available, there was an interest there to bring him to the club.
"I knew he had options so I had to be patient but we had a good chat and he decided to come here so I am really pleased.
"When you are signing someone of Kenny's age on a two-year deal, you want to be prudent and do the right things.
"You give him a medical because you are handing out a good contract for a duration of time and I have to say he sailed through it because he is in peak condition.
"To me Kenny doesn't look as if he's suffered with the years going by because he has been lucky enough, touch wood, that he hasn't had any major injury problems.
"He has had hamstrings here and there and different things that you get but I think he looks in fantastic nick.
"I am getting a fantastic striker first and foremost. A boy who knows where the goals are.
"We need a bit of help in that department. I have brought Kenny in to be a goalscorer."
McCann also thanked Dundee chief executive John Nelms and the board for sanctioning the move for a player he regards as the best available in his position.
He added: "I have only known Kenny as a player and that's my job as a manager to go out there and see what's available.
"I'd like to make that quite clear. Kenny probably is the best striker around who was free and we were able to get – without a doubt.
"So that was my target, my sole objective to get the very best we could to this club.
"I am so happy to get someone of Kenny's stature in the game.
"It has been brilliant from John and the board to sanction the move.
"There aren't many strikers of his quality going around.
"I don't care about his age. I look at how someone is moving.
"I don't look at the number that's on his birth certificate. I look at how he is going and he looks as sprightly as ever."