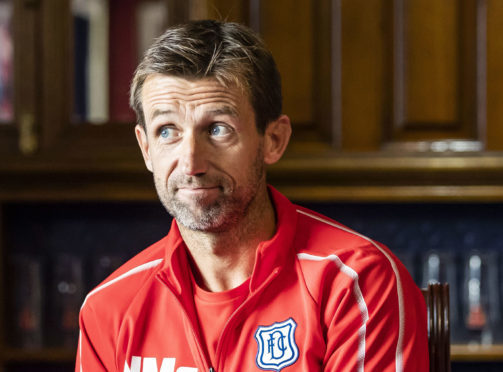 In this week's Talking Football, The Courier's sports writers Ian Roache, Eric Nicolson and Neil Robertson discuss whether we are nearing the end game for Neil McCann at Dundee.
It looks to be all doom and gloom at Dundee. How would you assess their predicament?
IR: Dundee are now in that dreaded position where you wonder just where the next win is coming from. Between now and the end of October, this is their league schedule: Rangers (a), Hibs (h), Hamilton (a), Kilmarnock (h), Livingston (a), Hearts (h) and Celtic (h). You would have to be a real optimist to pick many points out of that lot, certainly considering how the team are playing. It's a worrying time.
EN: If Neil McCann has two games to save his job – which is possible – then it's a big task in front of him. Rangers have been over-hyped but you would still fancy them to beat Dundee quite comfortably. And Hibs are a very good side, with their defeat at Livingston a blip. The Hamilton, Killie and Livi matches afford an opportunity to pick up some momentum and, providing the players still look like they are giving their all for McCann by then, he could yet turn this situation around.
NR: Dundee's predicament? Grim to say the least. They are struggling to score while leaking preventable goals and it doesn't take a footballing genius to work out that is a recipe for disaster. The players' confidence is understandably fragile to say the least at the moment and this international break is a much-needed breathing space for the squad and the manager to try to right the wrongs that are costing them dear.
Are there any reasons to be cheerful for the Dark Blues?
IR: Not really when you consider that performance against Motherwell on Saturday. The defending at all three goals wasn't acceptable. The only chinks of light have been good passages of play in games earlier on in the season but even then they went on to lose those matches against St Mirren and Aberdeen.
EN: I wouldn't quite say you need blind faith but the line that I've heard trotted out by players that when it clicks, we'll give someone a hammering, has no substance to it. Dundee continue to be a side that is poor at both ends of the pitch. If we're clutching at straws, Benjamin Kallman took his goal well and Calvin Miller looks like a good recruit.
NR: The Dundee fans are about as cheerful as Victor Meldrew with a hangover at the moment. However, I am in agreement with Eric that Miller looked like a promising addition and is a player who will add some much-needed width to the Dark Blues attack.
Will Neil McCann still be in charge for their next game at Ibrox?
IR: Yes, I believe he will be because there has been nothing coming out of Dens to suggest otherwise. Although it's nothing to do with him or Dundee, the sacking of Alan Stubbs, who was in charge of a team that had beaten the Dark Blues and sit three points better off than them, leaves McCann looking more vulnerable than ever. If both the Buddies and even Livi have removed their bosses this early, then it is that little bit easier for others to follow suit.
EN: Ian's spot on. If he was going to be sacked before the Rangers game, you'd have thought it would have happened on Sunday or Monday but we are into the territory now that one more bad result and performance could do it. The American owners back their managers (both in terms of recruitment budget and length of time given) but, as Paul Hartley will testify, there is a limit to their patience.
NR: Yes, he will. The American owners backed McCann again last week, sanctioning four new signings including Kenny Miller on a two-year deal. However, they need to see a return on their investment sooner rather than later. The axe fell on Hartley after a run of seven straight defeats. McCann's men have lost their last five games and Rangers will start as heavy favourites to make it six a week on Saturday so the match against Hibs at Dens is shaping up as being a crunch one for the manager.
St Johnstone have built up a nice head of steam after successive wins over Dundee and Hamilton. Is that them off and running now?
IR: That was a great result down at Hamilton and suddenly we find Saints being talked about as a top-six team. They have a difficult set of fixtures coming up, though, so maybe cautious optimism is the right approach.
EN: You can count them out as relegation contenders, that's for sure. And I envisage them giving Killie a run for their money for sixth. Tommy Wright is quite rightly delighted with the squad he has assembled. Gone are the days when his options off the bench were limited. What impressed me most on Saturday was the way they saw out the game after Hamilton got back to 2-1, and the fact that they won away from home without Tony Watt scoring or playing particularly well.
NR: Saints' next three games are against Aberdeen, Rangers and Hearts so with the greatest of respect to the teams they have faced already, we will probably have a better idea if the Perth side are the real deal this season once those matches have been negotiated.
United may not have lost at Alloa but did that draw feel like a defeat?
IR: It did feel like a loss and it could have easily been one, with the Wasps squandering a few decent chances. It was a strange and frustrating display from the Tangerines. You would have thought they would have been desperate to build on those wins over Queen of the South and Partick Thistle but they looked to me like they didn't want it enough. They let down their supporters.
EN: This is the scenario United fans feared – two good results followed by a disappointing one. Their team colours should be a shade of grey just now. United are neither very good, nor very bad. I know it's early but, continue like this and they look like play-off possibles rather than title contenders.
NR: These are the sort of games United simply have to take all three points from if they are to win the Championship this season. Going to grounds like Recreation Park to play on an artificial surface with the pitch narrowed to make it as difficult as possible for the opposition is a big test of mentality and desire. Unfortunately, Csaba Laszlo's side were found wanting and it is something they have to address and quickly.
What do you make of the whole Ray McKinnon saga.
IR: It's not breaching the Official Secrets Act to say that we all know Ray well from his time at United and even Raith and Brechin. He is a decent lad and a respected manager. McKinnon felt he got a raw deal at United, while Rovers felt let down by him. Jim Duffy felt let down by Morton, while they felt betrayed by Ray. I guess we maybe all need to realise that football and loyalty don't go.
EN: I thought Morton was the perfect place for McKinnon to restore his reputation. They looked like strong play-off candidates and, who knows, could even have done a Livingston. Next summer would have been the time to reassess and possibly move on if he felt there were limits to Morton's aspirations or capabilities.
NR: If an employer came to you and offered a bigger wage to the one you are on now and on a longer contract, would you turn it down? Morton were understandably angry that McKinnon accepted the Falkirk job but he was well within his rights to do so. Despite that, the manager would do well to invest in a set of ear plugs and a tin hat before the Bairns visit Cappielow on October 20 . . .
Scotland have appointed Andy Robertson as captain. He is someone you have all interviewed and enjoyed watching so what do you make of that news?
IR: It is an exciting appointment and a really positive bit of news to come out of the Scotland camp. I am prepared to be corrected by the other lads but I can't recall Robertson having a bad game for his country and his Liverpool form has been fantastic. On a personal level, it is nice to see someone you interviewed at United when he was just a raw kid play in a Champions League final and now skipper Scotland.
EN: You do forget that he was only at United for a year because he made such a big impression in his time in this part of the country. The Robertson story is as inspirational as they come. Skippering Scotland to a European Championship or a World Cup is the sort of thing you now expect from him. I also think it matters that the man with the armband commands the respect of the opposition as much as his own team-mates, and a Liverpool regular does just that.
NR: I remember asking Robertson when he was at United if he had to pinch himself when contemplating how far he had come in a short period of time. "No," was the straight-to-the-point answer from someone who was fully confident in his own ability. He has certainly fulfilled his potential and it is great to see him receive this honour.