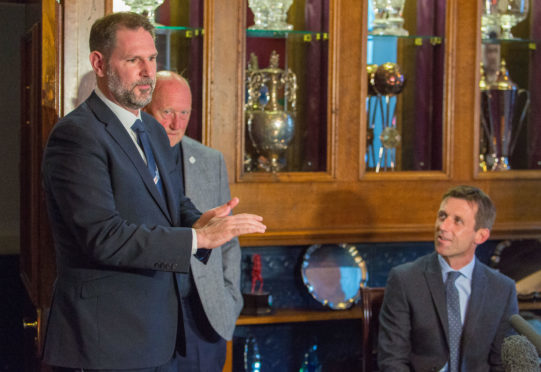 The Dundee manager survives yet another defeat, things appear to be looking up at Dundee United and St Johnstone try to make the most of Celtic's wobble. Ian Roache and Neil Robertson cast a critical eye over it all.
Q Is Neil McCann a lucky man to get John Nelms' backing for at least another game?
IR: You could say lucky or perhaps Nelms is waiting for the point of no return for McCann. Maybe he is hanging on for the moment when the manager will resign for his own sake. You could argue that nobody who hopes to stay working in coaching or even go back to TV punditry can endure having eight, nine, 10 etc straight defeats chained to their ankle. Realistically, can McCann suffer any more losses? If the manager decides enough is enough and approaches Nelms to do a "mutual agreement" deal it would, of course, be a cheaper option for Dundee than having to pay him up after a sacking. It's just a thought.
NR: There are people who have won the lottery who haven't been as lucky as McCann. Last season was distinctly underwhelming but the start to this campaign has been nothing short of disastrous. Clubs have regretted making knee-jerk reactions over managers in the past but surely we are approaching the point of no return for McCann if the run of defeats extends to eight at Hamilton.
Q: What do you make of Nelms' assessment of the situation?
IR: I think if Nelms went looking for a Dundee fan after the game who agreed with his summary of the situation then he'd still be searching the Provie Road now. A McCann remain voter is as rare as the dodgy hamburger I bought at the carnival in Caird Park back in 1985. The managing director's words seemed almost naively optimistic after a game in which they had only two goal attempts compared to the 17 achieved by Hibs. The problem with football is that you can think this or that and even do an ostrich impression but bad results eventually wear you down and you have to face facts in the end.
NR: The American is a naturally upbeat type of person but he must be using a telescope the size of the one in the Mills Observatory to spot the silver lining in the desperately dark cloud surrounding the club at the moment. The managing director's assertion that Dundee are in a false position does not bear scrutiny – the club's fans are fed up to the back teeth with hard-luck stories.
Q: It wasn't quite as colourful as Paul McGowan's but Ryan Inniss didn't hold back either. Should Dundee fans be encouraged or worried by the players' post-match quotes?
IR: The byline on the McGowan story should have read By Sweary Mary instead of By Neil Robertson. I haven't come across such a torrent of bad language since the office tuck shop ran out of smoky bacon crisps. As Nelms will eventually have to realise and accept, you can't fool the fans and the players were right to tell it as it is. The supporters know that there are no heads in the sand in the dressing room at least.
NR: McGowan wears his heart on his sleeve and, to be fair to him, he did not exempt himself from the criticism. However, as another player, goalie Elliott Parish, said last Friday, talk is cheap and it really is time actions spoke louder than words.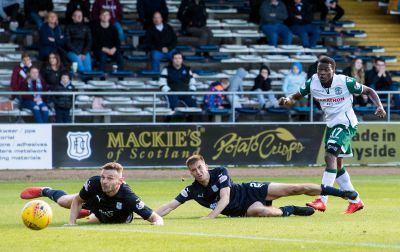 Q: What chance do you give McCann and his team at Hamilton?
IR: They have a puncher's chance. A victory at Hamilton has rescued Dundee in the past and maybe the law of averages says they have to win a game eventually. However, you wouldn't bet your mortgage on it and Accies will be confident after battering three goals past St Mirren. What happens if Dundee draw, though? Is that good enough to save McCann? That would be one point out of a possible 21 but can you sack a man after a draw when you didn't act during a seven-game losing streak? I would say no so he will stay in post if they don't lose. It will just be a case of everyone hoping for the best from then on.
NR: I remember McCann's predecessor Paul Hartley saying it was almost impossible to pass the ball on the artificial surface at Hamilton which certainly does not bode well for McCann's present side. Dundee have passed the ball to death this season with little to show for their efforts and it is difficult to see them coming up with a workable Plan B against Martin Canning's side.
Q: Csaba Laszlo has stepped back from the edge of the cliff. The players seem to be giving their all for him, don't they?
IR: I was at Falkirk at it was a good's day work for Laszlo and Dundee United under very difficult circumstances, albeit circumstances of their own making. A pleasing thing was the way they saw the game out and not only protected their lead but added to it in the latter stages. I left the stadium with the feeling that maybe the manager deserves a bit of a break from the constant pressure but such is the need to mount a promotion challenge that the fans will be on his case again if they lose to Ross County this weekend.
NR: I think Ian mentioned something about too many United false dawns in his Monday morning analysis of the game and I will reserve judgement especially as a long-standing Falkirk fan I know and whose opinion I value insists this is the worst Bairns team in living memory.
Q: It's a big game on Saturday against County, isn't it?
IR: It is indeed but I would have United as favourites – just – for this one. I think that they will get a major boost from having Fraser Fyvie and Billy King back in the starting line-up, with Sam Stanton and Nicky Clark to follow. Whisper it but the last time a team managed by Laszlo lost was back on the opening day of the league season against Dunfermline on August 4. It hasn't been great from United this season so far but they are only two points off the top of the table and victory over County would really send out a message that they mean business.
NR: The Championship is already shaping up as being incredibly tight this season so wins are absolutely vital, especially at home. County have failed to score in their last two matches and if United are solid at the back, then they should have enough firepower to make it two wins on the bounce.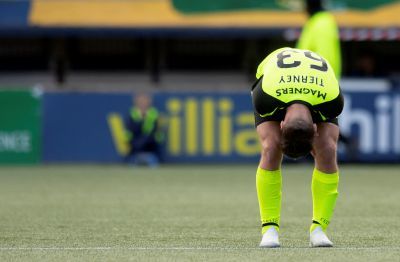 Q: Celtic aren't getting things their own way at the moment. Can St Johnstone make things even worse tonight?
IR: All doesn't look well at Celtic Park but it is not too long ago that they ran Rangers ragged. Saints, of course, were then run ragged by Rangers. However, the Perth men were a match for Aberdeen just a week or so earlier. I expect the Hoops to win pretty comfortably but will be delighted to see that prediction blown out of the water by a fabulous display from Tommy Wright's team.
NR: Killie didn't do Saints any favours with that win over the Hoops on Sunday and Wright's men will definitely face a backlash. However, the Perth men have a point or two to prove themselves after their thrashing at Ibrox and I think they have a chance of causing an upset.