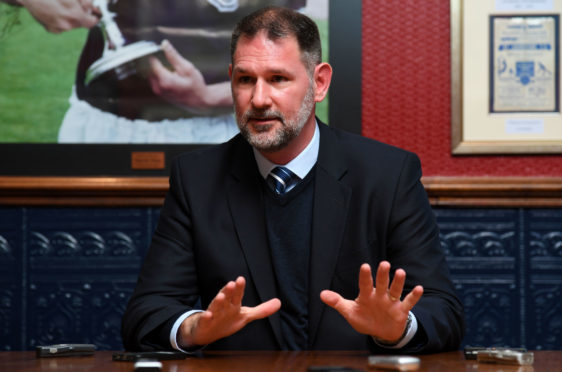 When experience couldn't be found to assist Neil McCann, it had to be found to replace him, John Nelms has admitted.
The Dundee managing director revealed that McCann had signed up to the idea of bolstering his backroom team with a senior football figure.
But when that didn't prove to be possible, the American had to act decisively.
And continuing the trend of hiring managers who were learning on the job wasn't an option.
"We have changed our criteria for managers now," said Nelms.
"It used to be young and up-and-coming managers. Jim (McIntyre) isn't old but he's experienced.
"Our new criteria within the framework meant we wanted a manager with around 300-plus games and 10 years' experience, give or take.
"We looked at points per game and overall win percentage. Then we dug in deeper.
"But one of the biggest things was understanding the Scottish game.
"If we brought someone in from overseas or England, they would find a different game.
"They'd have to get up to speed on the intensity of Scottish football.
"Whether we have the time to bed someone in like that, I'm not sure the fans would take it on board.
"Jim, out of the list we had, ticked all the boxes of the changed criteria.
"I am really excited he is in. He will organise the team differently and explains things differently. Hopefully he kicks the team on."
Nelms added: "Back when Paul (Hartley) was getting sniffed about by Cardiff, we didn't really have a proper plan in place for switching managers. So ever since that day, we have always had a short list.
"It was an ever-changing short list of who is available, who is not available, who meets our criteria, what our criteria is at that time.
"So we get to this point and all of the applications are coming in. Very few of them surprised us.  So we know where we need to be going well in advance.
"It's not a decision that we want to take but, when you have to take that decision, you are well prepared to get to the next level. You have to get there quite quickly. Where we are at the moment, we need to start getting results full stop.  We just can't have a big gap."
Jim Jefferies was one candidate identified to support McCann, with Mark McGhee understood to be another. Recruiting a mentor figure, though, proved to be more problematic than you would think.
"It was a tough ask because you're talking about guys who are very experienced, been there, done that," said Nelms.
"They are generally retired. Football is all-encompassing. It's 24 hours a day, seven days a week when you are in a job and, to be fair, experienced guys know that.
"We went down a path and Jim was a delight to talk to. He would certainly have been a great help to this organisation. We had quite a few discussions.
"There were a couple of other guys who were potential candidates but I don't want to talk about those guys. The fact is, everyone we spoke to really wanted to help.
"The thing is, at some point in time, if you don't think it's going to happen with certain individuals, you have to make a decision.
"We said, 'we have a short amount of time that we can try to go down this path and if we don't think we're realistically going to get there, we need to make a change'.
"We were going to see if there was change and progress if a more experienced coach came in.
"But it's football. You can't give guarantees.
"I don't want to give away my private conversations with Neil but we were on a terrible run. I thought we needed more experience, Neil agreed. Once it got to stage where it wasn't happening, then I said, 'Look…' We had frank conversations about it.
"We believed that some of the things Neil was doing were great. He is a young manager. His assistant was young. The problem was that he didn't have a lot of experience.
"When things are going great, you're learning on the job. When they're going bad, you just don't have that guy to turn to and say 'how did you get out of this?'
"Sometimes on the park we looked fantastic, other times we looked dreadful.  We were sitting there thinking 'it is just a small piece there that we are missing', but we just couldn't find it.
"We talked about getting some experience in the room. Neil was on board with that. It's a tough one because it shows the type of man he is. He wants to understand, he wants to learn, but he is his own man."
Nelms insisted that keeping Dundee in the top flight is not inked to the successful conclusion of their proposed move to a new stadium.
"In a business sense, we'd prefer the club to stay in the Premiership," he said.
"But Dark Blue Property Holdings and Dundee FC are two totally different entities.
"They are run independently so the success of one doesn't affect the success of the other."