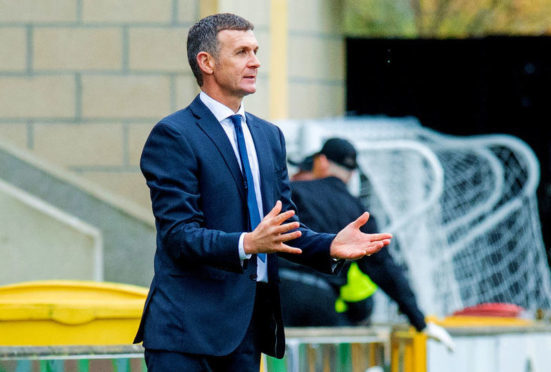 Dundee boss Jim McIntyre has revealed Billy Dodds made the difficult decision not to become his assistant at Dens as he felt it was in the best interests of everyone concerned.
McIntyre had made no secret of his desire to be reunited with the man who he had a successful working relationship with when he was in charge at Queen of the South and Ross County after being appointed as Neil McCann's successor last week.
However, there was substantial opposition to Dodds from the Dark Blues support as he had voted against a creditors' deal that rescued the club from administration in 2011 just months after he lost his job as assistant manager at the club.
The former Scotland striker ultimately decided this week that it would not be right to return to Dens, with McIntyre yesterday appointing Dundee's Head of Youth Jimmy Boyle as his new assistant.
The manager said: "Jimmy is somebody I have known for a long time having been his team-mate for three years at Airdrie.
"Since I came in here, he has been assisting me and I like the way the partnership works.
"He has the respect of the players, has good knowledge of the game, is trustworthy and he is a modern thinker as well so he ticks all the boxes I am looking for in an assistant manager.
"I had a really good conversation with Billy.
"Billy has made the decision that he doesn't think it is right to come here.
"From his standpoint, there was just too much that had gone on and he felt it wasn't fair on me, fair on the club or on him as well.
"So he has decided it is best . . .
"We had been discussing it and the club hadn't made their decision.
"But the conversations I had been having with Doddsy, he decided – not me – and I totally understand where he is coming from.
"That's just the measure of who Doddsy is.
"He just felt with the situation and obviously the feelings that it wasn't right and he deserves a lot of credit for that."
With Dundee bottom of the Premiership and a game against champions Celtic looming large next week, McIntyre admitted it was important to finally get his assistant in place.
He said: "Yes, definitely. I said the other night it would be decided one way or another and that was my decision not to hang about any longer.
"I wanted to make sure it was done. There have been a couple of frank conversations but what I will say is I am delighted to pick Boyley.
"There are a couple of guys out there who would have been really keen to come in – good people.
"But I just felt somebody who knows the club, somebody that I know personally well and he has also been a manager so he has been in these shoes.
"He has also filled in an assistant manager role and been head of youth so he has a lot of experience behind him.
"For me he has been brilliant since I arrived so it felt like the natural thing to do with obviously Doddsy not coming."
When asked if it was a negative factor with Boyle being second choice, McIntyre insisted: "Not at all. I have to go with who I think will complement the way I work and that's Jimmy Boyle.
"Whether Doddsy was standing beside me in the first two games, it wouldn't have stopped four set plays going in (at Livingston).
"The organisation was done but people didn't do their jobs. The same the other night against Hearts.
"So it wouldn't have made any difference to those two results.
"The bottom line is we didn't do our jobs well enough to get the right scorelines."
Meanwhile, McIntyre admitted he has extended training facilities to former Ross County midfielder Martin Woods.
McIntyre added: "He is in doing a bit of training.
"He is obviously without a club so we are just seeing where his fitness is at.
"He has not trained since he left Partick Thistle although he has been doing a lot on his own.
"So he has a training platform here for the next couple of weeks."