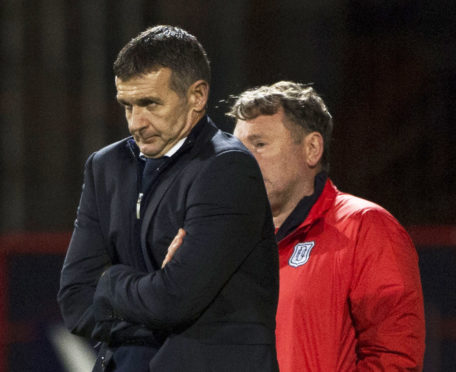 One new manager in the city of Dundee has got his 'bounce', while another certainly has not. Courier sports writers Ian Roache and Neil Robertson assess the early days of the Robbie Neilson and Jim McIntyre reigns at Tannadice and Dens Park.
Jim McIntyre hasn't got the new manager bounce he would have hoped for. But what will he have learned from the two heavy defeats his Dundee team has suffered?
IR: The fixtures have been difficult but then they always are when you are bottom of the table. When you are down there you wonder where the next win will come from. They all look daunting and that's where we are with Dundee, unfortunately. McIntyre seemed to take solace from his players not collapsing against Hearts when 3-0 down but he will also have noted that there was a distinct lack of a rally or fightback from his players. At no point did they look like troubling the Jam Tarts and I'm told it was a similar story at the Tony Macaroni.
EN: Even though McIntyre will have watched Dundee a few times before he took the job, the only way he can truly form an opinion on whether certain players aren't of a required standard or are better than they were showing under Neil McCann is to see them in the heat of battle. The last two games have been a necessary evil for him. I'm sure he will now have made his mind up on some and I would now expect consistency of selection if injuries allow.
When McIntyre got Ross County going it didn't really happen until after he did some wheeling and dealing in the January window. Will it be the same at Dens?
IR: That would be too late. Dundee can't afford to wait until January to transform themselves. McIntyre will know that.
EN: You certainly can't just write off two months of football. Dundee do need to eke out a few wins and draws before the next transfer window. I do think that expecting some proper upward momentum (ie getting above anybody except St Mirren and staying above anybody except St Mirren) may have to wait until the New Year.
Are we writing off the game against Celtic?
IR: Listen, you don't want to do so but all the evidence points to a comfortable night for the champions at Dens. Even thinking about James Forrest and Tom Rogic running at the home defence is enough to give you the Halloween shivers. What I will be looking for from the Dark Blues, as mentioned above, is a decent period of play during which they seriously threaten the opposition.
EN: Most of the reporters on duty will have their Halloween Horror intros pencilled in before they leave for Dens, I suspect. The fact that on-loan Calvin Miller – one of Dundee's best players – can't play certainly won't help the home team. But if they can get at Celtic as they got at Rangers a year ago (how they could do with Mark O'Hara and Scott Allan just now) Dundee supporters would accept whatever result comes.
Who is worse just now, Dundee or St Mirren?
IR: Plenty of my fellow football writers keep telling me that the Buddies are worse but the last time I saw them in action was when they beat the Dark Blues. I certainly hope there is at least one team to keep Dundee company in the danger zone.
EN: I covered Dundee at Livi and then St Mirren at St Johnstone. At the moment, it's a very close race for an unenviable title of the Premiership's poorest team. I think Dundee have more room for improvement, though. I also think they have a manager far better suited to the job in hand. I'm pretty confident Dundee will finish above St Mirren but they have to hope that Hamilton don't string a run of results together because the pair of them could become detached.
Are you surprised by the speed with which the mood at Dundee United has been transformed?
IR: I am not surprised because a manager can make that kind of difference. Robbie Neilson has brought order and clarity to the team. It's not rocket science but the players look to be extremely happy with their new boss. I imagine that chairman Mike Martin will be having mixed emotions watching the Tangerines improve so rapidly under Neilson. He will he pleased that the new appointment looks so promising but also wondering why he didn't make the change much earlier.
EN: Neilson has had an even bigger impact than I expected. It doesn't necessarily show in the table but I thought a weary fanbase would need much more evidence to be re-engaged with this team. It says as much about the supporters as the new manager that the United revival feels like it is more substantial than a honeymoon.
Do we need to start revising our opinions about certain players or do you want to see more evidence?
IR: I'm not sure about revising opinions. For me, it's more a case of players confirming your original view of them. Paul McMullan is a perfect example of that. We all knew he had bags of skill and ability – one of his touches to take a pass out of the air on Saturday was Zidane-like – but he was unhappy and unsettled under Csaba Laszlo. He is playing with renewed freedom, although that freedom should be curtailed the next time he asks to take a penalty.
EN: I can't really follow Paul McMullan and Zidane being mentioned in the same sentence, can I! But yes, I would like to see more evidence from a few players (McMullan and Fraser Aird among them, who have been consistently inconsistent not just as United players).
If there's a bucket of cold water to be thrown over all the optimists does it have Ross County's name on it?
IR: I think you will find that no one at Tannadice, especially Neilson, is getting carried away with what is still a modest run of results. The gap between themselves and County is the price to be paid for sticking too long with Laszlo. I would tip United to beat Queen of the South at home on Saturday and then I have my eye on the trip to Dingwall on November 10. What happens in that match will tell us an enormous amount about the "new" United.
EN: It's very early but I think United will have to win in Dingwall (and obviously win on Saturday before that). County's impressive form is arguably more significant than United's and if the gap is approaching double figures after the two teams meet then I would lose faith that it can be bridged. It is going to take a victory on their own ground to shake the Highland side's confidence that they are a team better-equipped to win a title than United.
St Johnstone are looking like their old selves again. Can they succeed against Livingston where others have failed?
IR: I note from Eric's match report that he felt the win over St Mirren was Saints' best performance of the season so far. They will probably have to match or better that to beat Livi.
EN: I think Saints are exactly the sort of team that will beat Livingston. As they showed against Motherwell, they'll be happy to engage in the physical stuff and should be able to match-up on set-pieces. Then, when a game of football breaks out they have more quality, particularly in wide areas, to get the win. I'll predict three in a row for the Perth men.
Who has been the star man at McDiarmid so far for you?
IR: It is not a coincidence that Murray Davidson has been back for those last two victories. He makes Saints a better team.
EN: In the early weeks it was probably Tony Watt and Richard Foster. At the moment, I'd go for Drey Wright and Joe Shaughnessy.
What did we learn from the Betfred semis?
IR: Err, that Steven MacLean should keep his hands to himself? Call me an old curmudgeon if you like but I watched both games on TV and it was a slog each time. Hearts were up against it as soon as Steven Naismith went off injured and were their own worst enemies; Celtic were decent but only got going when comfortably ahead; Aberdeen had one player worth watching in Gary Mackay-Steven; while Rangers badly missed the suspended Alfredo Morelos and were hopeless in the final third.
EN: What did we learn? Mainly that Aberdeen fans moaning about Derek McInnes should be careful what they wish for. And, even though it was close to a home game in terms of geography, Hearts' gameplan doesn't travel well from the confines of Tynecastle to the wide spaces of Murrayfield.
It will soon be time for another Scotland squad. Are there any players you'd be tempted to call up or recall who weren't involved last time?
IR: Every time I watch Match of the Day I tell myself we really should be finding room in the starting line-up for Bournemouth's Ryan Fraser. I know he pulled out of the last squad with a mystery injury but can we really write off someone who has more assists in the English top flight this season than any other player?
EN: The two Fletchers have to come in. Steven is needed to help deal with what is now looking like a full-blown striker crisis, with Steven Naismith out and Leigh Griffiths also a serious doubt. Darren is back in the Stoke team (and scored a weekend winner). He might not have a long-term future but for this double-header Scotland need his experience in the dressing room and on the pitch, not the Sky TV studio. I also think John Fleck is unlucky to be overlooked given his excellent form with Sheffield United.