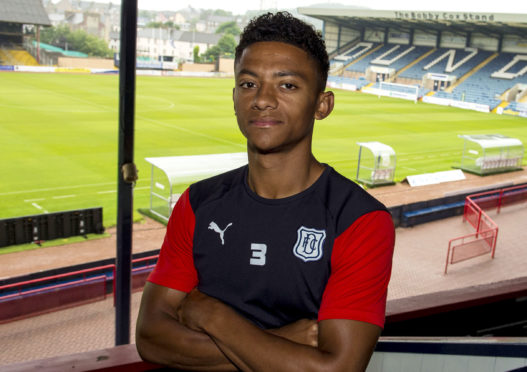 After spending more than two months kicking his heels in frustration on the sidelines, Nathan Ralph admits he was delighted to return to action against St Mirren.
Before Saturday, the Dundee left-back's last game was on August 25 against St Johnstone with the former Woking man picking up a hamstring tendon injury.
Incredibly, Ralph lasted the full 90 minutes on his comeback, helping the Dark Blues secure a draw against the Buddies.
Now, the 25-year-old is looking to build on that result after the international break as Dundee try to hoist themselves off the foot of the Premiership table.
Ralph said: "It had been a while but it felt good to be back out there and with the slow start I'd had at Dundee, it was nice to have a decent performance as well.
"It would have been nice to get the win, too, but you can't have everything.
"I felt all right by the end, not as bad as I thought I might. It was just about getting through that first 90 minutes and it'll get better from here.
"It's never nice to be sitting on the sidelines, especially with the way the results have been going – you feel like you want to help out where you can and obviously being injured, you can't.
"It had been a long time doing that so it felt good to be back out there and help us get a point on the board. We need to build on that now.
"It's still early days and there are a lot of games coming up in December. If we win a few of those, things will change.
"We're not really looking at it like us against St Mirren, we're just taking one game at a time and build on the positives."
Ralph admitted he felt Dundee should have taken all three points against St Mirren but is confident that if they continue to produce similar performances, then wins will come.
He added: "I think it was a chance missed, I felt like we played as well as we have all season. We should have won the game and I felt we were the better team for most of it.
"To not get the three points was disappointing but the manager said it's definitely something to build on and we'll look to do that.
"When you are where we are in the table, the ball doesn't seem to drop for you but you have to keep fighting through it.
"The manager told us that Saturday was the standard now – we need to stick to it and it doesn't go below that now.
"The intensity has been really high in training and the manager definitely demands hard work. I think we showed that on Saturday.
"We've got the international break now and I feel like it would have been good to have another game this week and keep the momentum going but we'll definitely be working on things over the next couple of weeks and look to improve on Saturday."