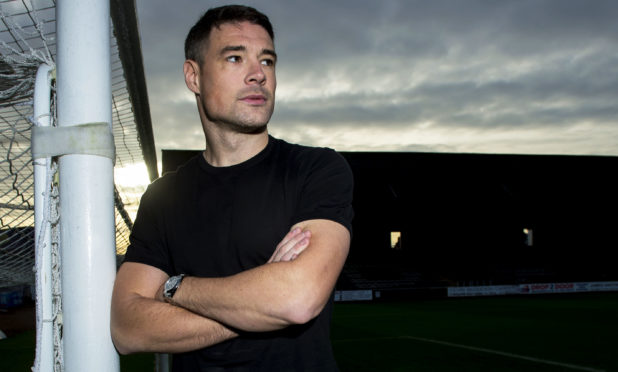 Dundee's Darren O'Dea has revealed he was so impressed by Kenny Miller's footballing longevity, he phoned the striker up to try to discover his secret for success.
The former Scotland front man continues to defy Father Time and has scored seven goals in his last five games for the Dark Blues.
Miller turns 39 next week and O'Dea, who has also played with him at Celtic, rang him a couple of years ago to find out what it was he was doing to continue performing at the highest level.
However, O'Dea now knows after training every day with Miller at Dens this season that it is his natural enthusiasm for the game that keeps him going.
The Irish defender, who will be in the squad for tonight's game against Aberdeen at Pittodrie, said: "It's hard to put your finger on it because he doesn't do anything out of the ordinary.
"He trains like a 25-year-old or a 30-year-old.
---
---
"I rang Kenny two years ago to ask him a few things. I was just quizzing him because I was getting to that stage myself when I was past 30 and still feeling great.
"But I was thinking to myself how do I prolong this?
"Kenny was great. We spoke for half an hour on the phone.
"He doesn't really have a secret. I think it's his personality because he's so enthusiastic.
"He's unique. Not in the slightest is he getting pulled out of training or managing himself.
"He's flying about and he's in every day. He's got that young boy in him.
"Kenny has a love for football that you can just tell when you train and play with him.
"He was more of a runner at Celtic, chasing everything, and when he trains here he's on it every day.
"Obviously he lives really well as a top professional. People say that should be the bare minimum, but not a lot of people have his desire.
"I think it's mainly down to his own desire and personality."
Miller showed that desire once again at Kilmarnock on Saturday, making a great run in the 91st minute of the game to get on the end of a Jesse Curran cross to score once more.
Considering, Killie were 3-0 up before he netted, it didn't alter the outcome of the game but O'Dea insisted the goal still mattered a lot.
He added: "Kenny's goal on Saturday wasn't a consolation. It was massive.
"You'll hear any team near the bottom of the league say they want a goalscorer.
"So I think it's a big thing that he scored and I said that to him afterwards.
"If we have a player who is scoring as many as he is right now, then you're going to be far more confident than if you had nobody scoring goals.
"It was testament to him that he's still making runs like that in the 91st minute.
"For the team, it's important he stays on fire.
"We now know there's goals to be got and when you've got a guy giving you them in this kind of form, it gives you confidence.
"Kenny was in the team earlier in the season but we weren't creating chances and that's when you are in trouble.
"Last year we were creating chances and not finishing them, and I would argue this season we just weren't creating chances up until recently for whatever reason.
"Having Kenny through the middle, it's important we feed him as it's been shown he can finish."
The Rugby Park defeat brought to an end a four-game unbeaten run for the Dark Blues but O'Dea insists the team can bounce back from that setback against Aberdeen tonight.
The centre-half said: "There's been plenty to be encouraged about over the last few weeks.
"We had been on a nice little run until Kilmarnock, but it's never going to be plain sailing.
"We know what we're good at now and we know what we're about.
"There was a 25-minute spell at Kilmarnock when things went wrong, but we're confident we know what we're doing.
"It's big that we feel much more confident that we can come back from a bad result.
"If you look at the Hibs comeback recently, that was the game when I thought we can come back from things.
"We probably lost a bit of composure trying to come back against Kilmarnock and they're very good at waiting to capitalise on things.
"So it's something to be learned from and we know Aberdeen is always a tough venue."