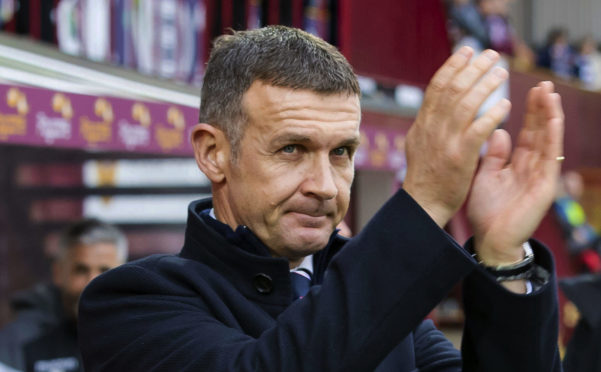 Dundee boss Jim McIntyre is hoping for a large – and loud – turn-out of home fans for this afternoon's latest crunch clash at Dens with Motherwell.
The Dark Blues secured a vital victory in midweek against Hearts at Tynecastle with the 247 away fans making themselves heard despite the fact there were more than 15,000 Jam Tarts supporters in the stadium.
Now, McIntyre is hoping for similar vociferous backing at home – although he is fully aware it is up to himself and his players to give the fans something to shout about.
The manager said: "From our point of view, we need to create as raucous an atmosphere as possible at Dens Park.
"We know it's a two-way street. You need to play well and get your fans going but equally we know we need them.
"We need them to be loud and get right behind the team. Hopefully we can do our part and we go together.
"We always try and approach the game to play well and battle as hard as we can. Some days it looks better than others, that's just the nature of the beast.
"The boys will be determined. They put a lot of effort in on Wednesday night, so it's just a case of trying to be rested up and ready."
The Dundee players certainly needed to recharge their batteries after the tireless shift they put in at Tynecastle to secure the three points that helped lift them off the bottom of the Premiership table.
McIntyre added: "I'm pleased we came through the game with no injuries.
"It was a physical battle which you know you're going to get.
"You have to stand up and be counted and we did that very well.
"But it's gone, absolutely gone. You've got to fully focus on Motherwell now.
"We know it's going to be another tough match, but we'll take the positives from the other night and get ready."
McIntyre has signed another two players this week in James Horsfield and Andreas Hadenius on loan from English outfit Scunthorpe United and Halmstad BK in Sweden respectively.
Both are expected to be in the squad for this afternoon's game with the manager pleased to have added a duo who can play in more than one position.
He said: "James has been brought up as a right-back, but he's played quite a bit in the middle of the park as well.
"Likewise for Andreas, he's the same. He was actually brought up as a centre-back but he's played his last few years in the middle of the park and you would think he was a midfielder looking at him in training.
"I think it's important that we have flexibility. When you're not running with a big squad and you've chosen to tell others they can move on, then if the ones you bring in can play a couple of positions it is helpful.
"It's something we needed. The bench has been depleted to say the least and I mean that with the greatest respect to the lads, but we've had a few young kids on the bench.
"We will have Darren O'Dea back as well from suspension which is great.
"All of a sudden your bench is looking a lot stronger."