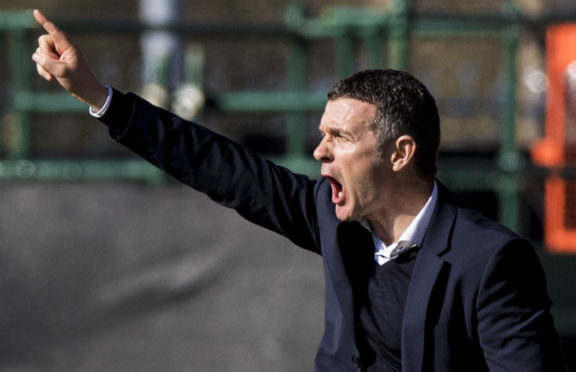 Dundee boss Jim McIntyre insists his players will have to win the mental battles as well as the physical ones if they hope to mount a great escape this season.
The Dark Blues are currently propping up the Premiership having lost their last seven games, sitting three points off St Mirren and seven behind Hamilton.
The Dens players have recharged their batteries since the last defeat against Aberdeen two weeks ago and begin their post-split fixtures against St Johnstone at McDiarmid tomorrow.
Everyone at the club is in no doubt they are playing for huge stakes with their top-flight status under severe threat but McIntyre is looking for his players to embrace the pressure, not buckle under it.
The manager said: "The boys had one extra day off because we felt at this stage in the season sometimes a wee bit of time away can bring freshness.
"We do have some boys who are away from their families but that time off can really recharge the batteries.
"And I have to say, since they came back they've been fresh and ready to go again.
"We're going to need every player in the next few weeks. It will be all hands on deck.
"We're going to need to have strong minds and mentality.
"It's about having the ability to handle this situation. That's what it takes."
McIntyre added: "These games are huge for everybody connected with the club.
"Everybody here is under pressure but it's my job to make sure the players go onto the park and play with as little fear or pressure as possible.
"The one thing they'll always get from me is the encouragement to try and do the right thing. That will never change.
"What frustrates me is if you want to try and go under, rather than stand up and face the situation you find yourself in.
"We've had some good play, but if we can just improve that end product then that's what will get us out of this.
"That's what you've got to keep coaching, telling the lads because there have been decent performances in there.
"But it's now-or-never. We know that."
McIntyre is looking for his players to shift some of the pressure away from themselves and on to St Mirren and Hamilton.
However, he is fully aware that can only happen if Dundee finally regain the winning habit, starting at St Johnstone.
He added: "We know what's ahead of us but it's got to be one game at a time.
"The picture can change very quickly. My message to the players is go and play with no fear and make sure you've given everything when you have come off the park.
"Generally they have done that. It's our quality in both boxes which has really let us down.
"It's five huge games for all the clubs concerned.
"It's about who shows the consistency. We've got the hardest job because we've got points to claw back.
"We're fully aware of where we're at, and we know what it's going to take.
"We'll take it week to week.
"Hamilton have got a bit of a cushion on us and so have St Mirren.
"But within the space of a week that can change and then there's a pressure shift.
"So it's important we do our bit and make sure it's us who are applying the pressure.
"Unless we win games, we won't apply pressure. It's that simple.
"The whole focus is on the next game, away to St Johnstone on Saturday."
McIntyre also admitted there can be no more hard-luck stories from himself and his players – results are all that matter.
He said: "I would rather be in St Mirren's or Hamilton's position because they've got the points on board.
"It doesn't really matter what they're thinking. We just need to do our bit because unless we do that it's not going to happen.
"That's where the whole focus has been on in training, ensuring every person does their role within the team.
"It's big moments within games that have cost us.
"But I fully accept that people get sick of hearing we've played well and come away with nothing. At the end of the day, it's my team."