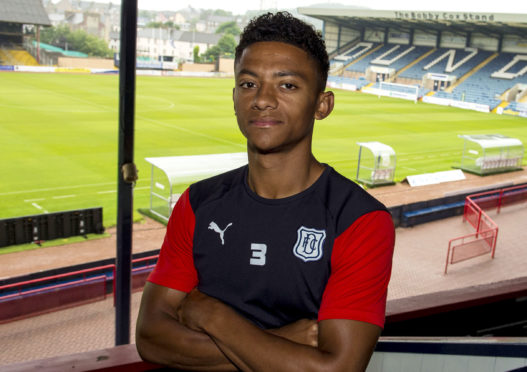 Nathan Ralph has suffered the desperate pain of relegation and savoured the delight of escaping the drop – which has made him doubly determined to help Dundee secure their top-flight survival.
The bottom-of-the-table Dark Blues have just five games left to salvage their season, starting at St Johnstone this afternoon.
Ralph knows only too well the damaging ramifications relegation can have on a club and everyone who works there after going through the ordeal with Woking.
However, he is also aware of the sheer relief that can come from mounting a great escape having done so with Yeovil.
Now, he is looking to experience the latter once more at Dundee.
The 26-year-old full-back said: "I have been in this situation before with Yeovil and Woking so I am used to it in a way.
"I know what it is like to have that pressure going into every game so it isn't new to me.
"I have stayed up and also had the pain of going down and I know what I preferred.
"Going down isn't something I want to experience again.
"I went down with Woking last year but the year before we stayed up on the last day of the season.
"When you do stay up it is just a relief to get over the line.
"All you have done in the season to be in the position of being near the bottom is fight and scrap.
"The odds can be against you, and to turn that around and stay up is such a nice feeling. You see what it means to the fans and the club. I am hoping that can happen again here.
"We know relegation would impact everyone at the club, from the players and coaches, to those behind the scenes.
"We know that as players and we are giving our all to make sure it doesn't happen."
Ralph does not need reminding just how important the next five games are but the message has been rammed home whenever he has bumped into supporters.
And if any further warning was needed, the defender admits he only has to look across the street as Dundee United attempt to drag themselves back up to the Premiership at the third time of asking.
He added: "People see me in the street and they express how important the run-in is for them.
"As players we realise that too and I know all the boys will give 100 per cent in the last five games.
"I know about the quality of the teams in the Scottish Championship as well.
"I feel it is a very difficult league to get out of with some really good teams in it.
"It doesn't surprise me that teams like Dundee United went down and have stayed down for as long as they have so it is massive we stay up.
"We knew from a few games back that the split was going to be huge and every game was important.
"We are looking forward to trying to get a win as early possible to put pressure on St Mirren and then we will see what happens. It is the old cliche of having five cup finals left.
"This is a good opportunity to pick up points against teams around about us – it isn't like we are playing against the league leaders.
"We had a rest with the cup last week and we are going into the game fresh and raring to go.
"The support we have had this season has been really good even if we have had disappointing results but we know they can help us get a result this weekend."
Ralph admitted there is little point in looking at what St Mirren and Hamilton have done at five o'clock and instead Dundee just have to continue to focus on themselves.
He said: "You can't look at other teams' results too much – it has to be what we do.
"Mathematically, we need them not to pick up points in certain games and that is the reality of the situation we are in.
"But we have to pick up points ourselves and the earlier we can do that the better."