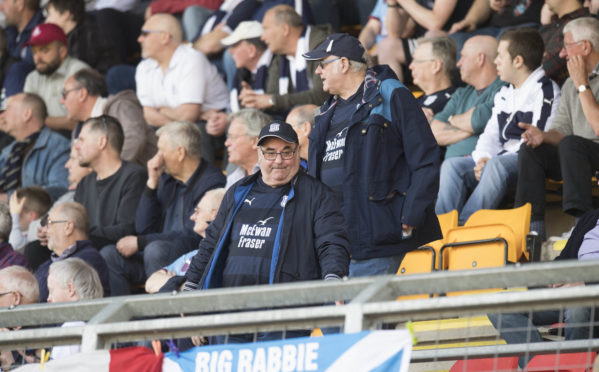 In this week's Talking Football, Eric Nicolson and Neil Robertson discuss doomed Dundee, Tommy Wright's defensive dilemma and Robbie Neilson's approach to the games before the play-offs.
Straight to the main issue….are Dundee now as good as relegated?
EN: There have been more remarkable escape acts than the one facing Dundee, I'm sure, but I'm struggling to think of one at the moment. Sunderland a few years ago in the English Premier League, perhaps. The reason everybody, myself included, is counting them out isn't just the six-point gap or the eight-game losing run, it's the fact that all the other teams they'll play are better than them. There is no football logic to suggest they can win four out of four matches, or even three.
NR: Yes. A combination of eight defeats on the bounce allied to St Mirren and Hamilton finally flickering to life have all but guaranteed Dundee will be playing in the Championship next season. This campaign has been a horror show from start to finish for the club's fans and there are few if any still willing to believe that the Dark Blues are capable of pulling off the unlikeliest of great escapes.
Jim McIntyre isn't having talk of the Dundee players not putting up a fight. Do you agree with him that they haven't given up?
EN: It is more complicated than just running around a lot, which supporters equate to commitment. Any time I've watched Dundee, they give their all as long as it is 0-0 but when the game turns against them, they deflate. That's not an effort issue, it's a confidence one. Basically, they know that they're not going to win. Lack of quality is a bigger issue than lack of fight.
NR: Looking at Saturday's team, no-one could call the likes of Darren O'Dea, Ryan McGowan, Paul McGowan, Kenny Miller and self-confessed Dundee fan Cammy Kerr quitters. However, having lost so many games in a row – they have only scored once in their last seven – has completely drained the team's confidence. Put it this way, if Motherwell take the lead this Saturday, would you be willing to wager even a tiny amount on Dundee bouncing back to take a point much less all three? No, I didn't think so, and neither would I.
There is no doubt that the Dundee fans have lost faith, is there?
EN: Oh yes. They are even more weary of this than the players. The downward momentum, which has been stalled on a couple of occasions, has been building for three seasons. If and when Dundee go down, getting fans back on board will be no easy task. They're not happy with the owners, the chief executive, the management or the players.
NR: I think faith flew out of the window a long time ago. At my young lad's football on Sunday, I was speaking to two season-ticket holders at Dens who were adamant they would not be renewing this summer. The reasons? Not printable in a family newspaper. That sort of anecdotal evidence has been repeated time after time recently for me – the supporters are seriously scunnered.
There will be time soon enough for post-mortems and analysis of what the future holds for Dundee but, for the moment, do you expect the proverbial 'reaction' at Fir Park on Saturday?
EN: They have to score the first goal, end of story. We all know what happens next if they don't. The only hope for Dundee is if there is a drop-off from their opponents. Mind you, given the quality of the players coming through the Motherwell academy, a few kids being picked by Stephen Robinson might not help their cause.
NR: No. The break before the split was the time to recharge the batteries and come out with all guns blazing against St Johnstone last Saturday. Instead, there was a limp response and there is little reason to believe that will suddenly change at Fir Park.
Playing Dundee certainly seems to be the best way of getting St Johnstone back on track. Will they now do the Dark Blues a favour against St Mirren?
EN: They may well win. Saints didn't look like a side thinking of their summer hols last weekend and there's no reason to suggest that will change. St Mirren are improving, though. I can see this one being a draw.
NR: St Johnstone have beaten St Mirren three times already this season and will be favourites to make it four in a row. However, there is so much more at stake for the Buddies and I can see them sneaking a win against the Perth side.
Not an easy call for Tommy Wright re his centre-backs, with Jason Kerr available again. Does he drop his captain, who is likely to be on his way in a few weeks and start to give Kerr and Liam Gordon some game-time as a partnership with a view to next season?
EN: I'd pick Kerr and Gordon from now until the end of the season, unless Wright thinks there's a chance Joe Shaughnessy may yet sign a new deal. Having a chance to get ready for next season in situations like this is one of the advantages of being in the bottom six and safe.
NR: If Shaughnessy is definitely away, then it makes sense to go with the younger duo.
Barring a football miracle, Dundee won't be in the play-offs but Dundee United will. What is more important going into them – momentum or fresh legs?
EN: The latter. United have earned the right to mix things up in their last two fixtures and should do just that. No player who Robbie Neilson thinks will start the first play-off match should take part in both league games.
NR: The former! Obviously, Neilson will take no risks with players, especially considering the size of the squad at his disposal, but the manager insists he wants to maintain the head of steam United have built up recently going into the play-offs in games against Falkirk and Morton, teams fighting for their lives at the other end of the Championship table.
Who would you choose as United's opponents, Ayr or Inverness?
EN: Ayr. They already look tired. I'd fancy United to beat them quite comfortably.
NR: Watching Ayr lose to Ross County on the TV on Friday night, they were down to the bare bones and you would have to fancy United's chances against Ian McCall's men. However, I cannot see them making their way past a decent Inverness side.
And, if they get through that one, would you rather United faced Hamilton or St Mirren?
EN: This is a really hard one. I think St Mirren are a better side than Hamilton now but the plastic pitch factor, the experience Accies have in the play-offs and the fact United have already beaten Saints in the cup makes me just choose St Mirren.
NR: I would also opt for the Buddies but no matter who United ultimately face, they will have to be at their best to win their play-off. Hamilton and St Mirren have been poor for much of the season but there is still a big gap between the Premiership and Championship.
Robbie Neilson has spoken at length about Benjamin Siegrist. Is the goalkeeper starting to win over his doubters?
EN: Impressing his manager is all that matters. I'm not wholly convinced by him (particularly taking crosses) but you always have to remember that this is Scottish football's second tier and any goalkeeper at that level will have mistakes in him.
NR: Siegrist may be 27 but this is the first time he has been first choice at a club. He does sometimes appear nervous but having the experienced centre-half duo of Mark Connolly and Mark Reynolds in front of him should help in that respect.
Dundee aren't the only team on our patch with relegation worries. Are Brechin heading out of League One?
EN: I do worry for them. Even if they go into the play-offs, it's a big ask to survive.
NR: The best they can hope for now is the play-offs after their defeat at Stranraer at the weekend. The game against relegation rivals Stenhousemuir at the Glebe a week on Saturday will certainly not be for the faint-hearted.