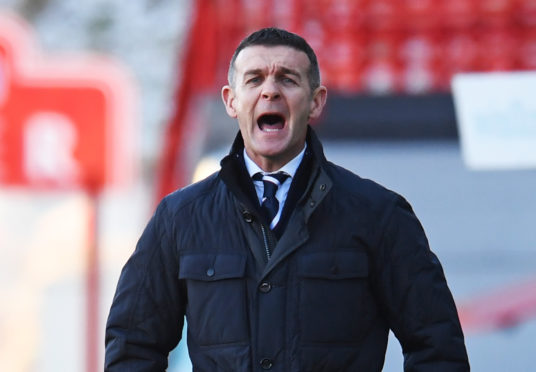 Dundee boss Jim McIntyre insists he is still trying to focus on the positives but he has also left the players at Dens in no doubt exactly what effect relegation would have on them and the club.
The Dark Blues' top-flight status is hanging by a thread, with the team rooted to the bottom of the table, six points behind St Mirren with just four matches remaining.
Dundee travel to Motherwell tomorrow on the back of an eight-game run of defeats, knowing they are fast running out of time to produce a great escape.
And McIntyre admitted he had spelled out to his players the dire consequences if they failed to do just that.
The manager said: "Yes, they are fully aware of how important this is for this football club, for people's livelihoods and their own livelihoods. Everybody knows exactly what this means.
"The players are not daft and a few have been in this situation before.
"But we have been focusing on the positives. We haven't focused so much on the other side but they know exactly what it means, of course they do.
"It's all about focusing on the next game. It is still in our own hands. So can we go and do it?
"You need to have the optimism that you can go and get a result and things might go for you elsewhere.
"All of a sudden, that pressure I have been talking about applying for the last couple of weeks gets applied a wee bit. That's what you have to focus on."
McIntyre added: "But without us doing our bit, that will not happen. It is solely dependent on us doing our bit first. If we walk off the park and results have gone our way then so be it. But we can't affect things anywhere else, only what it is in front of us.
"None of us want to be part of a team that gets relegated. This club is a huge club and we want to make sure it retains Premiership status, so we have to do everything we can to try to get the result."
When asked if Dundee were drinking at the last-chance saloon at Motherwell, McIntyre admitted: "It could be. And that's the way we have to approach the game, like it is.
"It is a must-win game. I said last week and the week before that in the first games after the split we are the ones who have to apply the pressure.
"It doesn't matter what anyone else does, it had to be about us. The gap is now bigger than it was the week before so it is a must for us."
McIntyre has been in relegation dogfights before with Dunfermline and Ross County and he admits those experiences have made him stronger.
And while he is the first to acknowledge Dundee's position is perilous, he is still seeing signs that the players can turn things around.
McIntyre said: "I am experienced and have been in this particular situation a couple of times.
"I've come through it for the stronger. You look back to the situations you were in then.
"If I wasn't seeing anything at all from the team in terms of being in the games then I would be really, really worried.
"Obviously I am still worried about the precarious situation we are in, but if we can be better in those moments then that's where we have an opportunity.
"We haven't created loads and that puts even more pressure on those moments.
"When it boils down to it, it's 11 v 11 on Saturday. If we can get a positive result that can hopefully change things a wee bit."
Keeper Jack Hamilton has returned to full training after a long lay-off following finger surgery.