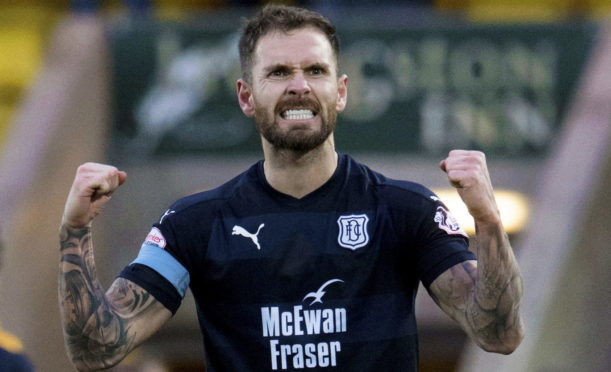 Dundee's Martin Woods insists it is an "absolute nonsense" to accuse any of the players at Dens of not giving 100% as the club battle to avoid relegation from the Premiership.
The lacklustre display in defeat to St Johnstone last week in what was a must-win game for the Dark Blues led to accusations that some of the team had run up the white flag of surrender.
Dundee boss Jim McIntyre blasted those claims earlier this week in the strongest possible terms and now, midfielder Woods has also delivered a powerful response ahead of today's game at Motherwell.
The 33-year-old said: "I think the accusation that people are not working hard enough is absolute nonsense.
"Anyone who has an eye on our games will see players knackered at the end.
"There is not one player in the dressing-room who isn't putting everything into it.
"That doesn't mean we're not making mistakes or we are not missing chances, but they are definitely putting their all in.
"We will find out at the end of the season if that has been good enough.
"Not once, even in training, have I looked around and thought someone wasn't giving their best.
"We wouldn't allow that as a squad. Nobody had binned training off because it's not in our makeup as a group.
"We have missed chances, we have lost sloppy goals, we have made mistakes and we have looked disorganised at times when we are chasing games – we have to take the criticism for that.
"But I think it's nonsense to say there are people not trying hard enough. It's an easy thing to say in football.
"I can't accept people saying we are not working hard enough."
While unwilling to take the criticism about work-rate, Woods admitted the fans are well within their rights to have a go at the team after a dismal run of eight defeats in a row.
The former Partick Thistle and Ross County player added: "We have to accept criticism of our performances because we are bottom of the league and it hasn't been nearly good enough.
"It has been tough at times. You hear the odd shout and stuff like that but it's part of the job.
"You just have to get your head down because the fans are right not to be happy.
"They have stuck with us all season and it has just been since the St Mirren game you have felt it change a wee bit.
"But they are perfectly within their rights – we haven't given them anything to cheer about.
"You have to be man enough to take it and give your all.
"It would be nice to give the fans something back because they have been paying their money and what we've given them has been really poor."
Dundee are six points behind second bottom St Mirren and McIntyre has admitted the Dark Blues will probably have to win all their remaining games if they hope to have any chance of avoiding the agony of relegation – something Woods experienced first-hand when he was at Firhill last season.
He said: "We are in a tough spot and we need to win all four games.
"It sounds ridiculous to say it but we have to believe we can.
"If we didn't believe that then we'd be as well going on our holidays now because we'd just be wasting everyone's time.
"We have to do it for everyone connected to the club, the fans and the people who work here.
"You need to bring that fight to turn things around.
"The thought of relegation is horrible – I experienced it last season with Partick.
"It affected me, I saw the kit man worrying about his summer holidays and people behind the scenes crying their eyes out.
"It's a horrible thing, it affects you.
"It's the same here, you see how much the club means to people and the thought of that has to push us on over the next four games.
"Anything less than three points and we will likely be doomed, so we have to win.
"We have let everyone down lately so we owe the supporters and the club a victory.
"What has the run been down to? We have been saying it every week but it's losing bad goals and not taking our chances.
"When you can't keep the ball out at one end and are not scoring, you don't give yourself any chance really.
"We have to correct the errors and if we can get in front then the confidence will come back."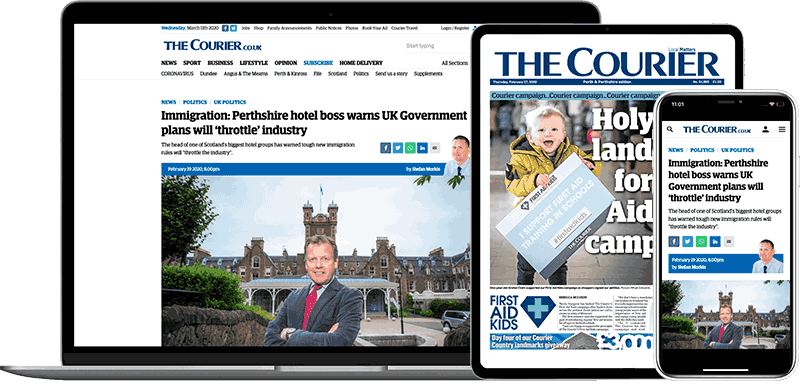 Help support quality local journalism … become a digital subscriber to The Courier
For as little as £5.99 a month you can access all of our content, including Premium articles.
Subscribe