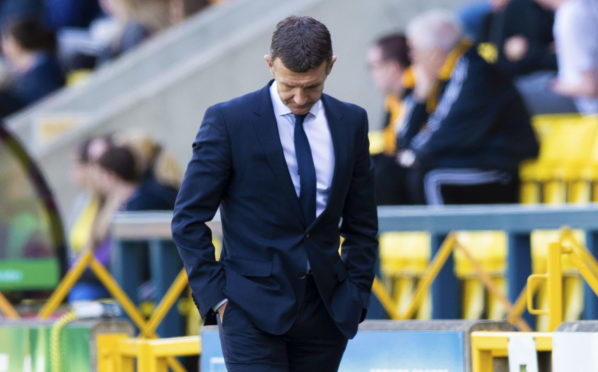 With 39 years and 139 days on the clock, Kenny Miller became the oldest goalscorer in Dundee's history.
He beat Gordon Smith's record that had stood since 1963 with a well-worked strike that was also enough to stop the relegated Dark Blues' horrific losing streak at 10.
Thus it was good day for the club record books at the Tony Macaroni Arena and the 1-0 victory restored just a little bit of pride the weekend after their fate was confirmed.
It wasn't, of course, enough to save manager Jim McIntyre from the sack.
There was a touch of "After the Lord Mayor's Show" about the result but there was also some consolation to be found by Miller in both the personal milestone and his team finally learning to win again.
Perhaps there was a story of failures past to be told in Miller's revelation that he knew he was on the brink of beating legend Smith's golden oldie record back in December as that was when he last found the net in a game against Kilmarnock.
He was pleased with the strike against Livi, which saw him get clattered by keeper Liam Kelly and eventually have to go off injured, but argued that there were a few things more important than his own achievement.
Miller said: "I was first told about that six months ago and it took me a while to get there!
"I think it was about going out there, trying to play for a little bit of pride and stopping a really poor losing run of games.
"So all that came before any personal goal for me.
"It was about trying to get the team to respond, rebuild and get into a position where we can bounce back next year.
"That was the goal after last week – stopping the rot.
"That was the most important thing and we were delighted to get the win and now we move forward into next week.
"I am happy and proud, though, that I am still playing.
"When you are in a team and out a team, and down the bottom of the league, it becomes tough for everybody involved.
"I feel fit, strong and think I can still play most weeks.
"I do feel I have another year in me but we will see what happens over the summer.
"I am a realist and if I felt I was not contributing in the ways I know I can then I would be the first to say maybe it's time to stop. I know it's not that time yet.
"Football is a funny, old game and it can throw up different opportunities to do other things so you never know what is around the corner.
"I am firmly focused on still being a player next season unless anything else is on the table.
"So I'll be back looking forward to training again for what I think will be my 24th pre-season!"
Miller praised his teammates for the manner in which they performed at the end of a difficult few days at Dens.
He added: "It is always tough when you are on a poor run of games.
"When that culminates in relegation it is hard to pick yourself back up.
"Also, when you look at the group we've got there is going to be a lot of us leaving, with loan players going back to their respective clubs and people out of contract.
"So that's hard but it speaks volumes for the lads that they went out there, put the shift in, fought for the jersey, got the win and stopped the rot.
"It is only a slight consolation but you have to look at any positives that you can.
"It is now about making sure the club bounces back at the first time of asking.
"The minute that (relegation) happened last week that had to be our immediate thought.
"You have to make sure you rebuild, come back for pre-season ready for the fight and make sure the team promoted.
"It is a team that should be in the Premiership."
Miller was, understandably, relieved that the dismal series of defeats did not reach 11.
He said: "It has been a horrendous season and that run of games has just been…. I have never experienced anything like that, to be honest.
"I still look back and think there were some positives from certain games but 10 losses in a row, I mean, you are always going to be in trouble if you have a run like that.
"When you factor the run at the start of the season, which I think was seven defeats, you are going to be toiling with those kind of runs over the course of a season.
"Listen, there is nothing you can do about that – you have to look forward and make sure the club bounces back."
The all-important goal came against the run of play and with 11 minutes on the clock.
Miller displayed quick thinking to get on the end of a pass from Andrew Nelson and clipped the ball over the advancing keeper Liam Kelly and into the net.
It was a brave finish from the veteran, who stayed down on the ground for a while to receive treatment. He would play on but eventually make way for substitute John O'Sullivan after 58 minutes.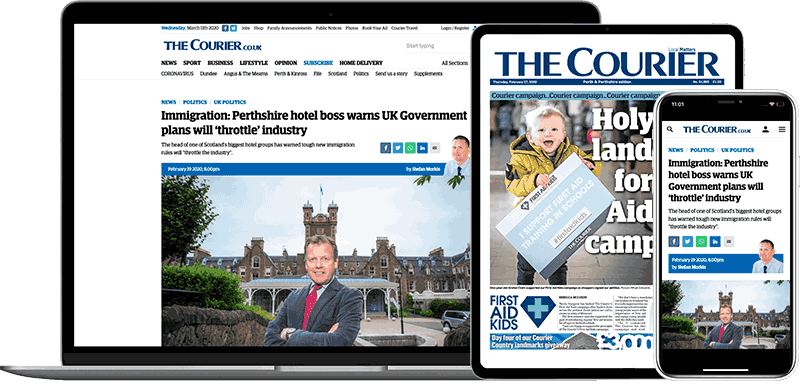 Help support quality local journalism … become a digital subscriber to The Courier
For as little as £5.99 a month you can access all of our content, including Premium articles.
Subscribe