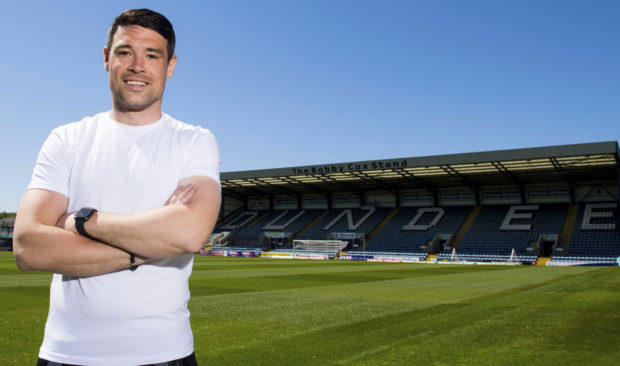 Darren O'Dea insists that when the final whistle blows this afternoon to bring down the curtain on his playing career, he will be absolutely certain he has made the right decision to hang up his boots.
The big Irish defender will play his last game against St Mirren at Dens after deciding to pursue his coaching dream, overseeing the Under-18s at Motherwell.
O'Dea is only 32 but he admits that physically he can no longer attain the high levels he demands of himself on the pitch.
However, the former Celtic and Republic of Ireland centre-half maintains that the major driving force behind his decision to quit playing was his desire to focus all his energies on his new career path.
O'Dea said: "Someone asked me if it was a difficult decision but it wasn't.
"The only difficulty I had about it was admitting to myself that this was what I wanted to do.
"I know how fortunate I am to be a footballer. I have fought since I was six years old to be a footballer and to willingly give it up is something that not many people would do.
"I took loads of advice from people and it was the same from everyone – to play as long as you can.
"But I didn't want to do that. I wanted to decide when to stop.
"Anyone who knows me or who has watched me growing up knows I am someone who gives 100% in everything I do in terms of how I train.
"Physically, I can't get to the level I want to be at any more."
The former Dundee skipper added: "I still think I can play in the Scottish Premiership for another couple of years but not at the level I want to be at.
"That was part of the reason but 90% of the reason was that I am so keen to start coaching. I want to be on a path where I am looking forward and thinking I am on a ladder where I am going up.
"The world is your oyster again and you can fight to go higher but now I feel like I have plateaued as a player – I am hanging on.
"It was a decision that was very simple in my head.
"I have prepared properly and will look forward to the game against St Mirren but I am not worried about how I will feel afterwards."
Dundee will have yet another new man in charge of the team this afternoon with coach James McPake being installed as caretaker boss at the start of this week following manager Jim McIntyre's sacking on Sunday.
O'Dea admitted that it had been a difficult few days since then but the players are determined to finally give the fans something to cheer about in the last game of this troubled season.
He added: "It's not nice because at the start of the week, someone has lost their job.
"I have been in football long enough to know that's the way it goes and you just have to say let's get on with it and move forward because it is the club that matters.
"But Jazza (McPake) has come in and it has been a breath of fresh air – it always is when a new manager comes in.
"It has been a really positive week. We want to finish – I wouldn't say on a high – but with a good feeling for ourselves, Jazza and obviously the fans.
"It is a week we have taken really seriously but there has been a good feel to it."
While McPake is in temporary charge, the club are working hard behind the scenes to identify who they would like as their next permanent boss.
And O'Dea admitted that it might be a role he would be interested in a few years down the line.
He added: "Who knows? I had a really good experience working closely with Paul Hartley and then Neil McCann and Jim McIntyre.
"I watched and took everything in. I am clear that it is a very difficult job so it is not something that I am looking to do any time soon.
"Part of the reason I announced (retirement) early was that I wanted to leave here in the right way. I didn't want to float out the back door, I wanted to say my goodbyes properly.
"There are a lot of good people at this club and it is a place I will continue to support.
"Who knows, one day I might be back."