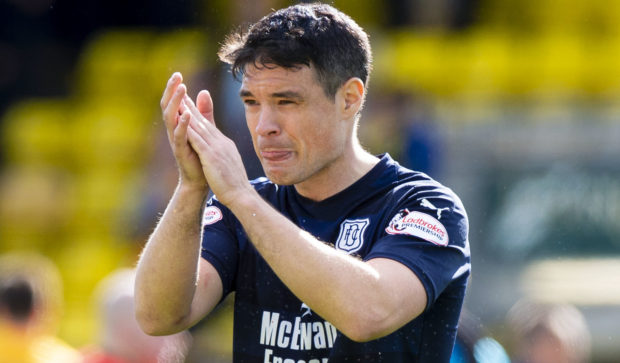 Darren O'Dea has paid tribute to Dundee's American owners for bringing much-needed off-field stability to a club that for too many years had been a "mess".
Now, the Irishman has put forward his own blueprint that he believes could help attain long-term success on the pitch as well.
O'Dea will retire from playing this afternoon to move into coaching with Motherwell but since joining the Dark Blues in 2016, he has seen three managers in Paul Hartley, Neil McCann and just last weekend Jim McIntyre come and go.
There has also been a huge volume of players walking in and out of the Dens Park revolving door with this season in particular seeing a constant change of personnel.
For example, only one player – Cammy Kerr – started McCann's first league game at St Mirren last August as well as the Hamilton match under McIntyre that confirmed Dundee's relegation two weeks ago.
Courier Talking Football is going live — and you can be there!
O'Dea would like to see managerial continuity at the club but has been in the game long enough to know that football is a results-driven business.
However, the centre-half believes Dundee need to forge a proper identity with a nucleus of long-serving players that can bring similar success to that attained by another club in Tayside, St Johnstone.
O'Dea said: "I can't really go into it too much as I don't have the full education on the club history but stability off the pitch in Tim Keyes and John Nelms is vital.
"They have brought that to this club – the club was a mess before.
"There is talk of a new stadium and these are people trying to bring the club forward.
"So they have brought that and it is very important. The fans need to know that they are lucky to be in safe hands.
"There are owners there willing to back managers and they have backed managers.
"Should there be a manager in place for four or five years? Yes, ideally but results dictate whether you stay in a job and every manager and coach knows that.
"I would also like to see more stability with players as well, an identity to this club. What does this club stand for? What type of player does it want to bring in?
"I think if you look at any team that is successful, they have a core to the squad."
O'Dea added: "I look at St Johnstone to be honest with you.
"I look at St Johnstone's players and there is a core there and has been for years.
"Tommy Wright has done well letting go of a few and bringing in others but every time I look at a St Johnstone programme before a game, I see 150 appearances, 200 apps, 300.
"Every year I have been at Dundee regardless of success or failure there has been 10 or 12 players coming in.
"They are not bad players that are coming through the doors but it is very difficult to bed in ideas.
"I know it sounds like an excuse, it's not as ultimately we have not been good enough.
"But there is such a large turnover all the time of players."
O'Dea admitted he had tried his best during his three years at Dens to try to impart as much as he could to newcomers about exactly what it means to be a Dundee player.
However, he acknowledged that can be difficult when there is an ever-changing cast of characters.
He added: "The ones that have been here longer like myself try to show over time how you behave and act, show newer players what the club is about.
"If you look at one of the most successful sides in Manchester United, that's how it worked in a cycle. The newer players came in but learned from the older ones and eventually they became the older ones. It is a cycle but here the cycle seems to be every year or every six months maybe.
"I would to see continuity in the playing squad and that maybe comes from having someone in place, a director, where there is an overall philosophy or meaning to the club – this is how we play.
"That's not systems and styles, you can play all different types, but an identity to the club, saying that's the type of player, type of character Dundee bring in.
"Then you will get stability on the pitch. Obviously, with managers it is a harsh world and results will dictate to them.
"But if you had a director that would understand and possibly even create the identity of the club, he would be in charge of bringing in players.
"When you have an old-fashioned manager who comes in and controls the whole club, if he then leaves, the club has to reset and go again with a different manager."