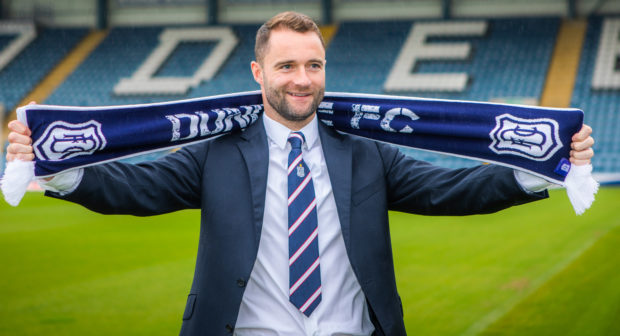 James McPake candidly confesses he probably wouldn't be the new Dundee boss unless he had managed to persuade Jimmy Nicholl to be his assistant.
The 34-year-old McPake has won the race to succeed Jim McIntyre in the Dens hot-seat, seeing off fierce competition from a lengthy list of candidates to secure the role.
However, with the former defender being a managerial rookie, he needed an experienced right-hand man by his side and turned to former Raith Rovers, Millwall and Cowdenbeath boss Nicholl.
The 62-year-old worked as a coach at St Mirren last season and is the current assistant manager with the Northern Ireland national side.
And McPake admitted he was delighted to have him on board.
He said: "I'm honoured and privileged to be in this position.
"It's been a long three weeks although I can also understand what the club have done and the process they've gone through, as much as it was an absolute nightmare for me not knowing.
"But still I had to work away in the background, get targets in place and meet people.
"I think everyone else would have done the same thing.
"The work starts now and it will be full-on. But would I change it? Absolutely not. I can't wait to get started and I'm excited.
"There is a lot of work to do but we're ready for it. That's why things have been put in place and we now need to get a team on the pitch."
McPake, who has one cap for Northern Ireland, added: "If I hadn't got Jimmy in, I don't think I would have been sitting here.
"When you look at someone like Jimmy, I've had a relationship with him for about seven years from when I was at Hibs, and then the Northern Ireland stuff when we worked together quite a bit.
"I know what Jimmy brings in terms of how he works.
"I know how he behaves which is just as important to what he brings to a football club, in terms of being about the place.
"His knowledge is so good and I know all about the career he's had in football including assisting the international team. His experience to me will be massive."
McPake has also been calling on the know-how of former Scotland, Coventry and Celtic boss Gordon Strachan who has been involved in talks with Dundee managing director John Nelms about a possible role at the club.
And McPake, who also had a spell as a player with the Sky Blues, hopes that comes to fruition.
He added: "I would love it to but I still think the relationship is there where I can go to him. It was there before and knowing Gordon I know he wants to help young coaches and managers.
"He has a great enthusiasm for the game. You go on the phone and ask him his opinion on something and you come off and he has told you another 15 different things you did not even know or ask him.
"He is so enthusiastic and so helpful. If you have that enthusiasm, you have to use it.
"He has had a successful career as a player and manager and it was an easy one for me to phone him up.
"The first time I just started talking about Coventry – I needed a link! 'How did you enjoy your time at Coventry?' He was like, 'Who's this?'!
"To be able to call people like that up is a privilege. It's weird because you can put anything to him and he will have an answer. He will never say do this or do that, but he will give you his opinion.
"Jimmy Nicholl is the same, he comes into that category.
"But I know I will be judged on my own decisions. I have to make the decisions but if you have that network you would be mad not to use it."
One of McPake's first decisions is to open talks with Cammy Kerr about signing a new contract.
The self-confessed Dundee fan's deal is up and his future was uncertain under previous boss McIntyre.
However, McPake is determined to persuade him to commit his future to the Dark Blues.
He added: "Absolutely. That's my top priority at the minute.
"I had to get Jimmy Nic over the line first. But, from this afternoon, I will be doing everything I can to make Cammy Kerr a Dundee player for as long as we can.
"He's so important to me, the way he carries himself around this place.
"It would be mad to say I want to bring young players through when I've already got one on the pitch. He wants to stay, too.
"And he's a right good player. He's disappointed but he just needs to come back – and we'll see the real Cammy Kerr out there on that pitch, hopefully, for the next few years.
"As long as I'm here, I want Cammy Kerr here."
McPake admitted there are high expectation levels at Dens but he is confident he can cope with them.
He said: "The expectation of being a Premiership club is fine.
"I think we should be. Of course we are disappointed that we are not.
"We need to be in that league for the long term and that's going beyond however long I am going to be here. We need to get back to that.
"But I can't wait to get back to first-team football and United being in the same league makes it more exciting for the fans and for everyone involved. There are a lot more teams than United in that league and they are going to make it tough."
One of the other candidates for the manager's job at Dens was striker Kenny Miller but McPake insisted the fact he won the nod would not make things awkward with the former Scotland star.
McPake said: "It will not cause a problem for me, certainly not.
"Kenny was great in the lead up to the St Mirren game. He was struggling all week but he still played.
"So it is not an issue for me.
"I expect to see him back here on the 21st of June ready to go as a player."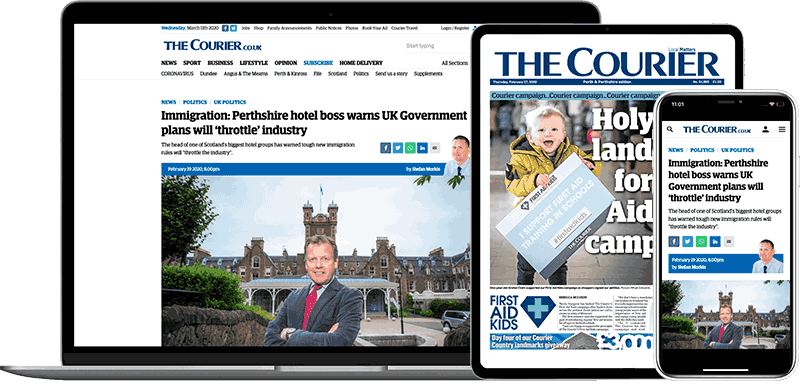 Help support quality local journalism … become a digital subscriber to The Courier
For as little as £5.99 a month you can access all of our content, including Premium articles.
Subscribe