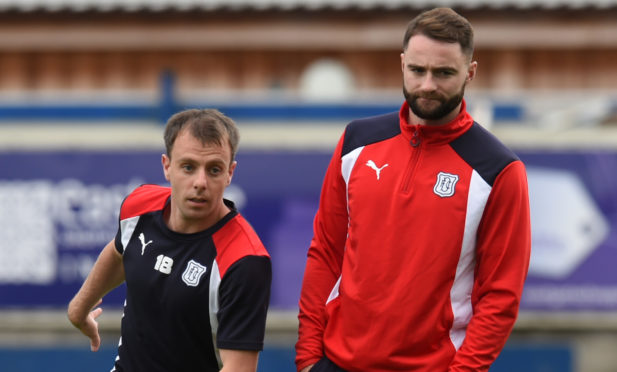 Dundee boss James McPake admits not every player at Dens in recent years has been able to cope with the tough demands Paul McGowan expects from his team-mates and himself.
However, the Dark Blues manager insists the 31-year-old midfielder epitomises exactly what he wants from everyone in his squad.
McPake expects McGowan to set the tone once again, leading from the front in pre-season training and with injury problems now behind him, is looking for him to do the same on the pitch.
The manager even admitted the Dens fan favourite reminds him of his ex-Coventry team-mate Lee Carsley.
McPake was keen to stress he was not making a direct comparison but McGowan's ferocious training and will to win is similar to the former Everton star.
The manager said: "How important is Paul McGowan to me? I couldn't really explain it.
"First and foremost, there are the demands he puts on his team-mates.
"Every single day in training I have never seen anything like it.
"Actually I have – Lee Carsley. Now I am not comparing him to Lee Carsley.
"But we need people to make demands and pull people through and Gowser does it.
"He had a couple of issues last season injury wise but he is fit and healthy now.
"He will be the fittest he has ever been because of what we are going to do.
"Paul will be the first one when he is pushed off that cliff in pre-season to climb back up because that's what he does.
"He fights and he demands. Now some people don't like that kind of personality in a dressing-room as they can't handle his demands.
"But as a football club we are demanding high standards."
McPake insists that something Dundee fans can be certain of this season is that there will be no lack of effort from any of his players and he is looking for McGowan to drive that.
He added: "The one thing I will guarantee above all to our supporters is that the players will walk off with sweat on their shirts after every game.
"You can hold me up on that and quote me on that.
"The fans can do the same and I will be happy to explain that we will be working hard and we will be extremely fit and strong.
"Going back to the initial question, Gowser is important because he drives that.
"Paul McGowan regardless of his age now, still covers the most distance on the pitch.
"Stats are stats but he is fit again and he is looking forward to the work.
"Take away his demands in training, he is also a top, top player."
McGowan certainly wears his heart on his sleeve and after five years with Dundee, it is obvious how much the club means to him.
McPake added: "He had never been relegated and always used to have a wee bit of a go at me for that in a joking sense.
"But he is hurting badly. It has dented us all, and so it should.
"Paul loves this football club, the fans love him and we want 11 people like him on the pitch who are willing to empty themselves. And that's what we will get."
Off the pitch, McPake continued to firm up his backroom staff this week appointing Dave Mackay as his first-team coach.
The 38-year-old started his career at Dundee and went on to play with McPake at Livingston before becoming a St Johnstone legend when he captained Saints to their Scottish Cup triumph over Dundee United in 2014.
Most recently, Mackay has been working with Aberdeen providing opposition analysis, something he will continue to do at Dens along with his coaching role.
McPake said: "Dave has everything I look for in a member of staff. I couldn't say it before because he was working for Aberdeen but that's a guy, no matter what job I went into, I wanted to have him with me.
"He's that important to me as a member of staff and it's credit to the football club for backing me and bringing him in.
"Dave Mackay isn't here because we had a great relationship at Livi, he's here because of what he can bring to this football club.
"He's the best right-back I ever played with but as a coach you can't put a price on what he'll bring.
"He helped us for the St Mirren game, did all the reports and we were amazed with what came back.
"Credit to Derek McInnes and Tony Docherty for allowing him to do that for us.
"For us to achieve what we want to achieve, we need the right people and he fits that bill. I did the Pro Licence with him and saw him work at Stirling.
"I'm as excited having him in as anyone else, any player. It's not just about putting a team on the pitch but how the club is – we are all together as a staff, as a team, we are all striving for the one thing."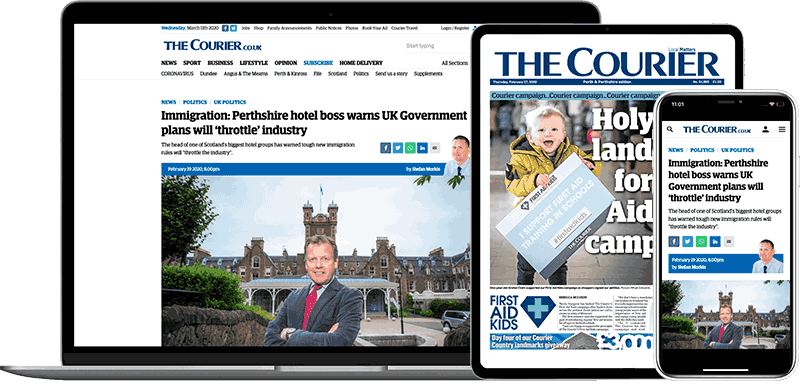 Help support quality local journalism … become a digital subscriber to The Courier
For as little as £5.99 a month you can access all of our content, including Premium articles.
Subscribe