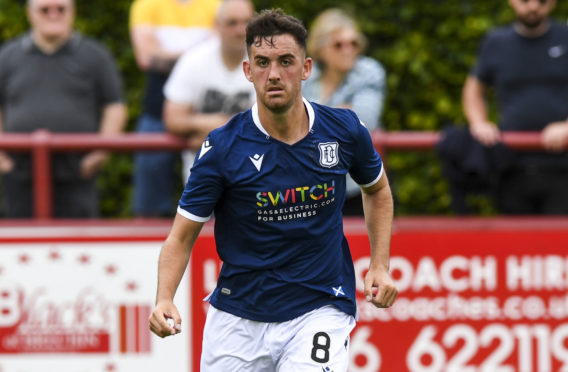 Nottingham Forest have been on a managerial roller-coaster but they will still prove to be formidable opponents for Dundee.
That is the view of Dark Blues' midfielder Shaun Byrne, who was as shocked as anyone else to see Martin O'Neill sacked and replaced by new Forest head coach Sabri Lamouchi last Friday.
It was a rapid-fire turnaround, with the gap between departure and arrival just 18 minutes.
It all means that instead of facing a familiar face in the other dugout at the Pinatar Arena in Murcia today in the form of former Celtic gaffer O'Neill, Dens boss James McPake will be shaking hands with the less well known Lamouchi when their teams play their friendly.
Byrne joked that maybe O'Neill's exit was because he was frightened of facing the Dark Blues before, rather more seriously, suggesting that Forest will still be an extremely difficult proposition in this evening's game, which kicks off at 6.30 pm local time.
When asked about the O'Neill-Lamouchi drama, Byrne said with a smile: "I think they must have been scared at the thought of playing against Dundee!
"Seriously, though, you know you are going to be up against some quality when you play a club like Nottingham Forest but we are in Spain to challenge ourselves.
"It is all about preparing for the season ahead and if that includes facing some very good Forest players then all the better as far as I am concerned.
"Listen, it will be a tough game to play in but I look on it as an opportunity for out our players to show that they are pretty good as well.
"To be given a chance like this to test yourself against that calibre of opposition is ideal as far as I am concerned and I am sure the other lads feel the same.
"You know they are going to be of a certain standard just because they play at a massive club like that that obviously has a wonderful history.
"You also know the kind of money they will be paying in wages to their players so it will be good for our lads to see how we match up against them.
"Facing a quality English side in Spain is certainly something different to what we are used to."
Byrne has been sweating on the training pitch at the club's base at the Real Club de Golf Campoamor Resort, which is only a dozen miles or so away from tonight's venue.
However, the former Livingston player has enjoyed every minute of it since the team arrived on Sunday.
He said: "I have loved it.
"I didn't know we were coming over here until I signed so it was a nice surprise for me.
"We do have a lot of new players so I think this is an ideal opportunity to get to know the other lads better.
"You are with each other 24/7 so the group does start to gel and we have already been getting on really well.
"I have been at the club for over a week now and it has been tough at training but tough in a good way.
"It has been a really enjoyable mix of running and ball work so it's been a good start to my Dundee career.
"I don't mind the graft but playing is what you really enjoy and that's why you put in so much hard work on the training pitch.
"So it was great to get a runout on Saturday against Brechin.
"I got 45 minutes and really benefited from that and am looking forward to getting more minutes in if selected."
Byrne's goal for the season is two-fold – stay in the side and clinch the title.
He added: "The manager showed how much he really wanted me here and that was a huge attraction for me.
"There was also the size of the club to consider and I see Dundee as a huge club that shouldn't really be in the Championship.
"So I obviously want to play my part in helping to get the team back up to the Premiership.
"There is pressure on us to do that but there is pressure on you wherever you go in football.
"There will be an expectation on us but we have to look after ourselves, set our own standards and play our own game."