Success for Gordon Strachan won't be getting academy players into the Dundee first team.
It will be getting players into the Dundee first team who stay there for seasons and who might go on to play for Scotland and make the club some transfer money.
The Dark Blues' new technical director was unveiled yesterday and confirmed that his role at the club will be a hands-on one rather than a consultancy brief.
And Strachan hopes that the Dens Park club will get the benefit of his decades' worth of enthusiasm for youth football and his two years of dedicated research in the field.
After starting out as a young player at Dundee, the former Scotland and Celtic manager has brought his career "full circle".
But there is more to it than just a sentimental attachment when asked the question, why Dundee?
"It's good for me as an individual and good for us as a family," said Strachan. "We've come full circle.
"My wife's from Dundee and she's happy.
VIDEO: Watch Gordon Strachan's Dundee press conference as his career comes 'full circle'
"There were other avenues I could have gone down but that would have been a problem for the family.
"I really have to thank Dundee for allowing me to try out my ideas and philosophies. I've got a lot of ideas in my head and I wouldn't have been happy if they'd stayed there.
"Three clubs have liked what I've been looking at but this was the perfect club for me and my family.
"I've been welcomed brilliantly by the academy staff.
"The remit is working with the players from an early age up to 18, 19 until we deliver them into James's (McPake) hands. But I'm here for anybody who needs my help – maybe not the mascot being injured, mind you!
"My priority is helping coaches and players get better. I want to take them beyond what they think they're capable of because sometimes people don't push themselves enough.
"I've become obsessed by youth football. It was ever since Scotland lost 5-0 to Portugal (in 1993).
"I was doing the commentary on the television with Mark Hateley and I thought then that we needed to do something.
"We have produced good players. There is no doubt about that. But it is producing great players that can change games.
"You have to make sure the great players are backed up with people of intelligence and technical ability. That is what we are trying to achieve."
He added: "For 20 years I've been interested and in the last two of those I've spent a lot of time speaking to coaches – not copying them – around the world from every type of academy.
"What I've come away with is that there isn't one academy set-up that fits everybody. They have different problems.
"It's about getting the right one for your academy. You can't just copy an Ajax.
"Nobody knows the names of the top people in youth football but I've spoken to them. It's given me a great insight.
"I now have friends in academy systems across the world – Spain, South America, eastern Europe.
"I've worked in youth football, I have sons who have been in academies and I've had grandsons who play in academies. I know everybody's problems – whether it's player coaches or mums and dads.
"It might fail but the fact is I'm going to have a right good bash at it. I'm also going to be backed up to the hilt here which helps."
There has been no timescale put on Strachan's work but he has a clear vision of what he would like to see transpire.
"I'd love to sit back in five years' time and say I helped that player," he said.
"I don't mean playing a few first team games – that doesn't count. I want them to come through, play a hundred games and play for Scotland.
"Then he goes for a lot of money and develops into a top player.
"Playing for the first team does not warrant success.
"It doesn't have to be 20 players. Two or three players over a five-year period can a make a huge difference to a club. Huge difference.
"There is no greater feeling than walking into a dressing room and seeing players and coaches celebrating.
"It is nice to feel you have played a wee part in it. That is the glow you get. And if I can see players developing and coming through I will get the same satisfaction."
Now 62, Strachan's last involvement in football as a Sky Sports pundit was ended by comments he made in a debate show that were "misconstrued". He doesn't view his return as either rehabilitation or a route back to management.
On becoming a manager again, he said: "Never say never but this is what I want to do. I have to do it while I'm still fit, I can still interact with coaches and I've still got my sense of humour."
And the Sky Sports furore?
"I was clumsy in words in The Debate and it was misconstrued," he reflected. "99.9 per cent of people totally understood. I got great support from everybody in the football world. Everybody knew what I meant. Life goes on and you realise not everyone thinks the same way and whoever was waiting for that mistake to happen.
"It was misconstrued, done. But that's a longer story. I'm quite happy within myself."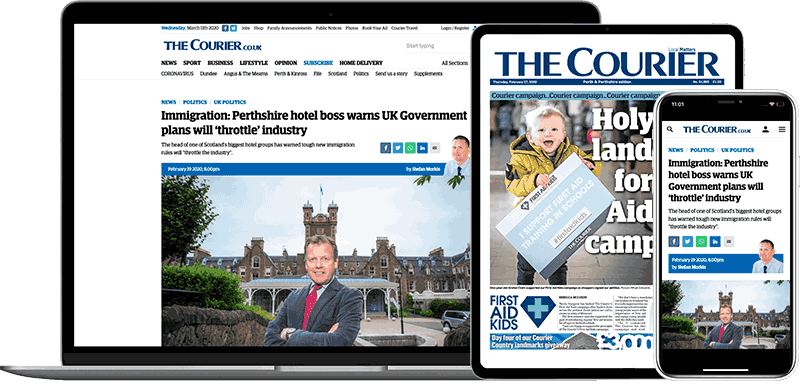 Help support quality local journalism … become a digital subscriber to The Courier
For as little as £5.99 a month you can access all of our content, including Premium articles.
Subscribe