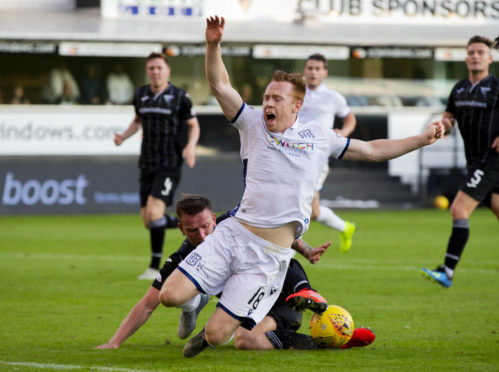 Dundee boss James McPake admitted his side fell well short of the standard he has set them in a torrid first half at East End Park.
However, he also praised the way his players fought back to draw 2-2 against Dunfermline in the Championship opener thanks to two Danny Johnson penalties.
Goals from Ryan Dow and Kevin Nisbet appeared to have the Pars on easy street but the Dens men eventually sorted themselves out.
McPake said: "I said before the game that whatever happened I was looking for a performance but we never got that in the first 45.
"We got a point when there were periods in that first half when we looked like we wouldn't get anything other than a bit of a doing.
"We got out of it with a draw and I was pleased with the reaction in the second half."
Asked what he said to his players at the break, McPake replied: "Nothing that wasn't true.
"We know this league and we are going to be down in games and in trouble at times. That was the case tonight.
"You always need a bit of fight and I know this team have that.
"They shouldn't have needed to come back like that in the game and that's the disappointing side.
"In the second half we had a real go and, looking over the match as whole, there wasn't much in it and we had large spells of that second half.
"For the first 35 minutes, though, we were as poor as I have seen us in terms of use of the ball as a unit.
"We looked very disjointed at times but you try to look at the positives and we are leaving here with a point when it looked like we would be getting nothing."
Johnson's penalties were both contested by the Pars, the first awarded for handball against Dow then the second for a supposed trip on the Dundee striker.
McPake said: "Genuinely, I never saw them. That's me being honest.
"I can probably say at the second one that normally when Danny Johnson has a chance in the box he hits it so I'll judge it on that.
"Over the course of a season these things tend to even themselves out but I hope they were right so that it doesn't cause too much of an uproar."
Meanwhile, Pars boss Stevie Crawford felt his players' reaction to the spotkick awards told its own story.
Crawford said: "I am just frustrated by the manner in which they got the equaliser.
"I think the reaction of the players (was significant).
"The first one I didn't see because it happened really quickly.
"The second one, I felt the reaction of the players told its own story.
"The boys are very disappointed in that dressing room.
"We have played against a very good Dundee side tonight and we are disappointed that we have drawn so that's a positive.
"It took another penalty for them to take a point off us."