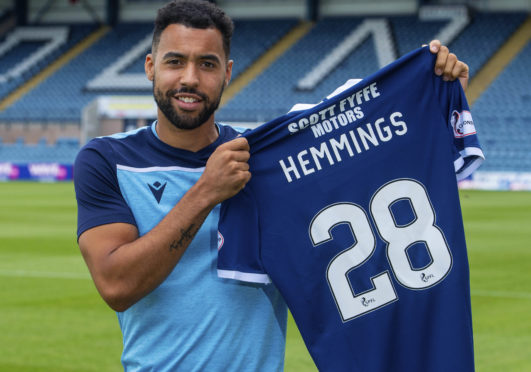 James McPake has thanked the club's owners for backing him to the hilt and allowing him to bring Kane Hemmings to the club once more.
There were a whole host of teams both in this country – including Premiership St Johnstone – and down south interested in the Notts County front man.
However, the striker ultimately opted to return to the club where he enjoyed one of the most prolific spells of his career, putting pen to paper on a three-year deal at Dens.
And his former team-mate McPake could not hide his joy at luring him back with Hemmings going straight into the squad for tomorrow's game against Ayr.
McPake said: "First and foremost, I am delighted to have him back as a player but as a character as well.
"I know what he brings to a dressing-room. I know that first-hand as I have been in a dressing-room with him.
"For me he is one who ticks all the boxes when you are looking at a character and a player.
"So huge credit is due to the club as well. We were close to a loan as were St Johnstone but then we put the possibility of a permanent deal to them as well and we got it over the line.
"When you are a manager and you are looking for backing, to bring a player like Kane Hemmings into the Championship on a three-year deal, you can't ask for any more."
While Hemmings will undoubtedly add goals to Dundee this season, McPake insists he brings much more to the table.
The manager admits the striker was a nightmare to play against in training and he rates him as the most effective player he ever experienced during his time at the club.
McPake added: "We know he brings goals but when I look at Kane Hemmings, there is more to his game than goals.
"He bangs into defenders, he takes the ball in, he gets you up the pitch, he scores left foot, right foot, headers.
"I know him so well from playing against him. He was a nightmare.
"It probably coincided with me getting slower and getting injuries but I hated even training against him.
"So there is a lot more to him than just the goals.
"He is quick, strong and aggressive so in terms of players that I played with here, he was the most effective.
"Some were better technically. Greg Stewart for example and there are others but in terms of being a team-mate, Kane was the most effective to have in the side, in my opinion."
Meanwhile, McPake confirmed he is running the rule over former Dundee United winger Billy King who has been training at Dens in the last week.
However, the manager would not be drawn on when he would make a decision on whether he will be offering the player a contract.
He added: "We are having a look at Billy King.
"He has been great. Attitude wise he has been really good and I have been impressed.
"So he is one we are keeping close and having a look but he has been great."