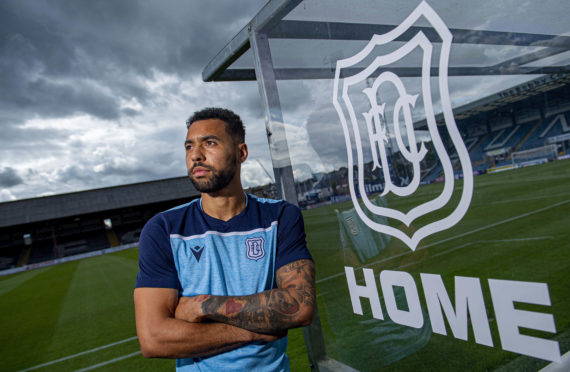 The chance to return to Dundee had a big emotional pull for Kane Hemmings – but the player insists the over-riding factor in his decision to come back to Dens was the opportunity to win honours.
The striker signed up for his second spell with the Dark Blues yesterday, three years after leaving for Oxford United.
Hemmings secured that move on the back of a prolific season for Dundee when he netted 28 times in 44 matches, earning a nomination for PFA Player of the Year.
The 28-year-old subsequently moved to Mansfield Town and then spent the last campaign at Notts County as they were relegated from English League 2.
The front man had a host of clubs chasing his signature but ultimately the persuasive powers of Dens boss James McPake won the day with Hemmings signing a three-year deal with the Dark Blues.
Hemmings, who has also played for Rangers, Cowdenbeath and Barnsley, said: "I am delighted to be back. It was a long day yesterday getting everything sorted but I am buzzing to be here again.
"I was weighing up whether to come back up the road as it is different circumstances for me now having a family.
"But ultimately I wanted to come up, play games and hopefully we can have a successful season.
"I had options in England and up here but I know Jazza (McPake) and Jimmy (assistant manager Nicholl) really well.
"So for me it was all about coming here and doing something.
"Obviously we want to be challenging for the league this year and that was a big draw in itself.
"But like I said, I am just happy to be here now.
"When I went to Oxford, we just missed out on the play-offs, but got to the Checkatrade final and played at Wembley.
"Then I went to Mansfield and missed out on the play-offs on the last da. Obviously last season was a nightmare.
"So I have had a couple of good seasons with teams who were up there but I didn't want to be involved in what I had last year so that was another reason why I wanted to come here, to have the chance to win something."
The Championship and promotion is obviously Dundee's No.1 aim this season and they will have to withstand the challenge of neighbours United if they hope to do so.
And Hemmings admitted the chance to play in the derbies again was another big pull for him.
He said: "That was another draw as well. You have four great games to play in.
"I know a couple of their boys so I am looking forward to them.
"I was with Calum Butcher at Mansfield Town and Nicky Clark at Rangers along with big Lee McCulloch.
"I have texted Butch already just seeing what he is up to.
"I'm sure I will be getting a couple of tackles from him when we play them!"
Hemmings was too modest to state that he is a better player now than when he was first at Dens but he did admit he has matured a lot.
He added: "Yes, obviously you grow up.
"I have probably taken more care of myself in recent years.
"I think you mature as a player. I have played in a lot of different positions.
"I played as a 10, out wide left and right, I played as a long striker up front in a two so I think I have learned a lot over the last few years.
"I think I am a more rounded player than I was before rather than just an out-and-out striker."
Hemmings was well known for his goal celebration when he was previously at Dens, making what looked like a pair of binoculars with his hands. However, he was coy on whether he would be resurrecting it this time round.
He said: "I am not sure if I will bring it back. We will see what happens if I score."