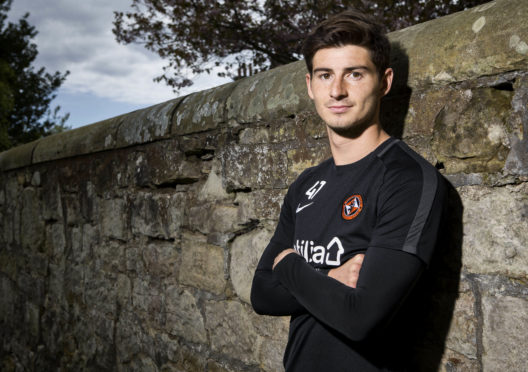 Ian Harkes insists the Dundee United players have heard manager Robbie Neilson's Alloa message loud and clear.
The Tangerines' midfielder listened along with his defeated teammates as Neilson berated them for not doing the "dirty work" following their 1-0 loss to the Wasps in their last Championship match.
Today they face another tricky-looking trip away from home when they face Queen of the South on the plastic pitch at Palmerston.
The United gaffer, fresh from agreeing a new contract extension, will be in no mood to watch his men meekly accept another setback.
They will have to win the physical battles as well as look to their quality to get them through this challenge.
Harkes is confident that it will be a different story this time, with United ready to graft and fight for every ball.
The American midfielder said: "He definitely got into us about that, especially the midfielders – myself included.
"You just have to do that (the dirty work) sometimes and if that's what it takes to win then so be it.
"Perhaps your touch isn't going right with passes and so on. If so, then you need to put in the work to get the job done.
"It is all about winning games.
"You need to do what it takes in this league and the manager has made that clear.
"We saw Ross County do that last year and some of their games weren't pretty but they got the results and that was all that mattered at the end of the season.
"We have another tough away match on the astro down at Dumfries and that means the ball might be up in the air a lot.
"What we need to do is put in the hard work that the manager is looking for and hopefully the rest will take care of itself.
"I think we were fortunate not to get punished for that Alloa defeat by coming off the top of the table.
"It was a wake-up call for us, nonetheless, and we have to make sure it doesn't happen again."
United have now hit two very big bumps in the road this season in the form of Alloa and Ayr United.
They have been scoring and winning for fun at Tannadice but it has been tougher on their travels.
Harkes admitted: "We need to fix our away form, for sure.
"We have been brilliant at home but there have been a couple of disappointments on the road now. That must change.
"We are looking to turn it around again and get a good response from the group after Alloa.
"It was a tough night for us down there.
"Maybe we didn't approach it the way we should have done and I think we need to get back on track against Queen of the South."
Harkes will hope to supply plenty of passes to new Scotland international Lawrence Shankland, who has given everyone at Tannadice a lift by first playing, starting and then scoring for the national team.
Harkes said: "We are very proud of him for what he has done.
"We all know that he deserves it because of the start he has made to his United career.
"It has been great to see him go away with his national team and do so well. That is testimony to how he has played.
"It can only be good for the club.
"There are no negatives in it at all, as far as I am concerned.
"As a clubmate of his, of course I would love him to stay here as long as possible but I am  sure people will come knocking on the door asking for him one day.
"As for now and for a while yet I hope, he is a United player and we have to keep being proud and happy for him.
"When he came back into training earlier this week all the boys were over to him to congratulate him. It has given the group a boost and we are lucky to have him back."