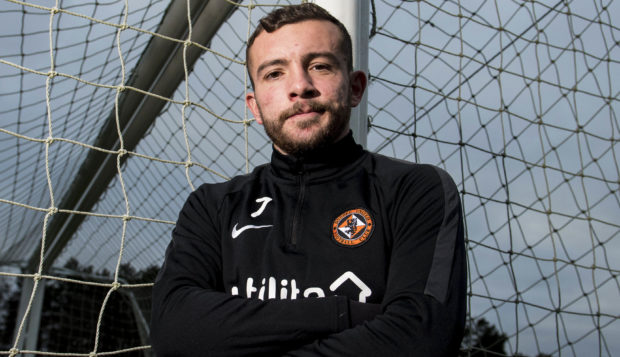 Dundee United's players have had their say and are now ready to do their talking on the park, according to Paul McMullan.
The Tangerines have gone from all-conquering title favourites to frustrating under-achievers in just a matter of weeks.
Back-to-back away losses to Alloa and Queen of the South have done the damage, with last Saturday's 4-0 pasting at Palmerston leading to a post-mortem at training earlier this week.
McMullan revealed that everyone had their say and the players are now determined to reassert their promotion credentials when Dunfermline visit Tannadice today.
He said: "The last two games have been really disappointing but we just have to go again and put it right now.
"What we have done is made too many mistakes and been punished for them.
"The gaffer went over the Queen of the South game with us earlier this week and pointed out a few things to show where we have to do better.
"We had a meeting about it.
"The floor was open to everyone and we talked it through.
"I always think that's a good thing and nobody is in any doubt now about what we have to do.
"It wasn't in that much detail but everyone agreed that we have to stop making silly errors and losing goals in games which leave us fighting to get back into it.
"Now it's up to us to take that into the Dunfermline game and hopefully get back to winning matches again.
"We have bounced back from setbacks in the past at this club.
"We have shown we are capable of getting over disappointments quickly and we now have to do it again."
A glance at United's league results this season leaves you a little puzzled. How can a team have won four times and scored 18 goals at home have lost three out of five on the road and scored only four times?
McMullan claimed that what is happening this season is different to previous campaigns.
He said: "In the time I have been here it has always been the case that our away form has been better than the home form.
"That always felt a bit odd but this season it has been different.
"We have been very good at home and it's away that we have dropped points.
"There is a good atmosphere at Tannadice and we are comfortable playing there.
"Hopefully, we can keep the good home form going."
The Tangerines will be looking to star striker Lawrence Shankland to hit the goal trail again this afternoon after drawing blanks against the Wasps and Doonhamers.
McMullan accepts, though, that he could do with a little help.
The wide man scored twice in the club's last home game – the 6-0 thrashing of Morton – and is keen to get more.
McMullan said: "We need goals from all over the team, not just from Lawrence.
"I want more goals myself and would have hoped to have more by now. I'm sure the other guys are feeling the same.
"We have been getting a lot of balls into the box and that usually means your centre forward will be there on the end of them.
"That is how Shanks has got a lot of his goals and hopefully if we can give him the service then he will keep scoring.
"You can't rely on one person scoring every week, though, and other people need to chip in to spread it about.
"I am sure that will come and if we can get other people as well as Lawrence scoring then we will be even more dangerous.
"He hasn't scored in the last two games but they will start coming again.
"What we need to do is prove that we can win games when he's not scoring.
"We have the quality all over the pitch to do that."
United have midfielder Peter Pawlett doubtful, while central defender Mark Connolly remains sidelined.