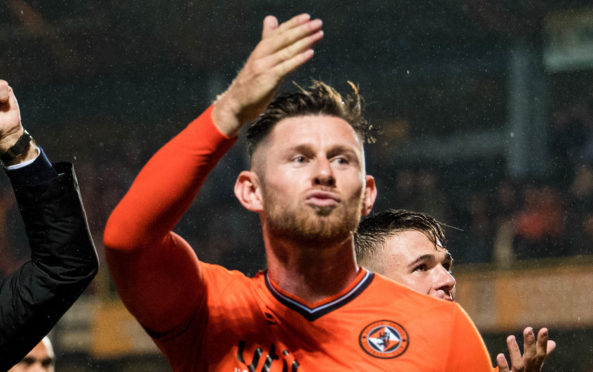 Dundee United may be sitting at the top of the Championship but Calum Butcher feels they have not yet reached "full steam."
Butcher was a key figure for the Tangerines in their 1-0 win over Partick Thistle at Tannadice on Tuesday as he provided cover at centre-back once again.
The midfielder helped a backline depleted by the absence of Troy Brown, who called off pre-match with a calf injury, take the sting out of the Jags.
The result was United's sixth successive home league victory and it kept them three points clear of second-placed Ayr United and four ahead of Inverness Caley Thistle, whom they travel to play on Saturday.
Butcher said: "I actually don't think we have hit full steam yet.
"There is more to come from us.
"We are sitting top of the league but we can improve.
"What is happening is that teams are making it difficult for us in every game, perhaps because we are leaders, but that means we have to deal with that.
"They may sit in like Partick did in the first half and if that happens then we have to find a way to get the three points.
"All good teams do that – find a way to win – and I feel we are capable of doing that whatever the challenges we face this season.
"You can say it wasn't pretty on Tuesday but we are not going to steamroller teams six or seven nil every week.
"Games like the Partick one are massive for us and there were so many positives to take from it – three points, building on the Dunfermline win and keeping a clean sheet."
United's home record this season has perhaps been lost a bit among poor away defeats to Alloa and Queen of the South and matches like the Thistle one where they have not hit the heights.
It does, though, deserve to be highlighted.
At Tannadice, they have now beaten Inverness 4-1, Dundee 6-2, Arbroath 2-1, Morton 6-0, Dunfermline 2-0 and Partick Thistle 1-0. They have scored 21 goals and conceded just four. That's not too shabby, is it?
Butcher isn't looking for plaudits, however, as he explained.
He added: "We have been fantastic at home and it's a great record to be six for six.
"However, we are not really bothered about getting credit for it or not.
"For us, it is about trying to win every game, whether that be at Tannadice or elsewhere.
"We do believe we can win every match but it's easier said than done.
"We are not looking for any pats on the back.
"We just want to win this league and the promotion that comes with that."
Next up is a trip to the Highlands on Saturday to face a side that many reackon will push United all the way in the title race.
ICT got back to winnings ways on Tuesday with a fine 2-0 victory at Queen of the South so both sides will carry momentum into the game.
Butcher said: "We will go up there with confidence.
"We do know that our away form has to improve and this is an opportunity for us.
"Those last two defeats were difficult and there were circumstances like the pitches to consider.
"Going up to Inverness on the back of two good wins and, importantly, two clean sheets is huge."
Brown could recover in time for that one, allowing Butcher to return to the midfield, but the Englishman is willing to play wherever manager Robbie Neilson decides is best for the team.
He said: "Troy was injured on Tuesday so I had to slot back there, while we also still have Conns (Mark Connolly) not fit yet.
"I honestly feel comfortable playing in midfield or at the back. I would actually say that it's nice to be able to play both positions.
"We have had a few setbacks and boys have been out while others have had to play in different positions.
"I think it is a credit to us that we are still top of the league considering those circumstances.
"It shows that as a team we have boys who are willing to put in a shift wherever they are asked to play."